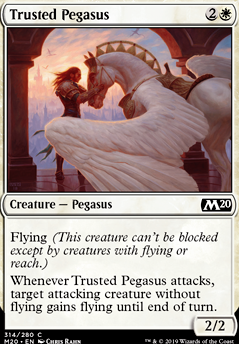 Trusted Pegasus
Creature — Pegasus
Flying (This creature can't be blocked except by creatures with flying or reach.)
Whenever Trusted Pegasus attacks, target attacking creature without flying gains flying until end of turn.
Browse Alters
View at Gatherer
Legality
| | |
| --- | --- |
| Format | Legality |
| Leviathan | Legal |
| Commander / EDH | Legal |
| Oathbreaker | Legal |
| Standard | Legal |
| Duel Commander | Legal |
| Highlander | Legal |
| Tiny Leaders | Legal |
| Pauper | Legal |
| Pre-release | Legal |
| Historic | Legal |
| Casual | Legal |
| Vintage | Legal |
| Arena | Legal |
| Canadian Highlander | Legal |
| Modern | Legal |
| 1v1 Commander | Legal |
| Pioneer | Legal |
| Unformat | Legal |
| Limited | Legal |
| Pauper EDH | Legal |
| Block Constructed | Legal |
| Brawl | Legal |
| Legacy | Legal |
Latest Decks as Commander
Trusted Pegasus Discussion
5 months ago
Okay but Pir, Imaginative Rascal and Toothy, Imaginary Friend // Gavi, Nest Warden and 2/2 Dinosaur Cat // Jiang Yanggu, Wildcrafter and Mowu, Loyal Companion // Trynn, Champion of Freedom and Silvar, Devourer of the Free // Brallin, Skyshark Rider  Flip and Shabraz, the Skyshark // Nikara, Lair Scavenger and Yannik, Scavenging Sentinel // Cazur, Ruthless Stalker and Ukkima, Stalking Shadow  Flip // All of the Companions from Ikoria // Gideon Blackblade and Trusted Pegasus // Konda, Lord of Eiganjo and Isamaru, Hound of Konda // Mother of Runes and Wall of Runes // Okay that last one was a joke but there are SO many good bois with good masters in the world of Magic. I need a thesis on what makes Haldan and Pako the best.
1 year ago
imoutogetyou thank you for your advice, while I understand why you suggested Selfless Spirit I think Gideon has more of a connection to Bant over Innistrad seeing as it was the first place he planeswalked too when his spark ignited and also where he changed his name from Kytheon Iora to Gideon Jura, that is the big reason why I went for a card like Knight-Captain, but the fact that when he ETB's he creates two blockers/attackers is also a nice upside. So while I thank you for your help I feel, flavour wise at least, that Knight-Captain of Eos is better suited to this deck over Selfless Spirit
As for Ravenrose I'm very sorry I can't believe I never replied to your advice! Thank you for approving the flavour aspects of this deck as it was a major focus of this decks creation for me! I just want to let you know that Gideon's Sacrifice was immediately added to the deck when I pulled one at the Pre Release and I'm currently trying to find a slot for Grasp of the Hieromancer as it fits in well with cards like Gideon's Avenger , as for God-Eternal Oketra I think for now at least I'll be leaving her out of the deck, purely for flavour reasons, now she's been killed and reanimated she isn't the god that Gideon trusted dearly on Amonkhet anymore, she goes against all her beliefs from when she was alive and that contradicts the theme of this deck, not to mention in her artwork she's aiming an arrow at Gideon and his Trusted Pegasus , although once again I think you for your help with one of my decks.