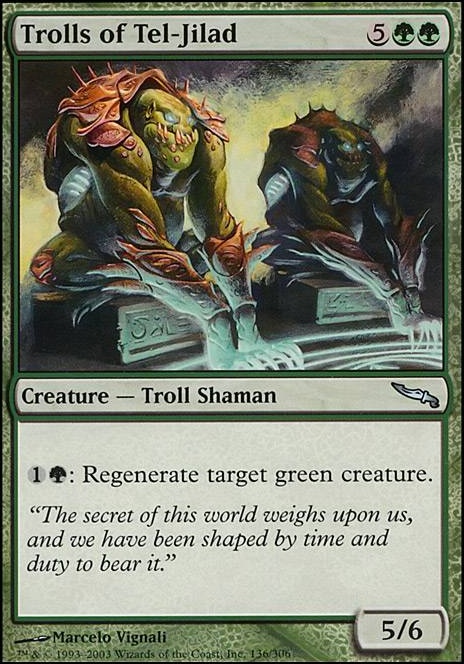 Trolls of Tel-Jilad
Creature — Troll Shaman
(1)(Green): Regenerate target green creature.
Browse Alters
View at Gatherer
Legality
| | |
| --- | --- |
| Format | Legality |
| Tiny Leaders | Legal |
| Noble | Legal |
| Magic Duels | Legal |
| Canadian Highlander | Legal |
| Vintage | Legal |
| Modern | Legal |
| Highlander | Legal |
| Penny Dreadful | Legal |
| Block Constructed | Legal |
| 2019-10-04 | Legal |
| Leviathan | Legal |
| Legacy | Legal |
| 1v1 Commander | Legal |
| Duel Commander | Legal |
| Oathbreaker | Legal |
| Unformat | Legal |
| Casual | Legal |
| Commander / EDH | Legal |
Trolls of Tel-Jilad Discussion
1 year ago
Love the concept! gota couple suggestions, figured I'll accordian them to keep from filling up the whole page.
1 year ago
How much of a budget do you have?
Some cards off the bat that can be considered:
Big Dummies on budget:
Interaction on budget:
Fun Mayael Cards on budget:
Now to some cards you can consider to cut:
Hope that helps!
2 years ago
Hey, I saw you comment on my deck (Tetsuko & Doran's Assault Formation!), and I'd love to see if I can give you any tips for this deck.
As you already said in your description for this deck, Arcades, the Strategist might be a very good card for this deck, especially if you like control decks. White-Green-Blue is a very nice color combination for a control deck, and the defender creatures you are running just add onto that. Furthermore, this deck as it is now can only make your creatures with defender attack if you happen to draw Assault Formation, which means there are gonna be some games were you won't be able to get it. However, you can play around this with your big creatures.
Arcades, the Strategist also lets you draw more cards, which together with Lead the Stampede and your creatures that make mana allow you to build up a very strong board, However, you do already have Soul of the Harvest, which kinda does the same, but just costs 2 more. For that reason, even if you don't play Arcades, the Strategist, I really like your Lead the Stampedes, If you want to stay mono green you could even play something like Commune with Nature to fetch another creature.
If you're wondering what kind of creatures with defender you get access to when also going into blue and white, here are some nice options: Ludevic's Test Subject Flip can work with your mana ramping, Wall of Frost, Wall of Denial, Stalwart Shield-Bearers, Wall of Omens I really love this card together with your Carven Caryatid and Soul of the Harvest (and Arcades, the Strategist if you want to run it) since it just make you fly through your deck, Dragon's Eye Sentry, Perimeter Captain, and you get access to Rolling Stone, however between Assualt Formation and Arcades, the Strategist, you wont need it. Also you get access to some metagame staples like Path to Exile.
Perhaps a Tower Defense or Shape the Sands (or Aegis of the Heavens (its a new m19 card so tappedout wont let me link it) when playing white) could also make this deck more explosive if you want to go that route, but since you are not reliant on making your creatures with defender attack, Carnage Tyrant is a nice beater, when going into white you also get access to angels which are great late game creatures, you might even think about running card with in their mana costs, like Entreat the Angels, Quarantine Field, Secure the Wastes, Animist's Awakening, Chord of Calling, Enshrined Memories, Genesis Wave, Nissa, Steward of Elements

.
Finally, I don't really like Trolls of Tel-Jilad, Terastodon, and Naya Panorama since they don't really do much. I would also up your land count to at least 20, even with all the mana acceleration. Maybe even 22-24. As for your current maybeboard, I like the Axebane Guardian, and all the other card are also good beaters except for Silklash Spider, Prey Upon your defender creatures have no power, even with Assault Formation, not 100% sure on this interaction though, and Elixir of Immortality, If you want lifegain, perhaps a Jaddi Offshoot is better?
I hope this helps you a little! I like the deck and its versatility a lot!
2 years ago
Etali, Primal Storm, Neheb, the Eternal, Outpost Siege, Avenger of Zendikar, Craterhoof Behemoth, Beastmaster Ascension, Nissa's Pilgrimage, Cultivate, Kodama's Reach, Farseek, Ranger's Path, Explosive Vegetation, Rampant Growth, Sol Ring, Rushwood Herbalist, Trolls of Tel-Jilad, Tel-Jilad Lifebreather.
4 years ago
I'm wondering why you have Trolls of Tel-Jilad. all of you'r creatures already have regenerate, all of them for less than or equal to


the only pie-in-the-sky theory in which the trolls would be usefule is if Hedge Troll needed it and you were out of



Solution? take him out and put in a third Mossbridge Troll.

Just my $0.02 though ;)