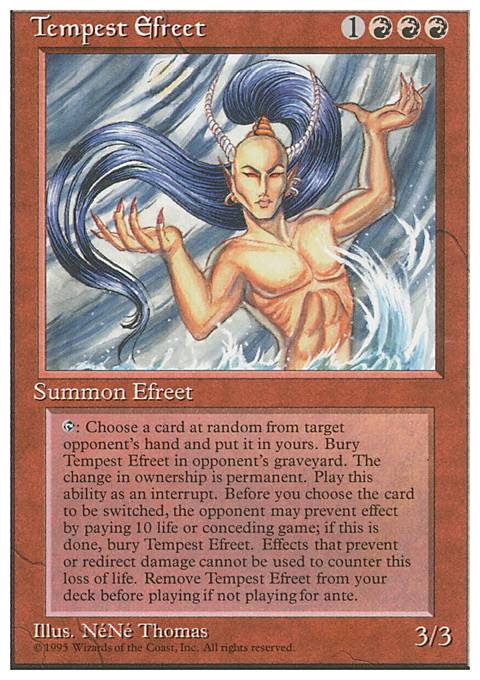 Legality
| | |
| --- | --- |
| Format | Legality |
| Magic Duels | Legal |
| Vanguard | Legal |
| Leviathan | Legal |
| Archenemy | Legal |
| Planechase | Legal |
| Duel Commander | Legal |
| Unformat | Legal |
| Casual | Legal |
Tempest Efreet
Creature — Efreet
Remove Tempest Efreet from your deck before playing if you're not playing for ante.
Tap, Sacrifice Tempest Efreet: Target opponent may pay 10 life. If that player doesn't, he or she reveals a card at random from his or her hand. Exchange ownership of the revealed card and Tempest Efreet. Put the revealed card into your hand and Tempest Efreet from anywhere into that player's graveyard.
Recent Decks
Tempest Efreet Discussion
10 months ago
Yes, you can gain control of those creatures with Homeward Path.
A player "owns" all cards that started the game in their deck, command zone, and sideboard, and all tokens that were first created under their control. Effects that put a card from the graveyard/library/etc. onto the battlefield under a different player's control don't change the ownership of a card. The only way to change ownership of a card during a game is by using a small handful of weird old cards that are only allowed if you started the game with the "Ante" rules option (Tempest Efreet, Jeweled Bird, etc.), which hasn't been a part of the official Magic rules for a very long time.
11 months ago
Where do I even start?
Your first mistake: You didn't run any Blue. Every Magic Player knows Blue and Black are the superior colors, which means you had a 2 outta 5 chance on picking either of them, but you did even worse, because you chose two colors, and neither of them are Black or Blue. You went from a 40% chance the first pick, to a 50% chance the second pick, and you still messed up. Absolute trash. Now we are working in sweatshop conditions and you chose to take the low road on these jank colors, so let's see if we can fix this subpar deck.
The Commander
Let's see what you got here, Tajic, Blade of the Legion... In a game of magical creatures and dragons... DRAGONS. You chose a human? To lead 99 other cards into victory? How has this made it passed the threshold of your brain? Are there any checks or balances in place? How did this leave the drawing board? And the guy is a 2/2! A 2/2 FOR FOUR MANA?! Absolute Trash. You know how much utility is usually in a Commander deck? 99 cards worth of utility. This guys indestrubability is that of a Steam Roller to an Aluminum Can. And his ability to lead the entire deck is Battalion. Have the ranks gone mad? Who put this guy in charge? That is the weakest Commander Ability I have ever seen. You know what's stronger? Isamaru, Hound of Konda and he is a vanilla 2/2, that costs 1 MANA.
Deck Construction
Consistency
The problem with Commander is that there is no consistency. I honestly think you should consider making it more consistent. You need to run Relentless Rats or Shadowborn Apostles to drive home the consistency, but we are stuck in these inferior colors, so this is really difficult.
Mana Curve
The Mana Curve is pretty decent, but when I looked at the cards in the low end, I went full tilt. None of these spells put a dent in anything, and the spells aren't impactful. You need something that makes a difference when it hits the table, maybe try Scrambleverse or Worldfire at the high end slots, and at the low end slots you might want to consider Mox Ruby, Mox Pearl, and Black Lotus for some speed. You can also run City of Traitors, Rishadan Port, Karakas, or The Tabernacle at Pendrell Vale in the land slots, that would help with speed and control. That is just a few suggestions for the low end though.
Utility
I am seeing a lack of utility in some very specific areas. You have a great weakness in the coin-flip control area. This seriously is a problem because you can't win in situations that require coin flips. For instance if the opponent forces you to discard your hand, then casts Worldfire with the mana floating to cast Show and Tell and puts their Chance Encounter into play, then uses Donate to throw it to you, you aren't gonna be able to do nothing but sit and hope you win the game after that point. Where if you had Krark's Thumb or a Goblin Bookie in your deck you could have Goblin Tutored the Thumb, held the two mana for after the Worldfire then casted the Thumb, and you would have had a significantly better chance at winning that game. I'd really recommend Krark's Thumb or Goblin Bookie. Just some food for thought.
As for more utility, you have no pancake potential. You can't flip anything. Which means all morph creatures are going to take a toll on your brain, because you are sitting there wondering if killing the face-down creature is gonna bust you up after you touch it. Well fear no more, Break Open exists, and it is in your inferior colors. This one is a card you can't pass up, it is always useful.
You also can't play any of the opponents cards, which is a huge disadvantage in your case, as the opponent has a high chance of playing Blue and Black if they actually joined the game to win. Just in case I'd put in Shaman's Trance so you can play the opponent's flashback spells(on the off chance they have any) as they are significantly better than your entire deck. Also in the same playing field as Shaman's Trance, you should be running Tempest Efreet just so you can get better cards. We are literally scraping for whatever we can get at this point. Grinning Totem is also highly desirable.
Which Direction The Deck Should Go
I honestly think you should consider playing North Star if you are gonna continue running these colors, that way you can at least pretend you are casting better spells in the superior colors of Magic.
Conclusion
Alright so in summary, after taking into consideration all of my suggestions, you really should just scrap this trash and make something in Black or Blue. I'd also recommend trying to play a real format, as this is basically just rolling dice and counting the higher numbers as winners.
1 year ago
1.) In this casual, multiplayer format, you start with a life total of 30 (rather than the usual 20) and choose a Planeswalker (or legendary creature that transforms into a planeswalker) to serve as your General. You then choose cards to match your Generals color identity to build your deck. A card's color identity is any mana symbol appearing on that card.
2.) The Gatewatch deck contains 65 cards: 1 General and 64 others. Your deck may contain only one of any individual card, with the exception of basic lands.
3.) The General enters play in the general zone. You may cast your General from the general zone for its normal costs, plus an additional one mana for each previous time it's been cast from the general zone this game. If your General is ever headed to the graveyard or exiled, you may return it to its general zone instead.
4.) All cards, including your General, must have a Converted Mana Cost (CMC) of 6 or less. In the case of cards with X in their mana cost, X = 0 for the purpose of calculating CMC for construction purposes.
5.) In addition to the normal Magic win conditions, you can win in this format by raising your General's Loyalty to 30 or higher. If recast from the general zone, your General's loyalty always resets to its base value.
---
Banned List:
Advantageous Proclamation, Amulet of Quoz, Ancestral Recall, Backup Plan, Balance, Black Lotus, Brago's Favor, Bronze Tablet, Channel, Chaos Orb, Contract from Below, Darkpact, Demonic Attorney, Double Stroke, Doubling Season, Erayo, Soratami Ascendant, Falling Star, Fastbond, Gideon, Champion of Justice, Gifts Ungiven, Immediate Action, Imprisoned in the Moon. Iterative Analysis, Jace, the Mind Sculptor, Jeweled Bird, Library of Alexandria, Limited Resources, Mox Emerald, Mox Jet, Mox Pearl, Mox Ruby, Mox Sapphire, Muzzio's Preparations, Painter's Servant, Panoptic Mirror, Pithing Needle, Power Play, Primeval Titan, Prophet of Kruphix, Rebirth, Recurring Nightmare, Rofellos, Llanowar Emissary, Secret Summoning, Secrets of Paradise, Sentinel Dispatch, Serra Ascendant, Shahrazad, Song of the Dryads, Tempest Efreet, Thief of Blood, Time Vault, Time Walk, Timmerian Fiends, Tinker, Tolarian Academy, Trade Secrets, Unexpected Potential, Upheaval, Vampire Hexmage, Worldknit, and Yawgmoth's Bargain