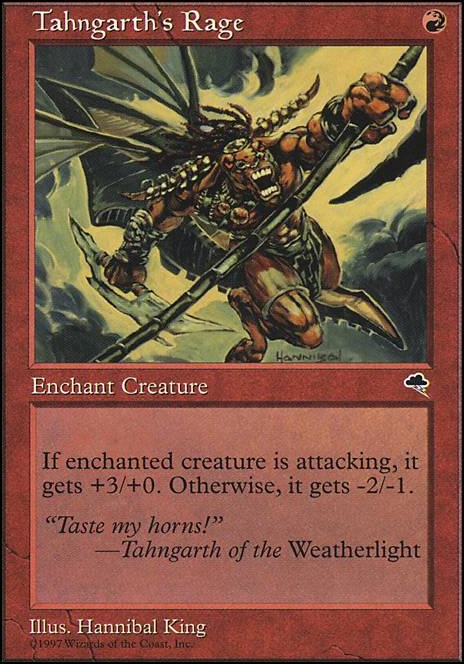 Tahngarth's Rage
Enchantment — Aura
Enchant creature
Enchanted creature gets +3/+0 as long as it's attacking. Otherwise, it gets -2/-1.
Browse Alters
View at Gatherer
Legality
| | |
| --- | --- |
| Format | Legality |
| Tiny Leaders | Legal |
| Noble | Legal |
| Leviathan | Legal |
| Magic Duels | Legal |
| Canadian Highlander | Legal |
| Vintage | Legal |
| 2019-10-04 | Legal |
| Vanguard | Legal |
| Legacy | Legal |
| Archenemy | Legal |
| Planechase | Legal |
| 1v1 Commander | Legal |
| Duel Commander | Legal |
| Oathbreaker | Legal |
| Unformat | Legal |
| Casual | Legal |
| Commander / EDH | Legal |
Tahngarth's Rage Discussion
1 year ago
Deadpoo111, so here's where I'm struggling with how to balance the cuts. With dollar Shu Yun, the math can work that you hit lethal commander damage by playing 2 1-mana spells that add +3/- and casting an aura/flashback/rebound/equipment that provides unblockable. With Prowess and double strike, that's 24 commander damage. The consistency that comes from just needing 3 of many duplicate copies of those effects makes the deck work with otherwise underwhelming spells. As a bonus, that math allows a sprinkling of spells that only provide +2/-, still hitting for 22 unblockable commander damage. If you have something like Tahngarth's Rage that can still provide +2/- the turn after you cast it, the next person goes down with less resources, and so on, closing out the game in 3 or 4 turns.
I can't be as efficient with this build. Brute Force is perhaps the best representative of what budget Shu Yun is about, but it's 20 cents, so you can see the average card quality has taken a hit. 2 +2/- spells means that Shu Yun is only hitting for 20 Commander damage with an evasion spell that doesn't provide additional bonuses. That's why Distortion Strike was so painful to cut. I'm keeping Aether Tunnel at 22 cents, although that's still a turn slower. The bulk of the deck is cheap red pump spells, but too many inefficient ones add up- Two Brute Force , rather than two Run Amok is two turns slower. The non-explosive early game also takes a hit, since 2-mana rocks are expensive. 3-mana rocks conflict with casting Shu Yun on time, but early-game interaction also tends to be pricier. I had to cut some of the better cheap equipment, like Runechanter's Pike , so It's hard to tell what this deck should be doing turns 1 and 2, other than hitting land drops.
The last issue is card advantage. A lot of draft staples like Hieroglyphic Illumination are over-budget already, so I think this is the portion of the deck that will take the biggest hit. I couldn't justify the cost of Steam Augury , which is already budget Fact or Fiction .