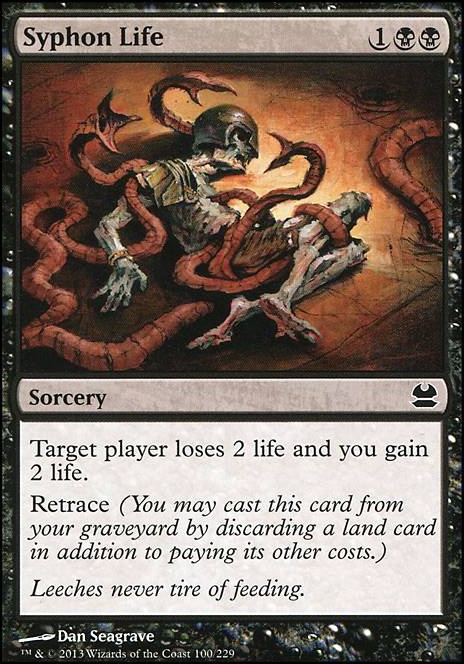 Legality
| | |
| --- | --- |
| Format | Legality |
| Noble | Legal |
| Leviathan | Legal |
| Magic Duels | Legal |
| Canadian Highlander | Legal |
| Vintage | Legal |
| Modern | Legal |
| Casual | Legal |
| Pauper EDH | Legal |
| Vanguard | Legal |
| Legacy | Legal |
| Archenemy | Legal |
| Planechase | Legal |
| Duel Commander | Legal |
| Unformat | Legal |
| Pauper | Legal |
| Commander / EDH | Legal |
Syphon Life
Sorcery
Target player loses 2 life and you gain 2 life.
Retrace (You may cast this card from your graveyard by discarding a land card in addition to paying its other costs.)
Syphon Life Discussion
2 months ago
Hi there, i'll share all the knowledge i've gathered after playing discard decks for more than 5 years (i've built monoblack creatureless discard, monoblack creature discard, UB discard, RB discard, Grixis discard, specter discard, etc.).
The first i see here is that you don't have anything to deal with the board, so you'll more than probably die to anything that hits the board, even a simple 3/1 two-drop. Your deck relies too much on damaging your opponent through giving him many cards and forcing him to discard not that many; the only card in your deck that punishes him this way is Liliana's Caress and that's it, it's not reliable. You also run two copies of Painful Quandary which it's ideal mechanics are to punish your opponent for having no hand, but since you are forcing him to draw so many cards, he'll always have the option to discard while playing a spell (only taking 2 damage from Liliana's Caress and only if you have the enchant on the battlefield).
You have many cards that allow you or your opponent to draw and discard cards, but you only have Alms of the Vein to exploit this mechanic, so get rid of those or stick in more madness cards.
The description says "the goal of this deck is to get your opponent as low as possible", but you can't do that quickly by relying only on 4 copies of Liliana's Caress while you'll be recieving lot's of threats and hits. Master of the Feast will for sure get destroyed by any of the thousands removal spells you'll force your opponent to draw, so it won't be dealing too much damage if any.
---
Suggestions
Let's work on the solution. First of all, you need your deck to have more consistant way to deal damage and you also need to get rid of your opponent's threats until you've reached mid-late game and you can develop your winning mechanics.
---
Which ones and how many
Pick the ones you like the most according to their mana costs and their price. Also consider the ammount of black mana symbols in their cost, because you'll be playing a two colors deck.

Try to keep it as balanced as you can in terms of cards functions. Maybe 30% draw/discard engine - 30% draw/discard punishment - 20% massive discard - 10% 1drops quality discard - 10% board whipe. You'll have to test and adjust the numbers.

I know most of those cards are black, but you can keep it UB if you want to. Best version I've made of this strategy was using Grixis (Blue Black and Red) because there's a lot of red cards that force both players to discard and draw like Burning Inquiry and Reforge the Soul for example. Grixis also enables the use of Nekusar, the Mindrazer , Blightning , Sedraxis Specter , Blazing Specter and Dack Fayden.
---
I hope it's helpful! Best wishes!
3 months ago
Syphon Life might be a touch better than Alms of the Vein for SB, since it's reusable and you need less lands against burn, anyway
Cheers!
3 months ago
Gonna be playing at LGS tonight. May meta-in a Syphon Life into the sideboard if the guy playing turbo fog is there, since it's such a good wincon against him.
I'm short one Fatal Blow, so subbing in a third Doom Blade unless I can snag a Geth's Verdict.
7 months ago
Syphon Life can be nice in the late game. I'm also partial to Firebolt as a nice delver killer. Also, I don't think you need quite so many halimar depths or color fiterers
8 months ago
As a dicarding deck lover and user, I feel free to post here. Hope you don't mind.First, I'll back my comment up by acknowledging you that I've built and played discard for many years way before Shrieking existed, and thus, I've commited the same mystakes as everyone (like trying Liliana's Caress and Quest for the Nihil Stone, for example) ...and no, I won't suggest those.
Good job with the budget deck, seems pretty legit.
I'm aware that you are aware of Inquisition of Kozilek being 3-4 usd is a budget possibility. And I do agree that a card like Blackmail is special because it can discard lands. But that job is for another star on your team; you've already got 4 copies of Raven's Crime (plus all the flood lands that will turn into more copies of it), Raven's got that issue perfectly covered.
Inquisition of Kozilek covers another issue, the one that concerns about disrupting the opponent's starting play. He'll never reveal his important 1-drops or 2-drops, because he needs them for his wicked plan. Inquisition is the hero that gives the villain a hard time or at the very least, buys us some time.
So, sumering up: I know Blackmail is a great card, but we (the users of this deck) need to get a pick at our opponent's entire hand to mock his best start. It's a luxury we cannot miss. Inquisition of Kozilek excells at doing so and can be backed up by one or two copies of Duress, Despise or Harsh Scrutiny, all of those great super budget options.
As far as removal, I pretty much agree with your choices. What I definitely add is a singleton Murderous Cut and maybe cut out a copy of Victim.
About Necrogen Mists which is in your "maybeboard" right now. I wouldn't even bother. 4 copies of Raven's Crime (plus two Delirium Skeins) are more than enough substitute for Liliana of the Veil's constant discard.
By the way, I love Augur of Skulls. I've played it even in non-budget, since Wrench Mind doesn't work around heavy artifact deck playgroups -which was my case for some time-. Delirium Skeins would have been a good substitute too, but I was running too many 3cmc cards at the time.
One last thing, I've just noticed you didn't sideboard any specifics against burn so I suggest considering either:
1- Syphon Life which also beneffits from Dakmor Salvage as well as Raven's Crime;
or
2- Nyxathid which can stand lots of direct damage, block those prowess little scum, and help killing your opponent since it's most likely that he'll tear our The Rack appart with their new toy Abrade.
Hope it helps!
10 months ago
I playtested it. Its pretty nice, but the manabase... huh. Little junky.
In my opinion u need some GB taplands (every ability to activate and double mana cost is G or B). If you want place for Spirit Guide - cut murasa and lands. 20-21 should be enough. Ohh... and what do you think about 1-2 Reaping the Graves after cascade? For lategame. 3+ cards back (6 mana needed)
About side, I recommend:
Load more