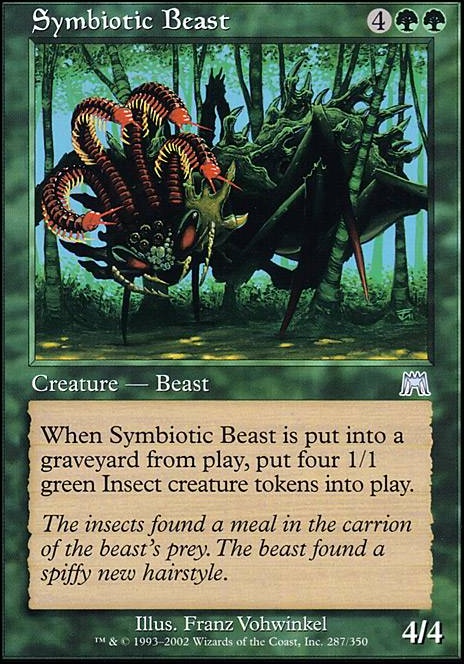 Symbiotic Beast
Creature — Insect Beast
When Symbiotic Beast is put into a graveyard from play, put four 1/1 green Insect creature tokens into play.
Browse Alters
View at Gatherer
Tokens
Legality
| | |
| --- | --- |
| Format | Legality |
| 1v1 Commander | Legal |
| Leviathan | Legal |
| Vintage | Legal |
| Casual | Legal |
| Legacy | Legal |
| Canadian Highlander | Legal |
| Unformat | Legal |
| 2019-10-04 | Legal |
| Commander / EDH | Legal |
| Oathbreaker | Legal |
| Tiny Leaders | Legal |
| Duel Commander | Legal |
| Highlander | Legal |
| Limited | Legal |
Latest Decks as Commander
Symbiotic Beast Discussion
3 years ago
Mitotic Slime comes to mind. Reef Worm is sorta like that, but in the wrong colors. Abzan Ascendancy/Golgari Germination/Gutter Grime/Requiem Angel are sorta close, Belfry Spirit turns the creature it haunts into a card like that, Brindle Shoat, Tuktuk the Explorer and Doomed Dissenter just get bigger. Liege of the Hollows gives everyone squirrels when it dies. Symbiotic Elf, Symbiotic Beast, and Symbiotic Wurm turn into insects. Chasm Skulker explodes into a pile of squid (wrong colors again tho). Maalfeld Twins breaks apart into 2 zombies, and Mausoleum Guard into 2 spirits. Promise of Bunrei makes one of your dudes explode into spirits. Sporogenesis is kind of a cool card that makes your guys explode into saprolings on death. Sprouting Thrinax is good. Wurmcoil Engine is a popular one.Goblin Marshal/Mogg War Marshal makes goblins when he ETBs and dies. Hallowed Spiritkeeper, Hangarback Walker, and Hooded Hydra all work. Jotun Owl Keeper in blue again. Mongrel Pack is another one, as is Murder Investigation. Theres a whole bunch of "Penumbra" cards from odyssey that all make a black clone of themselves when they die (e.g Penumbra Wurm). Ulvenwald Mysteries turns each dead guy into a clue that it then turns into a soldier.
If I were to make a commander deck around this idea, I would go with a Jund, not Abzan, sacrifice deck led by Sek'Kuar, Deathkeeper, or perhaps Shattergang Brothers. In addition to these you have a ton of guys that just make 1 token on death- Seed Guardian, Sifter of Skulls, Pawn of Ulamog, Tukatongue Thallid, Blisterpod, Myr Sire, etc.