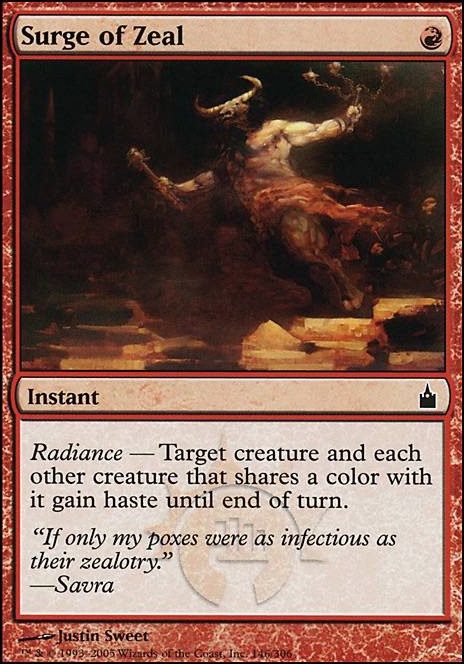 Legality
| | |
| --- | --- |
| Format | Legality |
| Modern | Legal |
| Legacy | Legal |
| Vintage | Legal |
| Commander / EDH | Legal |
| Duel Commander | Legal |
| Tiny Leaders | Legal |
| Pauper | Legal |
Surge of Zeal
Instant
Radiance - Target creature and each other creature that shares a color with it gain haste until end of turn.
Surge of Zeal Discussion
1 year ago
Based on how the past version of the deck and this version of the deck worked and when they worked, the optimal goal is to get Young Pyromancer onto the battlefield, play a flurry of spells into either a Commune with Lava to go off next turn; or into a big Haze of Rage and give all the tokens haste somehow. Also, the Haze of Rage draws tend to pack the most punch, dealing anywhere from 30-50 damage in a single blow depending on storm-count.
The problem with the first iteration of the deck was that we ran out of mana way too quickly. The problem with the second iteration was that there wasn't enough card draw and relied on a big Commune with Lava to go off the turn after casting it, which then hopes to hit enough spells to go off again.
The best results with this deck came from casting 4-6 spells in a turn while Young Pyromancer is on the field, firing off a massive Haze of Rage, then giving them haste.
I hate to say this, but probably the best course of action for this deck is to put in white for Monastery Mentor. This way, there is 8 of the more powerful effect. However, doing so will un-budget-ify the deck, so let's see what else can be done while sticking with mono-red.
First, there is a great need of draw effects. More cantrip-like effects really (especially since that's what typical storm does in effect). In red, we can add in stuff like Dragon Mantle and Crimson Wisps. For more powerful draw effects, Faithless Looting, Magmatic Insight and/or Tormenting Voice. Magmatic Insight doesn't seem too bad as we're using rituals and we really don't need more than 4 lands to go off.
Of course, this means a good deal of rituals must be kept; not sure how many, but definitely some.
Next, in the haste category, while Goblin Bushwhacker is a pretty good enabler, I don't think this deck wants 8 copies. The big draw for Goblin Bushwhacker is that it gives haste to the entire team for


. But, as mentioned by dryb0mr previously, Mass Hysteria could be just as useful, but only for

. As you mentioned in the first iteration of the deck, Burst of Speed can work too, just as Surge of Zeal since everything is red (unless Monastery Mentor is used).
Finally, the card copy count is a bit off. Looking at a typical storm build, the deck is packed with cantrips and rituals, with only 1 big draw spell in the forms of Past in Flames (allowing you to continue drawing your deck). We'd need a similar amount here, so 3 Commune with Lava should be the most needed, maybe even 2.
The rest should be cantrips, rituals, enablers (Young Pyromancer/Akroan Crusader/Monastery Mentor), and 2-3 of each finisher (Haze of Rage & Mass Hysteria/Burst of Speed/Surge of Zeal).
On a finishing note, I do agree that the new Reckless Bushwhacker effectively doubles the amount of Goblin Bushwhackers in the deck, but based on them a) only really granting the all-important haste, b) taking up what really ought to be a finisher slot, c) not being a non-creature spell to trigger Young Pyromancer/Akroan Crusader and d) after 3-4 storm spells Haze of Rage + Mass Hysteria packs a stronger punch than 4 Goblin Bushwhackers, I'd take them out. They fit better in a deck that plans on casting lots of little creatures.
Although, with Monastery Mentor in standard, maybe a standard version of this deck could be constructed as Reckless Bushwhacker is the cheapest way to give the entire team haste in standard at the moment.