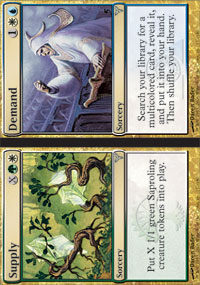 Legality
| | |
| --- | --- |
| Format | Legality |
| Noble | Legal |
| Leviathan | Legal |
| Magic Duels | Legal |
| Canadian Highlander | Legal |
| Vintage | Legal |
| Modern | Legal |
| Penny Dreadful | Legal |
| Vanguard | Legal |
| Legacy | Legal |
| Archenemy | Legal |
| Planechase | Legal |
| Duel Commander | Legal |
| Unformat | Legal |
| Casual | Legal |
| Commander / EDH | Legal |
Tokens
Related Questions
Supply // Demand
Sorcery
Supply:
Create X 1/1 green Saproling creature tokens.
---
Demand:
Search your library for a multicolored card, reveal it, and put it into your hand. Then shuffle your library.
Supply // Demand Discussion
2 hours ago
Supply // Demand needs spaces to read properly for some reason.
Triumph of the Hordes is a game ending card for this style of deck, although commander popularity has pushed the price up a lot.
Some of my favourite MTG memories are of a Pollenbright Wings on a Mycoloth. Both cards aren't great in modern, as they're too easily disrupted (barring a Leyline of Anticipation deck), but are a lot of fun in more casual lists. I've tinkered some, but you're pretty close to how this deck wants to run.
Sideboard wise, Alive // Well is worth a look. Cheap, helps hate out burn as well as, (if not better than,) a leyline in token decks. Solemnity hates infect while stopping both Ratchet Bomb and Engineered Explosives from hitting anything bigger than your tokens. Wilt-Leaf Liege is amazing in hollow-one metas.
Heroic Intervention is amazing board wipe insurance, and is in vogue, but things like Fresh Meat also exist.
Fungal Plots is a big saproling tribal card. You might not be making tokens often with it, but the lifegain/carddraw is very strong when you're using saprolings as chump blockers and trying to dig into your sideboard cards.
Second Harvest and Rhys the Redeemed exist, but a lot of the time they are only as effective as a Scatter the Seeds, and some of the time a lot worse.
Utopia mycorn feels like it could be part of some kind of haste/combo list, but I've never seen it work well. Wayfaring Temple is basically either a 1/1 or a 3 mana duress as your opponent kills it.
Hope this helps- good luck and happy piloting.