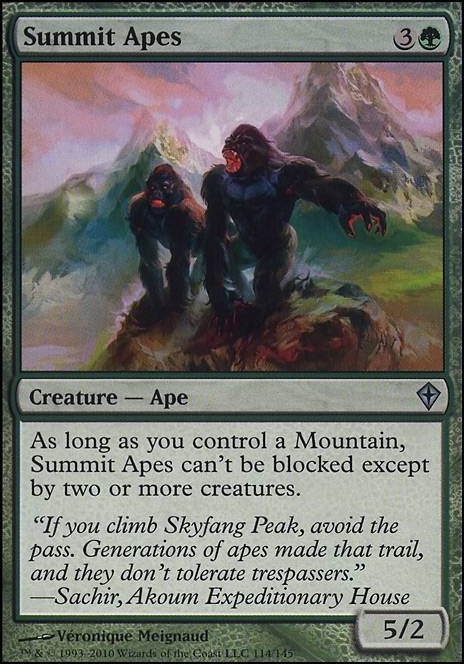 Summit Apes
Creature — Ape
As long as you control a Mountain, Summit Apes can't be blocked except by two or more creatures.
Browse Alters
View at Gatherer
Legality
| | |
| --- | --- |
| Format | Legality |
| Tiny Leaders | Legal |
| Noble | Legal |
| Magic Duels | Legal |
| Canadian Highlander | Legal |
| Vintage | Legal |
| Modern | Legal |
| Highlander | Legal |
| Penny Dreadful | Legal |
| Block Constructed | Legal |
| 2019-10-04 | Legal |
| Leviathan | Legal |
| Legacy | Legal |
| 1v1 Commander | Legal |
| Duel Commander | Legal |
| Oathbreaker | Legal |
| Unformat | Legal |
| Casual | Legal |
| Commander / EDH | Legal |
Summit Apes Discussion
8 months ago
Have you considered ramp? I believe this could help: Wild Growth with other art style, Pillar of Origins , Myriad Landscape , and maybe Rhonas's Monument .
Soul's Majesty or Colossal Majesty may help to draw more if you judge it necessary. And if you like the draw idea, this may enhance it Summit Apes .
Sheltered Thicket has two types, mountain and forest, so it helps with Kird Ape . Maybe you can focus on your lands to surprise your adversary with Primal Bellow , you may try Ash Barrens or Evolving Wilds . Or, following the shout style: Roar of the Crowd .
Also, one Gorilla Titan and a few Hooting Mandrills forms a good team.
Why 3x Grunn, the Lonely King when you can use some variety, like Ancient Silverback ?
I dont know if you would like to mix apes with equipments, like with O-Naginata , or high tech things like Infiltration Lens , and Skullclamp . It would be nice and funny.
In fact this deck can use a lot of cards ideas. So I believe you will maintain it opened for new ideas you may have for quite a while.
8 months ago
Love the tribal theme!
Of course, there are some great tribal and gruul lands you can add, but then it starts getting expensive. I would consider tagging this as a "budget deck"; imo, budget tribal (espically more obsecure creature types) are the best! Really forces for some creative deck building.
I would check out your mana base and decide if Gruul Turf is a really needed. Personally, i'm not a big fan of these cards due to the risk/slow speed, but if you like them, play them!!
I did a few playtests and it plays a bit slower than expected. I would certainly recommend adding a 4th Kird Ape . Are you open to adding mana accelleration? I'm sure there are a few solid ones that won't be too far outside of theme. Oh, have you considered using an Emerald Medallion ?! Monkeys like to steal shiny things!! I think it would create a lot of value. Urza lands would work nice, but I feel it may be too far from the theme.
I think Alpha Status is a "win more" card in this sorta mana heavy/bigger critter deck, where by the time you play it to have value (e.g. 3 or more creatures on the board, for +4/+4), it may be too late or not as rewarding. Now that I look at some of the oracle wording, some apes are now considered a monkey, so they won't help each other out... boo.
For Monkey Cage , maybe cut 1 because I think you will need a lot of mana to guarantee it to give you value e.g. a creature with mana cost 3 or greater.
Man... I so many ideas!
How about Summit Apes !! Those with your Gorilla Berserkers with first strike and/or lure equipment. Viridian Claw , Nemesis Mask <--maybe too slow?? Spells, Roar of Challenge or Declare Dominance <--bonus gorilla art!!
If you go with the Emerald Medallion , maybe swap out Ravenous Baboons for a bigger green one?
Play around with it and I'll check back!