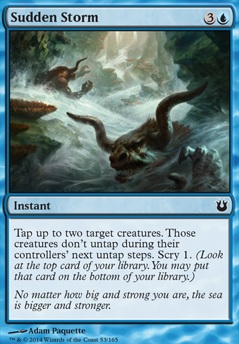 Sudden Storm
Instant
Tap up to two target creatures. Those creatures don't untap during their controllers' next untap steps. Scry 1. (Look at the top card of your library. You may put that card on the bottom of your library.)
Browse Alters
View at Gatherer
Legality
| | |
| --- | --- |
| Format | Legality |
| Legacy | Legal |
| Unformat | Legal |
| Commander / EDH | Legal |
| Pauper EDH | Legal |
| Pauper | Legal |
| 1v1 Commander | Legal |
| Penny Dreadful | Legal |
| Heirloom | Legal |
| Modern | Legal |
| 2019-10-04 | Legal |
| Block Constructed | Legal |
| Vintage | Legal |
| Magic Duels | Legal |
| MTGO | Legal |
| Casual | Legal |
| Pioneer | Legal |
| Noble | Legal |
| Tiny Leaders | Legal |
| Hero | Legal |
| Canadian Highlander | Legal |
| Duel Commander | Legal |
| Highlander | Legal |
| Leviathan | Legal |
| Oathbreaker | Legal |
Latest Decks as Commander
Sudden Storm Discussion
1 year ago
first thing Creeping Chill is not pauper legal and it can be used in this deck since its black, Expel from Orazca is not legal either.
good card for them to replace are :High Tide, Distant Melody, Airborne Aid, Shared Discovery, Mizzium Skin, Gigadrowse, Sage's Row Denizen, Rhystic Study, any of the cantrips. theres a bit of protection, control and card draw. but i suggest you take out Sudden Storm, Aerial Formation, Piracy Charm, Hubris, Jace's Scrutiny, Refocus, Reach Through Mists, Tidal Bore. for more useful cards like Gush, Hoodwink, Man-o'-War, Snap, Volrath's Curse, Relic of Progenitus and more counters like Dream Fracture, Faerie Trickery, Arcane Denial, Logic Knot oh and See Beyond seems like a good enough hand filter.
4 years ago
December 24th
Looks like we're wrapping up with Theros block, with Born of the Gods our pack for the 24th.
It wasn't a particularly strong pack, but it was a really fun one. We cracked a couple with the Inspired mechanic (Warchanter of Mogis and Kragma Butcher), a couple with Bestow (Nyxborn Triton and Flitterstep Eidolon--our #3), and a bunch of combat tricks (Sudden Storm, Aspect of Hydra--our #2), and Necrobite). We'd forgotten about Tribute, and it was neat to see it again on Thunder Brute.
Revoke Existence made us chuckle, because as TheDevicer pointed out the other day, there just isn't much removal in Theros block!
1st Pick went to Archetype of Courage and our rare made us smile, especially considering the one from the 23rd: