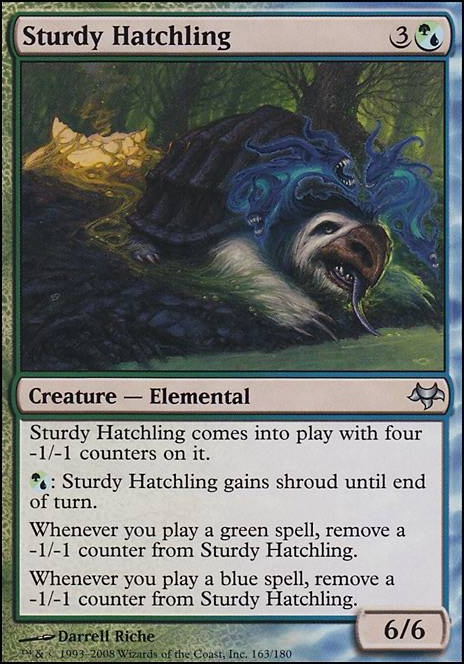 Legality
| | |
| --- | --- |
| Format | Legality |
| Noble | Legal |
| 1v1 Commander | Legal |
| Vintage | Legal |
| Modern | Legal |
| Casual | Legal |
| Vanguard | Legal |
| Legacy | Legal |
| Archenemy | Legal |
| Planechase | Legal |
| Duel Commander | Legal |
| Unformat | Legal |
| Pauper | Legal |
| Commander / EDH | Legal |
Sturdy Hatchling
Creature — Elemental
Sturdy Hatchling enters the battlefield with four -1/-1 counters on it.
G/U: Sturdy Hatchling gains shroud until end of turn.
Whenever you cast a green spell, remove a -1/-1 counter from Sturdy Hatchling.
Whenever you cast a blue spell, remove a -1/-1 counter from Sturdy Hatchling.
Sturdy Hatchling Discussion
1 year ago
I think you could do better than the current mana ramp theme you have. I mean Leigh in tapping dudes is ok but most of you have a lot of mana dorks and only 11 instants. So that doesn't drop much for you. And since most of your creatures are single colored he only gives them +1/+1. Also I don't think you should even bother dreaming about playing world spine worm. Slagwurm is a bit hard at 7 let alone 11.
I'd suggest going with a more tempo oriented build.
T1 is Birds of Paradise or maybe a few other mana dorks. T2 You play with soft counters in blue like Remand and Mana Leak to stop posing T2 threats like goyf and such.
T3 you drop serious threats or you play minor ones with counter spell backup. Goyf is great but pricy. Cards like Kalonian Tusker or Avatar of the Resolute work as great efficient beaters. You could also go with Icefeather Aven to come in with evasion.
Cards like Simic Charm provide you with lots of versatility.
Since you are a bit slower and probably will have a few mana ramp cards. Things like Sturdy Hatchling are easily protectable beaters.
There are more controlling options like Mystic Snake and Venser, Shaper Savant
Or more aggressive cards like Vaporkin variants backed up with versitile pumps like Vines of Vastwood and the aforementioned charm.
Sagu Mauler can be a strong resilient late game card but there are probably better options.
The exact cards I mention are mostly rough suggestions. I didn't have time to look up the best cards for every scenario I listed but I think you get the point.
Good luck with your deck.
1 year ago
Nice deck, Vorel is pretty sweet! If you want, feel free to check out my Vorel deck, The Thirteenth Year.
Some suggestions for mana ramping would be Rushwood Grove, Saprazzan Cove, Saprazzan Skerry, Fertilid, and Realm Seekers.
Eternity Vessel, Triskelion, Thopter Squadron, and Simic Manipulator let you use counters for interesting effects.
To increase the number of counters you place on things, check out Illusionist's Bracers, Hardened Scales, Solidarity of Heroes, Forgotten Ancient, Bloodspore Thrinax, and Death's Presence.
I also would recommend Nature's Will over the Pygmy Hippo you currently have in the deck, since Nature's Will triggers if any of your creatures deal combat damage to a player.
I would recommend taking out Sturdy Hatchling, since you don't want to double the -1/-1 counters on it. Also, Private Research isn't useful, since the counters are put on the Aura, not on the creature, so Vorel can't double them.
I might also recommend omitting Simic Guildmage unless you have a lot more Auras in your deck, and you don't need Kavu Predator unless your play group has a lot of lifegain. Yisan Chord is a tricky card to use with Vorel, since you want to make sure you don't double his verse counters beyond the CMC of creatures in your deck. Since your highest CMC is 6, I'd recommend cutting him.
I also don't think Vigean Hydropon, Shambleshark, and Cloudfin Raptor are that useful for this deck.