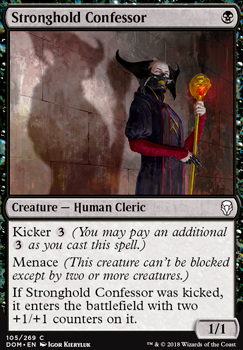 Legality
| | |
| --- | --- |
| Format | Legality |
| Pre-release | Legal |
| Tiny Leaders | Legal |
| Magic Duels | Legal |
| Canadian Highlander | Legal |
| Vintage | Legal |
| Modern | Legal |
| Penny Dreadful | Legal |
| Standard | Legal |
| Pauper EDH | Legal |
| Leviathan | Legal |
| Legacy | Legal |
| Brawl | Legal |
| Frontier | Legal |
| 1v1 Commander | Legal |
| Duel Commander | Legal |
| Casual | Legal |
| Unformat | Legal |
| Pauper | Legal |
| Commander / EDH | Legal |
Stronghold Confessor
Creature — Human Cleric
Kicker (you may pay an additional as you cast this spell.)
Menace (This creature can't be blocked except by two or more creatures.)
If Stronghold Confessor was kicked, it enters the battlefield with two +1/+1 counters on it.
Stronghold Confessor Discussion
2 months ago
First of: Welcome to EDH: the format where you can pretty much brew anything you like!
However, some cards are much stronger than others in this format, and theres a general rule to evaluate the cards in your deck. First you have to evaluate how you win the game. Then you have to look at the cards and say: "Does this card forward that goal". For instance a card like Stronghold Confessor is not very good generally. It is a creature that deals at most 3 damage. At this point you could also play a Diabolic Tutor, finding part of a two-card combo that will win you the game. Avoid any cards that dont forward your gameplan. The best example is Serra Ascendant. A lot of people wrongly include this in their decks. Yes, it is a 5/5 flying lifelinker for . But if you can't kill them with it, the 20+ damage it might deal is not relevant.
So what cards should you run? Usually the answer is combo of some sort. And then all the cards that get you there. In black you can add a reanimation package (Pathrazer of Ulamog or better It That Betrays does win you a game if played on t2), you can go for an infinite damage combo (see for inspiration), or you can get lots and lots of mana using Cabal Coffers and the like and play a very big Torment of Hailfire.
If you wanna play reanimator you wanna get all the good reanimation spells
Most of them arent that expensive. The expensive part about this strategy is buying the targets. But it should be ok, just find some you like.
If you wanna build combo just play all the tutors you can afford. Also the all-in ones like Demonic Consultation.
If you wanna build big-mana.deck consider the following
... and so on. A wierd tech you will not find anywhere else: Onyx Talisman ;)
Good luck brewing my guy!
2 months ago
Phaetion, nooooooo! I looked up Scryfall creature cards only (; I guess I'm only half-wrong?
LittleBlueHero, I'm with you there! Convoke is hard to use well. I prefer it with things like Chief Engineer or Chord of Calling, where you're not necessarily losing so much tempo as casting an evasionless fatty.
DemonDragonJ, the P/T-to-CMC ratio is a quick and dirty way to evaluate the stats of a creature, especially in Limited. It's pretty accurate in the commons/uncommons like Thallid Omnivore and Stronghold Confessor, but the metric breaks down a little bit considering a) creatures really have gotten better since the Craw Wurm days, b) abilities and keywords make them harder to evaluate, and c) it's not a hard-and-fast design rule. Also, once you get past 6 CMC, the rule of thumb begins to break down anyways, because of the diminishing returns of increasing P/T.
6 months ago
Cut the following:
6 Forests
3 Swamps
3 Islands
Save it and let me look at it after.