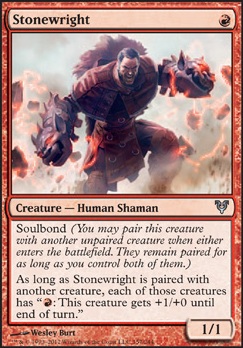 Legality
| | |
| --- | --- |
| Format | Legality |
| Pre-release | Legal |
| 1v1 Commander | Legal |
| Magic Duels | Legal |
| Vintage | Legal |
| Modern | Legal |
| Penny Dreadful | Legal |
| Leviathan | Legal |
| Legacy | Legal |
| Duel Commander | Legal |
| Unformat | Legal |
| Pauper | Legal |
| Commander / EDH | Legal |
Stonewright
Creature — Human Shaman
Soulbond As long as Stonewright is paired with another creature, each of those creatures has "R: This creature gets +1/+0 until end of turn."
Stonewright Discussion
4 months ago
First, let me start with I think you have some cool ideas going here. I like your angel theme.Is this meant to be a casual or competitive deck? If you're playing this deck as a casual "have fun with" deck, then great. If you are looking at making this more competitive, then we need to drop your mana curve, focus on more beatdown and get more removal.
I agree with chaosumbreon87. Drop the green completely as it isn't doing much for you except making your mana base more difficult to manage and opening you up to some crappy draws. Making the deck red/white cleans up quite a bit and should smooth out your draws from one game to the next. For competitive you'll need more removal. Condemn, Cavern of Souls, Lightning Helix, and Path to Exile are all good choices.
Now for the cards. Thundersong Trumpeter and Gideon's Lawkeeper are really weak "tap that dude" creatures that just don't provide enough use to really be effective. They don't have haste so you can't use them as anything other than blockers on the turn they enter the battlefield.
Both Chandra, Torch of Defiance and Nahiri, the Harbinger are good card, but you aren't getting that much out of them. You don't have any graveyard recursion, so anything you discard to Nahiri's +2 ability is wasted. Chandra's +1 ability is nice but I think you would get more use out of other cards. I think you would get more use out of mana artifacts or more low cost creatures than you do from the planeswalkers.
I would replace the two Glory of Warfare for two Spear of Heliod. The ++ bonus applies to all of your creatures all of the time and you get an additional removal effect as well.
So, depending on your collection and budget, here's some cards to look at in no particular order. Cathedral Sanctifier, Champion of the Parish, Soul's Attendant, Knight of the White Orchid, Kor Outfitter, Nearheath Pilgrim, Stonewright, Stormblood Berserker, Ranger of Eos, Boros Signet, Mind Stone, Clifftop Retreat, Sacred Foundry, Slayers' Stronghold, Archangel of Tithes, Masako the Humorless, Azorius Arrester, Lyev Decree, Devil's Play, Magma Spray, Boros Charm, Volcanic Geyser, Staggershock, Electrickery and other low-cost cards that provide more utility.
I use Weathered Wayfarer for mana fixing and accelleration in my angel deck. I'll post my casual angel deck build here in the next day or so.
As for your sideboard. I would add a least one more Leyline of Sanctity. I think 4 Runed Halo is too many. Maybe two or three. Consider Vandalblast, Disenchant, Oblivion Ring and some other artifact and enchantment removal spells.
1 year ago
I'll just list all the mono-red Humans I think are relevant:
Anarchist, Balduvian Horde, Avalanche Riders, Chandra, Fire of Kaladesh Flip, Cinder Seer, Crimson Mage, Dong Zhou, the Tyrant, Dragon Whisperer, Dragonmaster Outcast, Dualcaster Mage, Feldon of the Third Path, Hero of Oxid Ridge, Kargan Dragonlord, Lovisa Coldeyes, Mad Prophet, Magus of the Moon, Stonewright, Zealous Conscripts.
1 year ago
This seems pretty cool. Here's some cards you may have looked at already.