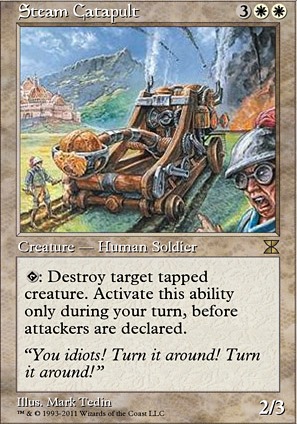 Steam Catapult
Creature — Human Soldier
: Destroy target tapped creature. Play this ability only during your turn, before attackers are declared.
Browse Alters
View at Gatherer
Legality
| | |
| --- | --- |
| Format | Legality |
| Vintage | Legal |
| Legacy | Legal |
| Leviathan | Legal |
| Oathbreaker | Legal |
| Unformat | Legal |
| Highlander | Legal |
| Commander / EDH | Legal |
| Canadian Highlander | Legal |
| Duel Commander | Legal |
| Tiny Leaders | Legal |
| Casual | Legal |
| 2019-10-04 | Legal |
| 1v1 Commander | Legal |
| Limited | Legal |
Latest Decks as Commander
Steam Catapult Discussion
1 year ago
On face, the deck seems like a good budget deck. It conforms with the general standards for an edh deck and follows a clear strategy. However, I think that there are some problems with the deck. Although it is built on a budget, there are only 6 ramp card in total plus 2 cards which decrease the cost of soldiers. On face it looks ok, but paired with only 36 lands (one of which ( Temple of the False God ) being a half-ramp card) it is questionable. I would add another ramp (like Thran Dynamo ) and a land ( Evolving Wilds , Terramorphic Expanse , Spinerock Knoll ). Also, I would argue that the removal in this deck is weak. The only true removal spell is Swords to Plowshares while others with worse conditions, like Response / Resurgence and Spear of Heliod , can have some major downsides in a commander game. The other single target removal spells ( Steam Catapult , Intrepid Hero , Catapult Squad and Catapult Master ) are, quite frankly very limited and. In addition to the weakness of the removal, there are only 7 of them, which is, in my opinion, quite lacking, especially considering 4 of them are creatures and there is no enchantment or artifact removal. I would reccomend the extra investment for Path to Exile , and also consider Lightning Bolt , Vandalblast , Wear / Tear and Oppressive Rays . One final point is the colour wheel of the deck (next to the mana curve). I find that, for a 2 colour deck, there is far too little red for it to be worth playing. Because of this, there are relatively few red mana producing cards, meaning often you will not be able to play the few red spells that you will inevitably draw, they are dead cards (this is why i recommended Terramorphic Expanse and Evolving Wilds above). However, I would also like to complement the deck building, as the theme of the deck is very strong and maintained, and I hope to see it do well in play-testing.