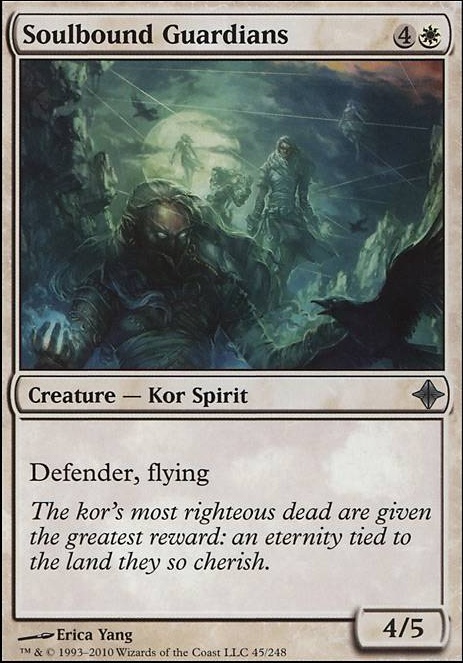 Soulbound Guardians
Creature — Kor Spirit
Defender, flying
Browse Alters
View at Gatherer
Legality
| | |
| --- | --- |
| Format | Legality |
| Tiny Leaders | Legal |
| Noble | Legal |
| Magic Duels | Legal |
| Canadian Highlander | Legal |
| Vintage | Legal |
| Modern | Legal |
| Highlander | Legal |
| 2019-10-04 | Legal |
| Block Constructed | Legal |
| Leviathan | Legal |
| Legacy | Legal |
| 1v1 Commander | Legal |
| Duel Commander | Legal |
| Oathbreaker | Legal |
| Unformat | Legal |
| Casual | Legal |
| Commander / EDH | Legal |
Soulbound Guardians Discussion
2 years ago
Balzeron: First of all I would like to say that I am honored that my deck has helped inspire your deck building. Secondly, I have some responses to you comments below:
Amaranthine Wall and Hornet Nest are ones that I am still considering. The indestructibility is definitely a nice ability and being able to make a bunch of 1/1 flying death touchers when someone blocks the nest is pretty awesome.
Fog Bank, Guard Gomazoa, and Mindbender Spores are all great cards if you are going a more defensive route. I chose to exclude them because I am a more aggressive list and I wanted big (4 toughness or greater), cheap walls.
Hover Barrier, Monastery Flock, Wall of Air, and Living Wall could all easily be swapped in here and are a preference choice if you are worried about fliers.
My deck personally doesn't want cards like Manor Gargoyle, Ezuri, Claw of Progress, Woolly Razorback, Plumeveil, Soulbound Guardians, or Fortified Area as all of these cards either have power greater than 2 or pump my creatures power. I rely heavily on staying at 2 power or less so I can abuse Tetsuko Umezawa, Fugitive or Sidar Kondo of Jamuraa.
The same goes for Doorkeeper. Mill is already hard enough to pull off with a dedicated mill deck in EDH because decks are large and there are 3 opponents. I'd rather play either larger walls or defenders with more relevant abilities.
The banding suggestions are interesting. I had to re-read the rules on banding and I did not realize it also affects attacking creatures. Those could be interesting, I'll have to think about that.
Champion's Helm is a great suggestion. Wave of Reckoning is a good board wipe for Arcades, however, I feel that the 4 I have all have a bit more upside.
Spidersilk Armor and Tower Defense are awesome with Arcades and may very well end up in my final list. Right now I want to try out Hold the Gates over Spidersilk Armor as it has a higher upside and I already have a number of answers for fliers (Wonder, Angelic Wall, Wall of Tanglecord, Wall of Denial and Arcades himself). Since this list is aggressive, I think vigilance is actually a more impactful keyword in my deck. I already have a pseudo Tower Defense in Defender of the Order. I don't think Defender is particularly better than the Defense, but I have an old foil of it from Legions which I just really want to play.
Thanks for the comments and if you ever want another pair of eyes on your deck, let me know.
2 years ago
This is actually a deck I really want to build, and know nothing about making a commander deck, so I'm keeping a very close eye on this deck! Some card suggestions/ideas I personally have would be:
Amaranthine Wall, I played this wall in a draft game a few weeks ago and the indestructible ability pretty much won the game for me by itself, and is what inspired me to think about this kind of deck. Manor Gargoyle is another good choice for this.
Champion's Helm, Good equipment to keep our commander safe
Doorkeeper, the mill potential is pretty high here
Ezuri, Claw of Progress, since so many walls have 0 power,
Wave of Reckoning, as another board wipe
Woolly Razorback, doesn't have defender, but is cheap, becomes a 7/7, and can block literally any amount of damage 3 times
Fog Bank, Guard Gomazoa, Hover Barrier, Monastery Flock, Plumeveil, Soulbound Guardians, Wall of Air, Spidersilk Armor Tower Defense as flying blockers, as this deck seems really open to flying
Shield Bearer, Wall of Caltrops, Wall of Shields, Fortified Area, Baton of Morale, Helm of Chatzuk, Formation, Remember banding? I used to love banding! I think banding would compliment a wall deck very well. Being able to dictate where your opponents damage goes is a big plus I think
Hornet Nest, Living Wall,Mindbender Spores, are other good additions.
What do you think of these suggestions? I really want to buy the cards for a deck like this soon, and your deck is a huge inspiration to me.