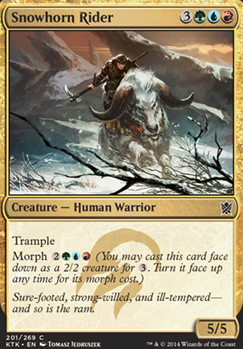 Snowhorn Rider
Creature — Human Warrior
Trample
Morph (You may cast this card face down as a 2/2 creature for . Turn it face up any time for its morph cost.)
Browse Alters
View at Gatherer
Tokens
Legality
| | |
| --- | --- |
| Format | Legality |
| Tiny Leaders | Legal |
| 1v1 Commander | Legal |
| Magic Duels | Legal |
| Canadian Highlander | Legal |
| Vintage | Legal |
| Modern | Legal |
| Highlander | Legal |
| Penny Dreadful | Legal |
| Block Constructed | Legal |
| Pauper | Legal |
| Pauper EDH | Legal |
| Pioneer | Legal |
| Leviathan | Legal |
| Legacy | Legal |
| 2019-10-04 | Legal |
| Frontier | Legal |
| Duel Commander | Legal |
| Oathbreaker | Legal |
| Unformat | Legal |
| Casual | Legal |
| Commander / EDH | Legal |
Snowhorn Rider Discussion
1 year ago
Here is why I have chosen these cards: Child of Alara - This is my Commander - This is Sakura. Alara reads "When Child of Alara is put into a graveyard from play, destroy all nonland permanents. They can't be regenerated. Now we all know how much it sucks to have to worry about the threat of a board wipe being on the field - so I have chosen to put 1 restriction on Alara. In the series during The Final Judgement, Sakura essentially has her memories wiped and life as she knows it as a Cardcaptor never existed. This only ever happens to Sakura ONCE. For this reason, I am putting a restriciton on her, that I can only choose for her to go to the Graveyward ONCE per game. This means timing of this is crucial. Other reasons for why I have chosen Alara and the Commander: - She is a Child, like Sakura was when she encountered the cards - You will need recursion as a key element in your deck building to ensure you can continue to use Alara. Sakura always has access to her cards, so having the ability to pull things back from the grave fits in perfectly with that aspect.
Yuriko, the Tiger's Shadow - This is Shadow. Has shadow in the name as well as gives you the ability to draw a card and have your opponents lose life based on its CMC
Voice of All - Voice. The cards title is the essence of what the Voice Card does.
Tishana, Voice of Thunder - Thunder(1). I chose this card 1) because it has Thunder in the name but also because the artwork is of Tishana who is controlling the 'thunder' (but is actually water) Tishana would be Sakura. This card allows you to have no max hand size - which isnt an essential element to this deck but again- access to all cards. She allows you to draw a card and her 'Thunder' is as strong as you can make it. Just as it would be is CCS.
Thunderbolt - Thunder(2). Some cards are too hard to not have in when they fit so perfectly with a CCS card. This card speaks for itself as to why I would choose it as Thunder
Soul Manipulation - Illusion(1) My first thoughts when i though about Illusion as a MTG was making something appear as something it isn't - Like a Morph card. Another thought I had, which i feel fits more correctly with CCS is that Illusion would appear in the disguse of what that person feels. Manipulating the space in front of them so see something else. This just lead me on key word search for Manipulation and this seemed to be a reasonable result. Also allows for graveyard recursion.
Illusionary Servant Illusion(2). Has Illusion in the name. Is essentially just another creature.
Maze of Shadows Maze. Has maze in the name and allows for a 'Fog' on target creature.
Etali, Primal Storm Storm. Has storm in the name, is a big creature. Storm is an aggressive Card. Etali, feels just that. In the series Saoryan became the first Cardcaptor to control Storm, essentially taking the card away from Sakura. So, Etali, Primal Storm, will take others cards away from them.
Mirror Mockery Mirror. Mirror had always been used to make a copy of Sakura (until Clear Card) but Mirror was never the real Sakura. So I searched for something that would create of copy of a creature that wouldnt become a permanent. Essentially this would need to be used on a card with an ETB trigger or with Haste.
Blood Mist Mist (1). Has mist in the name. Originally i was thinking of a creature that had deathtouch as everything Mist touches gets destroyed. Instead I went with a card that has Mist in the name and allows for Double Strike.
Dread Return Return. I know from the start that any of the Time element related CCS Cards would have be graveyard related. I felt this was the best of my options and has Return in the card name.
Dragon-Style Twins Twin. CCS Twin Card are 2 twins who fight in unison. This creature has Twin in the Title, The art is of twins about to engage in combat and has Double Strike.
Valley Dasher Dash. Dash is a super fast card that panics when scared or flees. Valley Dasher has Haste and has to attack each turn if able. I think that is a pretty close similarity in the fact that this card is "always on the go"
Sandcrafter Mage Sand. Art work is of a Mage casting Sand Magic. That alone fits in the CCS.
Carpet of Flowers Flower. Im not gonna lie originally i was going to go with Flower / Flourish simply because the card is called Flower however, Carpet of Flowers allows for colouring fixing if used against an island deck. An essential element in a 5 colour deck.
Pit Fight Fight. I always knew what style of card I wanted for Fight. This seemed like a reasonable option.
Shu Yun, the Silent Tempest Silent. Has silent in the name. In the art Shu Yun is in a temple. A quiet place. Just like the museum was in the series. This card has the ability to allow additional damage.
Snowhorn Rider Snow. Besides from running One snow covered land. This seemed like the next best option.
Agony Warp Little. There are no LEGAL cards with little in their name. The little card is known for making things smaller. Whilst my BIG card does not currently do this in reverse. I felt Agony Warp was a good alternative.
Wall of Wood Wood. A gentle card that does essentially nothing but defend. My RAIN card was originally going to be a card that allows walls to attack as if they have no defender but I am not running enough walls in this deck for it to be worth while. instead I went with once that could be used with Wall of Wood being on the field or any other card.
Angelic Shield Shield. Makes your creatures tougher- giving them more protection. Allows for Graveyard recursion.
Ashiok, Dream Render Dream. Has dream in the name. Looks somewhat similar to the CCS Dream Card Art. Allows for Graveyard control.
Drana's Emissary Sweet. There are NO CARDS with Sweet in their titles. Sweet only appears in flavour text. Out of all the options. This seems the most beneficial.
Goldenglow Moth Glow. Only card with glow in its name. it is similar to CCS Glow Card and allows for life gain. A gentle card that is really - Just a 'pretty' card just like in CCS.
Spirit Loop Loop. Has loop in the name. Allows for life gain and the card itself, essentially in undying... just like a loop.
Luminescent Rain Rain. The only card with Rain in its title that seemed some what in resemblance to the CCS Card and could still work with WOOD.
Avenger of Zendikar Create. Create is a card that creates creatures. Avenger seemed to be a good fit. Avenger being the book and the plant tokens being the creatures that Create makes. This card will be changed out for Deep Forest Hermit(UNRELEASED) which creates squirrels and works with your graveyard.
Sword of the Animist Sword. Allows you to attached a sword to target creature and allows for ramping.
Archangel's Light Light. Originally I wanted a card that was similar to Dark- just like in the series. It was hard to find any that that worked that included the words light and dark. There is the potential that the 2 cards could become One single card in future, as in the series the 2 cards must always be used in unison. This card has light in the name and has graveyard recursion.
Erase Erase. REMOVAL. No further explanation needed.
Floating Shield - Float. Has float in the name. Allows you to choose WHITE as the protection colour without it being removed from enchanted creature.
Pathway Arrows Arrow. We never for to see much about how Arrow works as a card when being controlled. But we do know that it shoots arrows. So, this card has Arrow in the name, the artwork is of a bow and arrow and is an equipment allowing equipped creature to tap to deal a damage to another creature - almost as if it were shooting an arrow.
4 years ago
I understand that you want to play with new cards, but seriously? Avalanche Tusker? Snowhorn Rider? Crater Elemental?
These are from a newer set, yes, but if you're hoping to do well, (no offense), some of these bad cards have to go :/
For example, Dragon Broodmother is a big red-green dragon that gives you little dragons.