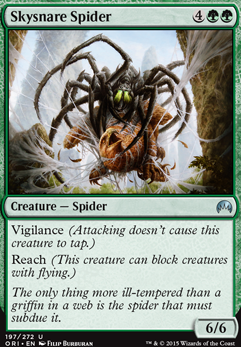 Skysnare Spider
Creature — Spider
Vigilance (Attacking doesn't cause this creature to tap.)
Reach (This creature can block creatures with flying.)
Browse Alters
View at Gatherer
Legality
| | |
| --- | --- |
| Format | Legality |
| Casual | Legal |
| Unformat | Legal |
| Custom | Legal |
| Tiny Leaders | Legal |
| Block Constructed | Legal |
| Canadian Highlander | Legal |
| 1v1 Commander | Legal |
| Pioneer | Legal |
| Legacy | Legal |
| Vintage | Legal |
| Modern | Legal |
| Highlander | Legal |
| Oathbreaker | Legal |
| Limited | Legal |
| 2019-10-04 | Legal |
| Duel Commander | Legal |
| Leviathan | Legal |
| Commander / EDH | Legal |
Latest Decks as Commander
Skysnare Spider Discussion
1 year ago
Love the concept! gota couple suggestions, figured I'll accordian them to keep from filling up the whole page.
3 years ago
I think there are a few cards to reconsider. For example, Raking Canopy and Needle Storm are cards that damage flying creatures. Either you know that you're facing a deck full of aggressive fliers, or these cards could sit quite dead in your hand. On top of that, every spider has reach, so you can block flying creatures. Instead of Raking Canopy you could consider Gaea's Anthem to buff up your creatures and have a bigger chance of surviving a block against both fliers and non-fliers.
I would probably cut the Skysnare Spiders because their cost is the same as that of Arachnus Spinner except the spinner has higher toughness and a free tap the spider for a free enchantment effect. The second Skysnare Spider and maybe even the Sentinel Spider could be switched out for more Kessig Recluses. The vigilance is nice to have of course, but it is up to you to decide whether it trumps the deathtouch.
Consider also Cryptolith Rite if you want to get more mana out of your creatures, this can also help get you to pay the cost for Ishkanah, Grafwidow's burn effect if you either have too little lands or lack a source of black.
One particular land that I find very satisfying to combine with Watcher in the Web is Swarmyard to just block 8 creatures and regenerate your blocker for free.
3 years ago
It's a good start. Removal in green is very hard to find so I like the small touches.
However, something about commander is you always want to have some sort of interaction with your general. It's certainly not necessary but with Multani, I think it's more fun. If you get some card draw in your deck, it would work really well with him.
Try Howling Mine, Font of Mythos, Collective Unconscious, Freyalise, Llanowar's Fury, Garruk, Primal Hunter, Glimpse of Nature, Heartwood Storyteller, Fecundity, Primordial Sage, Regal Force, Rites of Flourishing, Shamanic Revelation, Soul of the Harvest, Triumph of Ferocity or Zendikar Resurgent.
Another important thing in commander is a solid mana base. Running 38 Forests is not all bad but you want some more interaction with your deck. Oran-Rief, the Vastwood and Nykthos, Shrine to Nyx would go really well in your deck. You might also want to consider a Sol Ring and Gilded Lotus because those are commander staples.
Now, what to cut.
Let's start with creatures. One thing you have to think about when casting any kind of spell in a commander game is, "Is this spell worth the mana cost?" and "Does this spell have any kind of interaction in my deck?".
In my opinion, these are the creatures you need to cut. To the right of each, I will put some substitutes:
Duskdale Wurm ... Pelakka Wurm
Pathbreaker Wurm ... Nylea, God of the Hunt or Brawn or Thunderfoot Baloth or even Primal Rage
Pouncing Cheetah
Shoe Tree ... This is illegal in commander.
A lot of the creatures you have just don't have much synergy in your deck. Cut them and try out the other recommendations I've given you thus far.
Other cards to cut with recommendations:
Call of the Herd ... Not really worth it unless you're running a token deck which you are not.
Prey Upon ... It's just not very good in commander. Try Ulvenwald Tracker
Might of Old Krosa ... Meh. Try Giant Growth
Shed Weakness ... Unnecessary. Again. Giant Growth
TL;DR I like your deck. It's a good first time commander deck. Try to cut some of the creatures out that don't have any synergy with it. Card draw would go well with your deck. Mono green always has ramp.
If you have any questions, feel free to ask! Welcome to the format.
3 years ago
Hi SolomonsEfreet,
Nice to have seen the 1/1 Snakes be set free on Thursday.
Black Sun's Zenith $3 would be all star.
Gale Force is a high CMC, it will kill 1/1 Thopter but little else in this format. Why not just Toxic Deluge for 1.
Really like Sorceress Queen, very cool.
Guul Draz Assassin is just -2/-2, he doesn't use counters so he's not right, won't make 1/1 Snakes. Why not just a Royal Assassin for 1/3 the cost.
Gladehart Cavalry for CMC 7, he adds +1/+1 counters, which actually remove -1/-1 counters, which you then won't be able to proliferate. He's counter productive with this Commander.
Rendclaw Trow has Wither and Persist, so he makes 2 1/1 Snakes when blocked, plus 1 1/1 Snake when he persists. 3 1/1 Snakes, a 2/2 wither, a 1/1 wither for CMC 3 is pretty OP for $0.25.
Alpha Authority, Enchantment based Hexproof (unless it's Bestow or something), isn't usually good, Swiftfoot Boots a far better option.
Never//Return could be a Hero's Downfall which is Instant speed and less than $3.50.
Carnifex Demon can keep making snakes for . CMC 6 for 4/4 Flying + 2 1/1 Snakes then for another 2 1/1 Snakes and he becomes a 6/6 Flying. Pretty decent. You have some other CMC 7 creatures that do much less for $0.60, like Arachnus Spinner, Skysnare Spider.
Midnight Banshee could create a few 1/1 Snakes, he doesn't hit himself or Hapatra, Vizier of Poisons. Just think of the poor 2/2 Wolfs though! He also is Whither, much better than a Arachnus Spinner or Skysnare Spider.
Grim Affliction the proliferate seems good, but not sure how many lingering -1/-1 there are. Definetely if you continue to pump up your -1/-1 counters through Wither and ETB's it would be useful. It's 2 1/1 Snakes but could be many more depending on the board state.
Deity of Scars CMC 5 for a 5/5 Trample is good, comes with 2 1/1 Snakes and for can make 2 more 1/1 Snakes and regenerate! $2.50 though, not sure if anyone of value can come out.
Some ideas anyway.
3 years ago
Have you considered adding Ember Weaver? If you do decide to add red then this is a pretty cheap spider that is a 3/3 with first strike as long as you control a red permanent. Skysnare Spider is also good.
3 years ago
One of my friends runs a mono green elf tribal and he runs Lead the Stampede. I think that might be a good idea, as you need to keep fueling your barrage of elves. I don't know about the Skysnare Spider or the Managorger Hydra. They're good cards, don't get me wrong, but I don't know if they really fit what the deck is, ya know? I don't know how competitive you're trying to make it, but Door of Destinies is always a fun card to use in a tribal deck as well. you could also consider Beastmaster Ascension if you wanted to. I might consider those over the Joraga Invocation. Elves are always fun to play with!! the deck looks cool
Load more