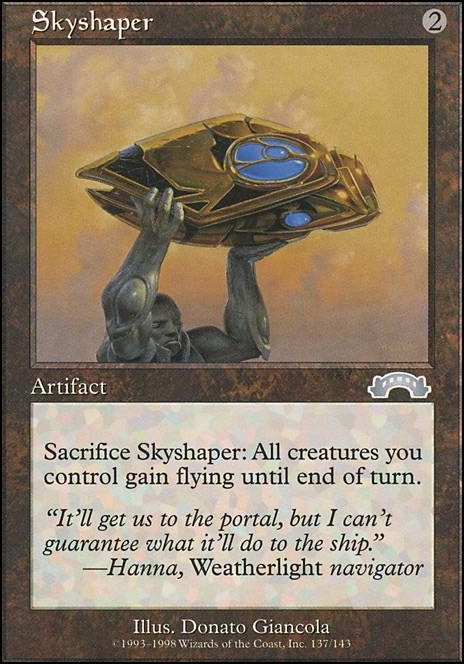 Legality
| | |
| --- | --- |
| Format | Legality |
| Tiny Leaders | Legal |
| Noble | Legal |
| Leviathan | Legal |
| Custom | Legal |
| Magic Duels | Legal |
| Canadian Highlander | Legal |
| Vintage | Legal |
| Penny Dreadful | Legal |
| Casual | Legal |
| Pauper EDH | Legal |
| Vanguard | Legal |
| Legacy | Legal |
| Archenemy | Legal |
| Planechase | Legal |
| 1v1 Commander | Legal |
| Duel Commander | Legal |
| Oathbreaker | Legal |
| Unformat | Legal |
| Pauper | Legal |
| Commander / EDH | Legal |
Skyshaper
Artifact
Sacrifice Skyshaper: Creatures you control gain flying until end of turn.
Skyshaper Discussion
8 months ago
Suns_Champion, You mean Fblthp? He's in quite a few cards, the others being Statute of Denial and Unquestioned Authority.
Also, in the card Treasure Trove's art, you can see Hanna, Ship's Navigator, Karn, Silver Golem, Touchstone, Null Rod, Thran Tome, and Skyshaper.
1 year ago
Individual Card Comments:
Comments:
Too much Ramp
Not enough Draw and Removal
Does the deck work without Daretti? If no, find a way to protect him, or other artifact recursion sources.
You WinCon category doesn't really have many cards that win you the game, just really impactful cards. Look for combos, or Insurrection like cards, or the dreaded MLD type effects. Basically cards that, if it resolves, win you the game.
You have a lot of categories with one or two cards in it. I'd clean those up into more general things to get a more clear idea for what you're trying to do.
You should probably be running more utility lands.
Think about adding some sacrifice outlets. If this is a recursion/reanimation deck, you need to be able to kill shit when you want to.
Red is really good at making temporary tokens, specifically artifact tokens, of things. Might be worth looking into.
I try not to include lands in categories because they aren't abusable enough to be consistent. It gives you false category numbers. If you have 10 draw cards, but 3 are lands, you really don't have enough draw. But that's just my opinion.
I'd try to find more "to the battlefield" recursion cards, instead of to your hand. Recasting those cards every turn causes mana problems. The "to hand" effects are still good though, just slower.
Isochron Scepter would be good with some of the spells you have like Scrap Mastery, and Trash for Treasure.
Tuktuk the Explorer and Feldon of the Third Path go well together, but the fact that the artifact is legendary sucks.
Turning nonartifact cards into artifacts using effects like Liquimetal Coating is an interesting direction to look into, and there are a few cards that do similar things. Probably several useful combos to do with that. Especially if you ever get the Daretti emblem.
Do you ever plan on getting a Daretti Emblem? Obviously you would like it, but to you, is it worth dedicating some card slots into cheating out loyalty counters to get him to 10? The problem is that he will very rarely get to 10 through use of his +2 alone. And even with Contagion Engine, people will attack him before he's at 8. Just something to think about. If you get the emblem, you've very likely won the game, so that can definitely be a win condition to pursue.
"Control" is too ambiguous. Chaos Warp, and Steel Hellkite are removal, and Liquimetal Coating is protection(?).
Red's draw is usually the looting (draw a card, then discard a card) and pillaging (discard a card, then draw a card) effects. These also aren't great, but using artifact recursion, cards like Mind Stone become very good draw effects if you can recur them every turn/rotation. Other abusable draws are Tamiyo's Journal, and Seer's Sundial. It might suck to give other people cards, but Howling Mine may also be worth it.
It seems counter-intuitive, but Vandalblast might be useful, especially with Scrap Mastery.
Are there more cards that let you cheat out artifacts from your hand like Copper Gnomes, if so that sounds like an interesting direction as well. Sneak Attack comes to mind, but
Combos:
No data for this card yet.