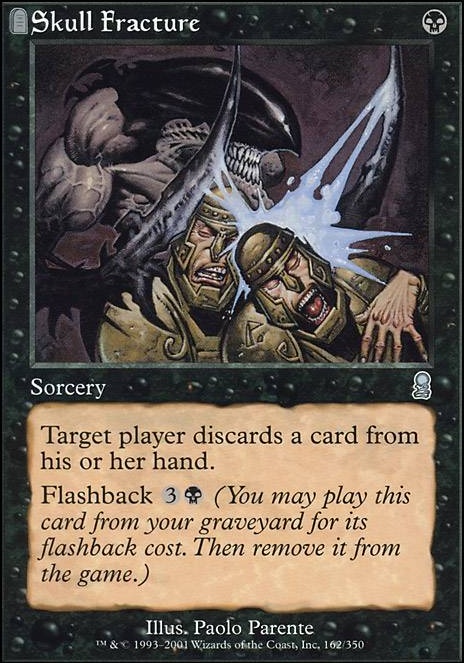 Legality
| | |
| --- | --- |
| Format | Legality |
| Pre-release | Legal |
| Noble | Legal |
| Leviathan | Legal |
| Magic Duels | Legal |
| Vintage | Legal |
| Penny Dreadful | Legal |
| Vanguard | Legal |
| Legacy | Legal |
| Archenemy | Legal |
| Planechase | Legal |
| Duel Commander | Legal |
| Unformat | Legal |
| Casual | Legal |
| Commander / EDH | Legal |
Skull Fracture
Sorcery
Target player discards a card.
Flashback (3)(Black) (You may play this card from your graveyard for its flashback cost. Then remove it from the game.)
Skull Fracture Discussion
2 weeks ago
Seems like a fun deck! A few cards to ramp it up a notch (and keep it budget)
Consult the Necrosages Just good utility for the deck
Mindstab That delayed discard can be really rough
Probe for late game silliness
1 month ago
What seems most important here is to cheat a Griselbrand, Kokusho, or Crawler into play as soon as possible without playing a straight reanimator deck. We know Legacy reanimator decks can go off on turn 1 or 2, so how do we do that on a budget? I'm not sure, but here's an idea:
Start with 0-drop creatures; say 4 Ornithopter and 4 Memnite or, even better, 4 Phyrexian Walker and 4 Shield Sphere. Add some targeted discard spells that you can use on yourself, including Raven's Crime. Aim for a turn 1 that goes something like this:
Play a swamp.
Play a 0-drop creature.
Play a dark ritual.
Play a 1-drop discard spell, targeting yourself, and pitch a big critter.
Use the other 2 B mana to play something like Animate Dead or Soul Exchange, sacrificing the 0-drop to return the big creature into play.
You try to jam this on the play and wait a turn or two until your opponent taps out on the draw, knowing that competitive blue match-ups will suck.
What do you think? I think you could re-tool your sorceries and some of your creatures to get the 0-drops and a few 1-of big critters in (like Platinum Emperion or Massacre Wurm or Grave Titan) that help you buy time and eat removal. A Gurmag Angler would be dope here, as well. I wouldn't sweat the Ghast mana/extort if you go for budget reanimator. Ghast and Artist are the creatures I'd cut.
Potential/recommended spells:
Animate Dead
Soul Exchange
Platinum Emperion
Massacre Wurm
Grave Titan
Gurmag Angler
Tortured Existence (pitch a big critter, bring back a 0-drop, play it, repeat step 3 above).
Raven's Crime
Ornithopter
Memnite
Phyrexian Walker
Shield Sphere
I kind of like the idea of an unknown reanimator list. If you want to stick the current game plan, I'd play Disfigure and Dismember over Go for the Throat. Maybe sideboard it along with Doom Blade for big-mana match-ups and Darkblast which you could use on your upkeep and again after dredge/draw to snipe a Delver or Deathrite Shaman.