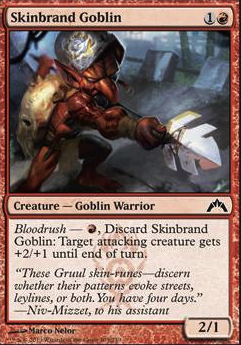 Legality
| | |
| --- | --- |
| Format | Legality |
| Modern | Legal |
| Legacy | Legal |
| Vintage | Legal |
| Commander / EDH | Legal |
| Duel Commander | Legal |
| Tiny Leaders | Legal |
| Pauper | Legal |
Skinbrand Goblin
Creature — Goblin Warrior
Bloodrush R, Discard Skinbrand Goblin: Target attacking creature gets +2/+1 until end of turn.
Skinbrand Goblin Discussion
9 months ago
Add:
Borborygmos Enraged: Turn lategame lands into advantage
Chaos Imps: Huge Flier
Chromatic Lantern: Best Mana Fixing
Death's Presence: Capitalize on Big Creatures
Explosive Impact: Removal
Giant Growth: Combat Trick
Glaring Spotlight: Lethal Swing
Hellkite Tyrant: Big Flier
Madcap Skills: Powerful Evasion (note, does not make a creature unblockable with Alpha Authority)
Maze Behemoth: Gives Commander Trample
Mizzium Mortars: Board Clear
Molten Primordial: Removes big blockers, gives additional attackers, and can act as removal
Rogue's Passage: Gives creatures unblockable, like your commander that has to keep attacking
Skarrg Goliath: Combat trick that kills defenders and players
Sylvan Primordial: Ramp and Enchantment/artifact/planeswalker/land removal.
Thespian's Stage: With being limited to RTR lands, why not get out of set lands?
Utvara Hellkite: Wins games on its own
Viashino Shanktail: Firststrike Combat trick (also called SHANK tail)
Weapon Surge: Combat trick/mass combat trick, turn trades into chumps
Worldspine Wurm: 15/15 that spawns 5/5's
Wrecking Ogre: Combat Trick Doublestrike
Remove:
Bomber Corps: Doesn't do much, the battalion isn't reliable, and ping isn't useful
Experiment One: your deck doesn't spam creatures with ascending power/toughness.
Foundry Street Denizen: Doesn't do much of anything, wasted slot
Spire Tracer: 1/1 faux flier doesn't help
Skinbrand Goblin: small combat trick, weak creature
Gatecreeper Vine: defender in an aggressive deck that searches out a single card in deck
Skullcrack: a useless card, even for an aggressive deck, burn is used for creature removal
4x Mountain: Too many lands
5x Forest: Ditto
Mending Touch: Regen isn't worth a card
Pyroconvergence: too expensive, Shocking on multi-color doesn't help much
Skylasher: counters a single faerie a turn, doesn't do much else
Tablet of the Guilds: lifegain doesn't matter, wasted slot
Gruul Charm: doesn't do anything
Maybe:
Hellraiser Goblin: Gives all creatures haste
Illusionist's Bracers: 12 damage with Ruric Thar, the Unbowed, instead of 6
Racecourse Fury: gives any creature haste
Seek the Horizon: Ramp
Street Spasm: boardclear
Tower Defense: anti-fliers if you are concerned about that
Zhur-Taa Ancient: ramp for all, also really cheap big guy