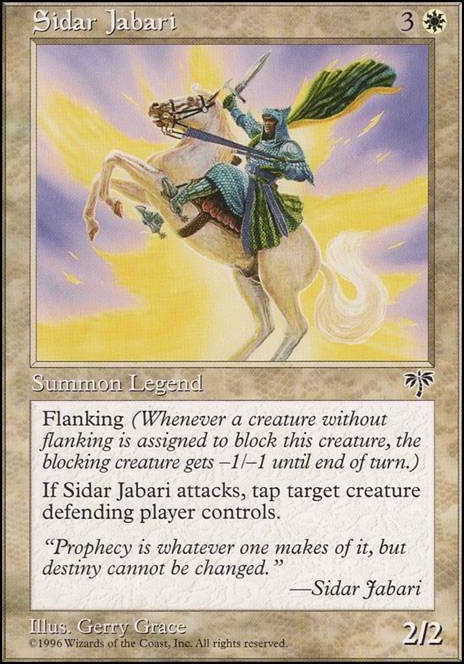 Sidar Jabari
Legendary Creature — Human Knight
Flanking *(Whenever a creature without flanking blocks this creature, the blocking creature gets -1/-1 until end of turn.) *
Whenever Sidar Jabari attacks, tap target creature defending player controls.
Browse Alters
View at Gatherer
Legality
| | |
| --- | --- |
| Format | Legality |
| Leviathan | Legal |
| Unformat | Legal |
| Limited | Legal |
| 2019-10-04 | Legal |
| Commander / EDH | Legal |
| Duel Commander | Legal |
| 1v1 Commander | Legal |
| Oathbreaker | Legal |
| Casual | Legal |
| Vintage | Legal |
| Highlander | Legal |
| Tiny Leaders | Legal |
| Canadian Highlander | Legal |
| Legacy | Legal |
Sidar Jabari Discussion
2 years ago
enpc I never at any time said Gwafa is a tier 1 or 2 build but putting him the same category with useless commanders like Huang Zhong, Shu General or Sidar Jabari or overcosted ones like Chorus of the Conclave or Lu Bu, Master-at-Arms is also not a good assessment. If you took the time to look up I said specifically that Gwafa should be Tier 4 maybe tier 3. I admit that he is conditional but he is good at what he does. There are a lot of reasons for this.
1) Maybe the best combination of control colors in magic. By being pillowfort, you buy time until you find your answer and grind into a game win. I cannot tell you how many times against competitive decks that I have done 10+ commander damage with Gwafa as we as slow down creature based strategies.
2) He is instant removal. Yes the opponent nets a card but it can shut down a win-con which is more important. Voltron strategies groan heavily when I flip Gwafa because they know they will have to work extra hard to get in.
3) Backed by removal and counters. YEs they net that extra card but after you bribe them, any good blue deck has a counter suite to handle what comes next. By buying time, you let a good control deck stabilize. If Gwafa didn't net a card, every U/W conrtol deck would be using him as a commander
3 years ago
You have plenty of terrible commanders there: Sidar Jabari, Soramaro, First to Dream, Spirit of the Night, Skyfire Kirin, Shisato, Whispering Hunter, Geist of Saint Traft, Teysa, Envoy of Ghosts, Tajic, Blade of the Legion, Asmira, Holy Avenger, Skeleton Ship, Tor Wauki, Sisters of Stone Death, Stangg, Chromium, Treva, the Renewer, Oros, the Avenger, Daghatar the Adamant, Johan, Sol'kanar the Swamp King, Vorosh, the Hunter, Vaevictis Asmadi, Atogatog and more.
Also you are still missing at least one semi-strong commander from the list, Seton, Krosan Protector
4 years ago
Also, you don't have to include any of these if you don't want to, but these are all the White commanders I could find that weren't in your list.
Atalya, Samite Master, Avacyn, Guardian Angel, Brigid, Hero of Kinsbaile, Brimaz, King of Oreskos, Celestial Kirin, Cho-Manno, Revolutionary, Commander Eesha, General Jarkeld, Gerrard Capashen, Guan Yu, Sainted Warrior, Hazduhr the Abbot, Hikari, Twilight Guardian, Hixus, Prison Warden, Huang Zhong, Shu General, Kataki, War's Wage, Kentaro, the Smiling Cat, Kiyomaro, First to Stand, Konda, Lord of Eiganjo, Lieutenant Kirtar, Lin Sivvi, Defiant Hero, Liu Bei, Lord of Shu, Major Teroh, Myojin of Cleansing Fire, Nagao, Bound by Honor, Opal-Eye, Konda's Yojimbo, Orim, Samite Healer, Oriss, Samite Guardian, Oyobi, Who Split the Heavens, Pang Tong, "Young Phoenix", Pianna, Nomad Captain, Radiant, Archangel, Rashida Scalebane, Rashka the Slayer, Rune-Tail, Kitsune Ascendant, Sensei Golden-Tail, Sidar Jabari, Soraya the Falconer, Takeno, Samurai General, Tivadar of Thorn, Yomiji, Who Bars the Way, Yosei, the Morning Star, Zhang Fei, Fierce Warrior, Zhao Zilong, Tiger General, and Zuberi, Golden Feather.