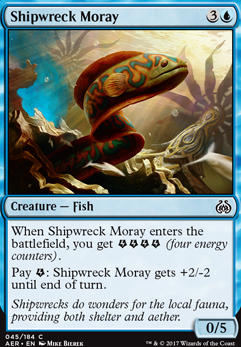 Legality
| | |
| --- | --- |
| Format | Legality |
| Modern | Legal |
| Legacy | Legal |
| Vintage | Legal |
| Commander / EDH | Legal |
| Duel Commander | Legal |
| Standard | Legal |
| Frontier | Legal |
| Pauper | Legal |
Shipwreck Moray
Creature — Fish
When Shipwreck Moray enters the battlefield, you get (four energy counters).
Pay : Shipwreck Moray gets +2/-2 until end of turn.
Shipwreck Moray Discussion
2 months ago
I have had a few fun times creating standard decks that utilize energy production to secure victory. Shielded Aether Thief would probably be a better replacement for Shipwreck Moray. It is 2 mana cheaper than the moray, and you gain energy anytime it blocks. The energy gain can be used to fuel this three artifact combo: Decoction Module, Fabrication Module, and Animation Module. The modules can feed each other as long as you have the mana and can pump your creatures to lethal levels. Land wise, some immediate additions would be Aether Hub, Simic Growth Chamber, and Sandsteppe Citadel. After that, look for as many dual lands in those colors as possible. I would replace Wind-Kin Raiders with Empyreal Voyager as the voyager is cheaper, has trample, and provides as much energy that it deals a combat damage. Token generators to consider adding are Oviya Pashiri, Sage Lifecrafter and Master Trinketeer. Two decent token generators in blue for your deck would be Thopter Spy Network and Sharding Sphinx and they can help trigger each other's effects. You could also replace Multiform Wonder with Electrostatic Pummeler. Hope that helps!