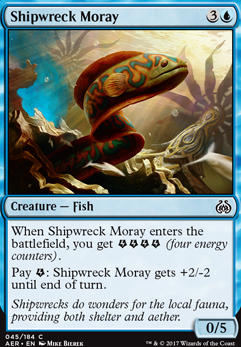 Legality
| | |
| --- | --- |
| Format | Legality |
| Pre-release | Legal |
| Magic Duels | Legal |
| Canadian Highlander | Legal |
| Vintage | Legal |
| Modern | Legal |
| Penny Dreadful | Legal |
| Standard | Legal |
| Pauper EDH | Legal |
| Leviathan | Legal |
| Legacy | Legal |
| Frontier | Legal |
| Duel Commander | Legal |
| Casual | Legal |
| Unformat | Legal |
| Pauper | Legal |
| Commander / EDH | Legal |
Shipwreck Moray
Creature — Fish
When Shipwreck Moray enters the battlefield, you get (four energy counters).
Pay : Shipwreck Moray gets +2/-2 until end of turn.
Shipwreck Moray Discussion
8 months ago
DarkLaw,
Nyah, it's still good flavor-wise. The part that kills the Shipwreck Moray (or 8/8 Octopus or whatever) is pulling them out of the water to make them Walk the Plank in the first place. They're dead WAY before they make it to the end of the plank.
Only flavor fail IMO is that for them it should be called Slither the Plank ;-)
1 year ago
I have taken a look at your deck. Yours is very different from mine. A lot of your spells are white, and I'm going with a Mono-blue thing. So I won't discuss those differences in our decks.
I've realized cards like Aethertide Whale and Shipwreck Moray which you have in your deck weren't really working for me personally. High-mana, low-value outside of the actual energy they provide.
Deadlock Trap: I really really want to like this card. It would be extremely good if it didn't come into play tapped.
Dynavolt Tower: I'm just not running enough instants/sorceries to make this card worthwhile in my deck.
Furthermore, I'm a huge fan of Aethersphere Harvester, so I'm using this as my 3-drop instead. You should also consider Aether Meltdown as a fun energy card to sideboard.
Once I play this version of my deck, I'll let you know what I think. I'm waiting for a couple cards to come in the mail!
1 year ago
I have had a few fun times creating standard decks that utilize energy production to secure victory. Shielded Aether Thief would probably be a better replacement for Shipwreck Moray. It is 2 mana cheaper than the moray, and you gain energy anytime it blocks. The energy gain can be used to fuel this three artifact combo: Decoction Module, Fabrication Module, and Animation Module. The modules can feed each other as long as you have the mana and can pump your creatures to lethal levels. Land wise, some immediate additions would be Aether Hub, Simic Growth Chamber, and Sandsteppe Citadel. After that, look for as many dual lands in those colors as possible. I would replace Wind-Kin Raiders with Empyreal Voyager as the voyager is cheaper, has trample, and provides as much energy that it deals a combat damage. Token generators to consider adding are Oviya Pashiri, Sage Lifecrafter and Master Trinketeer. Two decent token generators in blue for your deck would be Thopter Spy Network and Sharding Sphinx and they can help trigger each other's effects. You could also replace Multiform Wonder with Electrostatic Pummeler. Hope that helps!