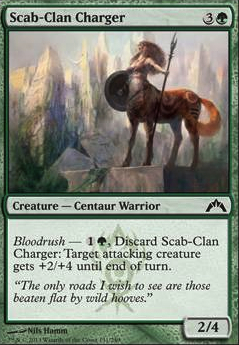 Scab-Clan Charger
Creature — Centaur Warrior
Bloodrush 1G, Discard Scab-Clan Charger: Target attacking creature gets +2/+4 until end of turn.
Scab-Clan Charger Discussion
1 year ago
Just my two cents: I was playing Scab-Clan Charger , but he never made much difference. Although he has versatility, he's more a defensive guy than an offensive one - in his place, you could just play Selesnya Charm and have the same versatility.
If you're going the counters route, I'd suggest playing Reap What Is Sown , both alone or alongside Common Bond , as they behave differently (but Reap gives you three counters instead of two). But in any case, with counters, you really should play Chronicler of Heroes . He's just the same as Centaur Healer but, in this case, he draws you cards. And he works really well with Experiment One , so maybe that's one way.
Another good card I intend to test is Nylea's Disciple , as all of our creatures are green. Gaining life sometimes is good to stabilize.
I'd drop the Coursers' Accord , because they're too slow (Fated Intervention is MUCH better), the Nessian Courser , because you can get much more valuable centaurs at that same cmc (such as the Chronicler), and the Pheres-Band Centaurs . If they had reach, they'd be one thing. But they don't, so they're another thing...
Those're my comments. If you wanna check my deck out, this is the link: Selesnya Centaurs JOU.
Best of luck!
1 year ago
I have a Centaur deck too! Check it out: Selesnya Centaurs JOU.
I don't use the heroic theme, as I think heroic centaurs are just to expensive mana-wise, but the centaurs are there, and lots of other good cards! I'd like to have your comments! :)
I prefer to use Hall of Triumph instead of Door of Destinies because: 1) it's cheaper; and 2) all my creatures are green (or G/W). And I also use Spear of Heliod to help with removal and pumping my creatures. So the idea is to have cost-efficient centaurs with good utility (like Centaur Healer and Scab-Clan Charger ) and good pumps, in the form of Pheres-Band Warchief , Spear of Heliod and Hall of Triumph . It is very fun to play with. :)
+1 for your deck, for the idea. Leave your comments on mine!
Best of luck! :)
1 year ago
Hey everyone. Ever since I started collecting Dragon's Maze and Gatecrash decks, and most recently the Gruul Wilding set, I've had a fascination with creating a perfect Gruul deck. Particularily the cards that allow more mana for easily summoning larger creatures, amping up atk and def, as well as spells that can greatly destroy life force, creatures, artifacts, etc.
There's just one problem. I suck at deck building. So I need some help for making a great R/G Gruul deck that can fulfill my desires for more mana and creature summons.
Here is a list below of all Gruul based cards, as well as other cards I have collected over time.
Hey guys. Recently I've been favouring the strong Red/Green combo decks based around the Dragon's Maze and Gatecrash series. But after collecting a large number of cards I'm trying to figure out how to make a better deck than the one I have right now.
I have a list of the cards in my posession here:
Creatures
2x Acidic Slime
2x Cobblebrute
1x Rubblehulk
4x Arbor Elf
1x Borborygmos
2x Rust Scarab
1x Wild Cantor
Artifact
Sorcery
1x Frenzied Tiling
2x Armed & Dangerous
2x Enlarge
1x Bramblecrush
4x Farseek
1x Wreak Havoc
Instant
2x Pit Fight
2x Naturalize
3x Gruul Charm
3x Shock
1x Wildsize
3x Skullcrack
Enchantment
Land
12x Forest (I have countless of these from collecting)
12x Mountain (Same as Forest)
1 year ago
Run cards with Blood rush ability. Cards like Scab-Clan Charger can help assure you take out something on the field while filling your graveyard at the same time. it acts as a pump spell while filling your graveyard