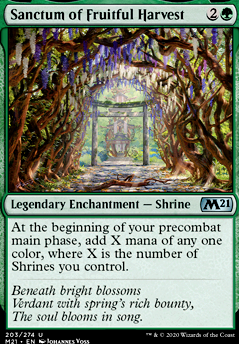 Sanctum of Fruitful Harvest
Legendary Enchantment — Shrine
At the beginning of your precombat main phase, gain X mana of any one colour, where X is the number of Shrines you control.
Browse Alters
Legality
| | |
| --- | --- |
| Format | Legality |
| Pioneer | Legal |
| Duel Commander | Legal |
| Magic Duels | Legal |
| 1v1 Commander | Legal |
| Leviathan | Legal |
| Vintage | Legal |
| Canadian Highlander | Legal |
| Commander / EDH | Legal |
| Arena | Legal |
| Frontier | Legal |
| Standard | Legal |
| Oathbreaker | Legal |
| Casual | Legal |
| Highlander | Legal |
| Brawl | Legal |
| Modern | Legal |
| Block Constructed | Legal |
| Pre-release | Legal |
| Unformat | Legal |
| Legacy | Legal |
| Tiny Leaders | Legal |
Sanctum of Fruitful Harvest Discussion
1 week ago
If you do want to find room for the dryad you could probably afford to cut a couple Sanctum of Fruitful Harvest and maybe a champion.
3 weeks ago
The 3-ofs is awkward. You should think more about the progression of the first 4 or so turns. What cards do you want to see every time? What cards do you just want to be in the deck to fetch with the 5-c Shrine or find with Calix?
My guess is that you should go up on the following cards to 4x:
Setessan Champion
Sanctum of Fruitful Harvest
Sanctum of Calm Waters
Destiny Spinner
And down on the following cards to 1-2x:
Sanctum of Stone Fangs
Sanctum of Tranquil Light
Starlit Mantle
I also don't think the Triomes are the best manabase. Unless you're planning already for the Shocklands to rotate, you'll want some combination of those and the Triomes/Temples. I doubt you can or should fit Radiant Fountain.
In sum, I think you're approaching this as an even "5c throw in everything" build, but even 5 color decks should have a primary plan and then a 5c finish. I suspect this should be primarily a Bant Enchantments shell that can splash for the RB shrines and the 5c shrine. Because of that and the synergy with Calix and Champion, I'd also recommend swapping Eat to Extinction for Banishing Light.
I hope I've given good reasoning, but looking forward to what you do regardless!