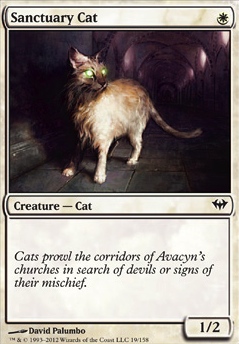 Legality
| | |
| --- | --- |
| Format | Legality |
| Noble | Legal |
| 1v1 Commander | Legal |
| Vintage | Legal |
| Modern | Legal |
| Casual | Legal |
| Vanguard | Legal |
| Legacy | Legal |
| Archenemy | Legal |
| Planechase | Legal |
| Duel Commander | Legal |
| Unformat | Legal |
| Pauper | Legal |
| Commander / EDH | Legal |
Sanctuary Cat
Creature — Cat
Sanctuary Cat Discussion
1 month ago
I attended 2 prereleases on Saturday, and won BOTH OF THEM!!
The 1st one had 18 players, (4 rounds) and I opened an insane RB deck. 2 Dreamstealers (one was my prerelease promo), Neheb, the Eternal, Sand Strangler, and 5+ great red removal spells. I paired it with black for curve reasons, even though I had some decent green cards and 2 of my removal spells were Struggle / Survive. I went 4-0 and didn't even drop a game until the last round.
The 2nd one was much smaller with only 9 players, and was only 3 rounds. I played a BW deck that was headed up by Crested Sunmare and Liliana, Death's Majesty. My promo was Wildfire Eternal which I opted not to use. Again, I had lots of removal and finally found a reason to play 2 copies of Trespasser's Curse in limited -> The HORSE! In the 3 matches I played, I never saw Lily but the horse straight up won me the game every time it hit the field. I played deserts with solitary camels and Sacred Cat just for the lifelink in addition to the curses and an aven of enduring hope . 5/5 indestructible horses are the real deal in limited.
No Bolas's for me in the 32 total packs I opened, but I did manage to get a pack foil Ramunap Excavator

and 2 non-foil copies, which was nice :)
1 year ago
Monsmtg Sorry but Steppe Lynx doesn't really fit in. He doesn't have a lot of capabilities when it comes to mid game when, for instance, I have no land to play. I just figure that Sanctuary Cat and Trained Caracal fit better because they can hit immediately for damage without any preset requirements. I will keep it in mind but I honestly don't think I will be putting it in as of now.