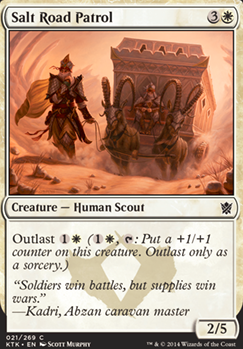 Salt Road Patrol
Creature — Human Scout
Outlast {1}{W} ({1}{W}, {T}: Put a +1/+1 counter on this creature. Outlast only as a sorcery.)
Browse Alters
View at Gatherer
Legality
| | |
| --- | --- |
| Format | Legality |
| Tiny Leaders | Legal |
| 1v1 Commander | Legal |
| Magic Duels | Legal |
| Canadian Highlander | Legal |
| Vintage | Legal |
| Modern | Legal |
| Highlander | Legal |
| Penny Dreadful | Legal |
| Block Constructed | Legal |
| Pauper | Legal |
| Pauper EDH | Legal |
| Pioneer | Legal |
| Leviathan | Legal |
| Legacy | Legal |
| 2019-10-04 | Legal |
| Frontier | Legal |
| Duel Commander | Legal |
| Oathbreaker | Legal |
| Unformat | Legal |
| Casual | Legal |
| Commander / EDH | Legal |
Salt Road Patrol Discussion
1 year ago
So with the theme of being aggro/removal, and keeping the deck at a budget I'll try and list some budget alternatives that can be upgrades, off the cards I can think of off the top of my head. I'm also noticing a trend with +1/+1 counters so I'll consider those as well
Remove:
Arbor Colossus: He's basically an 11 cost 9/9 that removes one single flying creature
Druid of the Cowl: Two drop mana dork that can be replaced by Llanowar Elves or Elvish Mystic. Though Druid of the Cowl has more toughness, playing one of the others turn 1 helps accelerate you better.
Experiment One: Cool one drop that gives himself counters and can regenerate, but the downside is that your deck does run a lot of creatures with similar low power/toughness creatures making this hard to get passed more than 3 counters without the aid of using resources on him.
Greenwarden of Murasa: I would keep him if you can't get your hands on a Eternal Witness because 3 > 6 mana wise.
Kabira Vindicator: Level up is a cool mechanic, but having to spend 4 mana to cast him and then another 6 mana to give your creatures +1/+1 is pretty bad. Glorious Anthem would already give them +1/+1 OR you can always get Gideon, Ally of Zendikar use his -4 ability immediately and have the emblem to have an almost permanent buff to your creatures.
Knight of Cliffhaven: Same reason as Kabira, 5 mana to have a flying 2/3 is pretty meh. and 14 mana total to have a flying, vigilant 4/4 is the worst.
Sunscorch Regent may not have vigilance, but he does have flying, and gets stronger the more spells that cast as well as gaining you life.
Master of Pearls: Has to be morphed and flipped to have any real usage. Overwhelming Stampede gives your creatures trample on top of whoever has the highest power on your board.
Nekrataal: 4 drop creature version of the 2 drop Terror. Avatar of Woe may not have the etb, but she can become a 2 drop pretty easy and can destroy a creature for you each turn.
Netcaster Spider: Would just replace this with
Longshot Squad, would synergize more with the deck and grants your other creatures +1/+1
Salt Road Patrol: For aggro, this card is too slow and only boost itself.
Sporemound: You don't have any mana accelerators or extra land drop enablers
Scapeshift: This spells rocks if you Golgari Rot Farm, Selesnya Sanctuary, Orzhov Basilica
Oath of Ajani: Would replace with Abzan Ascendancy, one extra mana for the same first ability, but the second ability will have more usage since you don't run any planeswalkers in the deck which makes the oath just a dead card on the field.
Zendikar's Roil: As mentioned with Sporemound, an alternative with a better landfall effect is Rampaging Baloths
Consume the Meek: This kills your commander and most of your creatures
Cards I would consider adding:
Pir, Imaginative Rascal & Hardened Scales work almost the same way your Winding Constrictor work
Cathars' Crusade: Considered a staple in most creature decks that use +1/+1 counter things
Ivorytusk Fortress: The budget version of Seedborn Muse and synergy with counters
Forgotten Ancient: Allows itself to gain more counters on it while the game continues and can move them to other creatures
Retribution of the Ancients: Great kill enchantment that revolves around +1/+1 counters
Oran-Rief, the Vastwood: Just an all around decent land that gives counters to all your creatures that entered on the same turn.
2 years ago
The Landfall ability indeed triggers along Kalametra's.
Some cards I would switch out include:
Abzan Kin-Guard 4 mana 3/3 lifelink is quite weak.
Aetherwind Basker Has no synergy with the deck.
Ajani's Comrade In my opinion Scavenging Ooze would be much stronger in terms of utility and reliability
Argothian Elder Land untap is useful if you're using many utility lands, which you are not. Could be replaced by any mana dorks like Elvish Mystic or Avacyn's Pilgrim
Aven Mindcensor This guy should stay if your playgroup is playing combo-heavy decks, otherwise he's useless
Blinding Souleater Little synergy with the deck
Salt Road Patrol Lacks utility
An-Havva Inn and Ancestral Tribute Very defensive cards, but Trostani, Selesnya's Voice or evenPelakka Wurm would benefit the deck more.
Angelic Blessing It looks rather weak compared to Collective Blessing orCathars' Crusade
Aether Vial A pricy card mostly used in tempo decks like Merfolks. Not very useful here since we should have plenty of ramp anyway.
Accorder's Shield Less synergy than say, Sword of the Animist
Chimeric Staff Looks like a weaker Chameleon Colossus to me.
Arboria Kinda goes against Karametra as a whole since you WANT to play creatures to pump out lands.
Absolute Grace+Absolute Law I mean, if you're only facing red and black, this should stay. Otherwise, it's an even deader draw than Great Wall.
Abzan Runemark Weaker than Rancor or many other boosting enchantments.
There might still be a few cards I find odd or out of place, but for now I'm slightly running out of time, so I'll proceed with some general must-have cards:
Sol Ring, Selesnya Signet, Command Tower, Oblivion Ring, Chord of Calling, Solemn Simulacrum, Tireless Tracker, Sun Titan, Eternal Witness.
Also wow Living Plane if you own one it's great, though if not it's quite the pricey card.
I can give you an extensive list of potentially great cards if you want me to, though tonight this is all the time I had, my apologies.