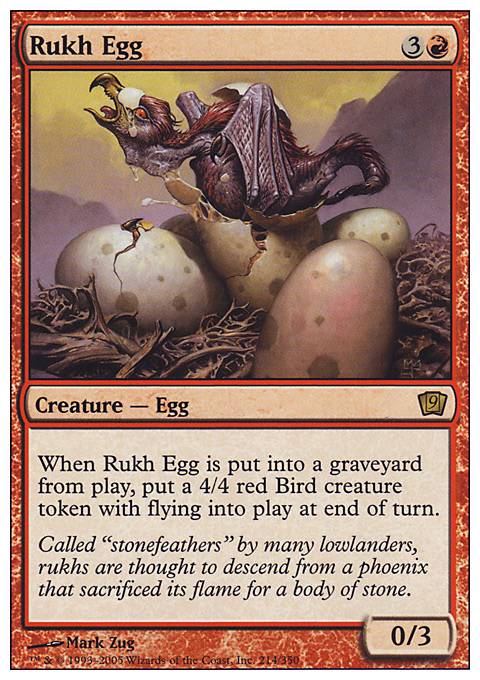 Legality
| | |
| --- | --- |
| Format | Legality |
| Tiny Leaders | Legal |
| Vintage | Legal |
| Penny Dreadful | Legal |
| Custom | Legal |
| Commander / EDH | Legal |
| Noble | Legal |
| Magic Duels | Legal |
| 1v1 Commander | Legal |
| Canadian Highlander | Legal |
| Vanguard | Legal |
| Leviathan | Legal |
| Pauper EDH | Legal |
| Planechase | Legal |
| Duel Commander | Legal |
| Unformat | Legal |
| Modern | Legal |
| Pauper | Legal |
| Oldschool 93/94 | Legal |
| Legacy | Legal |
| Archenemy | Legal |
| Casual | Legal |
| Oathbreaker | Legal |
Tokens
Rukh Egg
Creature — Egg
When Rukh Egg dies, put a 4/4 red Bird creature token with flying onto the battlefield at the beginning of the next end step.
Rukh Egg Discussion
3 years ago
I haven't played Feldon, so these are off the top of my head.
Thoughts:
Burnished Hart - costs a lot to pull off, but it's some serious ramping
Scuttling Doom Engine - probably won't have to do this for too many turns
Tuktuk the Explorer - leaves a big body behind
Rukh Egg - even better, because it's not a legend
Summoner's Egg - free creatures are good, especially every turn
Deathrender - ditto
Vicious Shadows - things are going to die anyway
Rite of the Raging Storm - your opponents hitting each other is good for your gameplan
Altar of Dementia - milling yourself seems solid
Goblin Bombardment - not a ton of extra value, but could help with pesky creatures
Spinerock Knoll - cheap stuff!
Valakut, the Molten Pinnacle - sweet late game
Sword of the Animist - solid, if not exciting
Grimoire of the Dead - a bit out of the box, but actually matches up with Feldon amazingly well
Greater Gargadon - sac outlet, plus a huge body to reanimate
Insurrection - often game over, but gains value w/unbounded sac outlets
No data for this card yet.