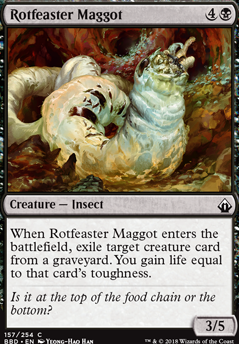 Legality
| | |
| --- | --- |
| Format | Legality |
| Tiny Leaders | Legal |
| 1v1 Commander | Legal |
| Magic Duels | Legal |
| Canadian Highlander | Legal |
| Vintage | Legal |
| Modern | Legal |
| Penny Dreadful | Legal |
| Casual | Legal |
| Pauper EDH | Legal |
| Pioneer | Legal |
| Leviathan | Legal |
| Legacy | Legal |
| Frontier | Legal |
| Duel Commander | Legal |
| Oathbreaker | Legal |
| Unformat | Legal |
| Pauper | Legal |
| Commander / EDH | Legal |
Related Questions
Rotfeaster Maggot
Creature — Insect
When Rotfeaster Maggot enters the battlefield, exile target creature card from a graveyard. You gain life equal to that card's toughness.
Rotfeaster Maggot Discussion
3 years ago
Just to get the deck ready to play tomorrow, here's what I would do:
Cuts
Additions: 36 lands
Beyond that, here are things you need more of in the deck moving forward:
1) More ways to get creatures into your graveyard, i.e. Returned Centaur, Altar of Dementia, Moonlight Bargain, Faithless Looting, Buried Alive.
2) More sac outlets, i.e. Viscera Seer, Carrion Feeder, Attrition, Dimir House Guard, Goblin Bombardment, High Market.
3) More spot removal attached to creatures, i.e. Bone Shredder, Big Game Hunter, Faceless Butcher, Duplicant.
4) More ways to protect your commander, i.e. Palisade Giant, Lightning Greaves, Swiftfoot Boots, Darksteel Plate, Whispersilk Cloak, Mother of Runes.
5) More win cons, i.e. Master of Cruelties, Priest of the Blood Rite.
Other amazing cards you should find room for:
Liliana, Heretical Healer Flip
General Suggestions:
Since you'll be playing against Meren, try to replace effects that remove one single thing the graveyard with graveyard hosers like the aformentioned Agent of Erebos or stuff like Relic of Progenitus, etc.
Try to replace your cards that get rid of just artifacts or just enchantments with cards that kill both artifacts and enchantments like the previously mentioned Leonin Relic-Warder or Return to Dust, Orim's Thunder or Fate Forgotten. Or better yet, replace them with things that just get rid of permanents like Utter End, Chaos Warp, Necrotic Sliver or Vindicate.
Don't play any creatures with power greater than 2 unless they are really good.
Get some more mana rocks in there. Chromatic Lantern and the signets (Orzhov Signet, Boros Signet, Rakdos Signet) are great.
If you want to protect your own graveyard, try Aegis of the Gods and/or True Believer.
Hope all this helps! I love playing with Alesha and I think you will too!
No data for this card yet.