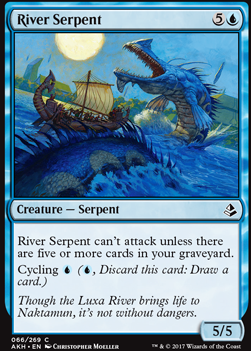 Legality
| | |
| --- | --- |
| Format | Legality |
| 1v1 Commander | Legal |
| Vintage | Legal |
| Modern | Legal |
| Standard | Legal |
| Legacy | Legal |
| Duel Commander | Legal |
| Casual | Legal |
| Unformat | Legal |
| Pauper | Legal |
| Commander / EDH | Legal |
River Serpent
Creature — Serpent
River Serpent can't attack unless there are five or more cards in your graveyard.
Cycling U (U, Discard this card: Draw a card.)
River Serpent Discussion
1 month ago
This is just a start FYI
Note: Add more lands as you should have at least 30+ and "Cycling" is not doing anything for this deck other than spending your manna and slowing you down, cards like Diabolic Tutor and Fabricate or Kuldotha Forgemaster will cost you close to the same and get you exactly what you want.
2 months ago
Mandalorian, yeah i dropped River Serpent and two of the Cryptic Serpent. i thought i could utilize the cycling, and get the cryptics out for cheap pretty easy. however my graveyard tends to not build up fast enough, and i find myself in need of creatures more then the cycling from the River Serpent. i put in the Ghost Quarter and the Archive Trap, however i'm not really sure about the Mesmeric Orb, its good, but is only really effective if they have a lot of permanents. and i may add the Hedron Crab it seems decent for early game mill, and late game its a decent blocker.
3 months ago
I can see where the sparse land count might throw off my game, but the cycling cards are incredibly useful at not only drawing into spells but also lands. I could probably up the land count to 20 with another Ipnu Rivulet and Island by dropping a couple of Vessels without too much trouble though. frogkill45, the finisher is supposed to be straight mill, and River Serpent helps find our mill cards quickly, but I could see Cryptic Serpent in the sideboard somewhere.
5 months ago
I like the general idea! Sin Prodder would either do massive damage to your opponent or you would get to play Approach of the Second Sun! I think this concept would go fairly well with Combustible Gearhulk, and he's pretty budget.
I think even in a budget deck, Desert Cerodon and River Serpent are good enough. I get that they cycle, but they're so expensive for what they offer. Deem Worthy is a pretty decent removal spell that can be cycled and still kill a creature. And Cast Out can help get rid of pesky Planeswalkers.
Just some thoughts. Cool deck!
Load more