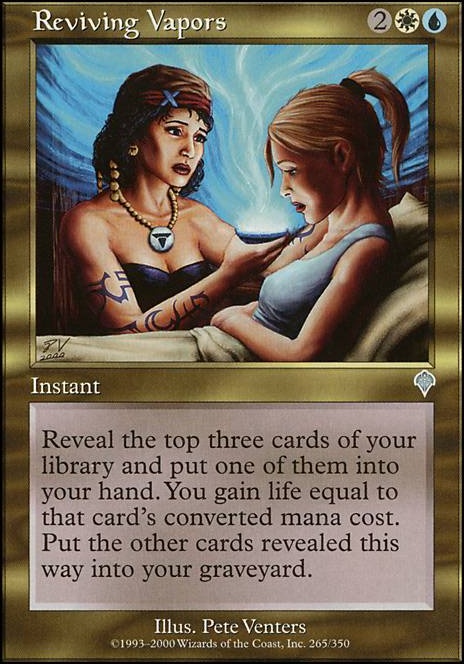 Legality
| | |
| --- | --- |
| Format | Legality |
| Tiny Leaders | Legal |
| Noble | Legal |
| Leviathan | Legal |
| Magic Duels | Legal |
| Canadian Highlander | Legal |
| Vintage | Legal |
| Penny Dreadful | Legal |
| Custom | Legal |
| MTGO | Legal |
| Vanguard | Legal |
| Legacy | Legal |
| Archenemy | Legal |
| Planechase | Legal |
| 1v1 Commander | Legal |
| Duel Commander | Legal |
| Oathbreaker | Legal |
| Unformat | Legal |
| Casual | Legal |
| Commander / EDH | Legal |
Reviving Vapors
Instant
Reveal the top three cards of your library and put one of them into your hand. You gain life equal to that card's converted mana cost. Put all other cards revealed this way into your graveyard.
Reviving Vapors Discussion
10 months ago
I am very displeased that neither Akroma's Memorial nor Rhystic Study were reprinted, since both of those cards very much need to be reprinted.
The new artwork on Vengeful Rebirth is nice; I see that Seb MicKinnon is taking inspiration from Rebecca Guay and/or Terese Nielsen in that image.
I really wish that I had waited to purchase a Lord of Extinction for my Mimeoplasm EDH deck until it was reprinted in this set, as doing so would have saved me a great amount of money, but I made that purchase months before this set was even announced, so there was no way that I could have known about it.
The reprint of Reviving Vapors is very nice, and I may purchase a copy if I ever build a white/blue EDH deck.
Prismatic Lens is rather useless; Prophetic Prism would have been vastly better.
It is good to see Anger and Brawn reprinted, but why were the other incarnations in that cycle not reprinted? That is especially glaring considering that Filth and Valor have never been reprinted.
Most of the lands were great, but did the game really need another reprint of Terramorphic Expanse? Also, Rogue's Passage and Thespian's Stage were great, but those spaces could have been used for lands that need reprints much more severely, such as Reflecting Pool, Meteor Crater, or Vesuva.
In conclusion, I shall purchase some cards from this set, but not too many, and I certainly shall not purchase any boost packs or booster boxes. This set did have some nice cards, but I feel that it overall was slightly underwhelming for it being the final masters set for the foreseeable future, so I hope that whatever WotC has planned for reprint sets in the future is a worthwhile replacement.
3 years ago
Card Draw, Spells, Cool Zombies, and other cards to get advantage.
Dromar's Charm, Brilliant Ultimatum, Reviving Vapors, Azorius Charm,Painful Truths, Agent of Erebos, Corpse Augur, Corpse Harvester, Drakestown Forgotten, Scourge of Nel Toth, Stitched Drake, Stronghold Assassin, Unbreathing Horde, Undead Gladiator, Angelic Renewal, Behind the Scenes, Zombie Infestation, Necromancer's Stockpile, Dark Tutelage, Dawn of the Dead, Hatching Plans, Military Intelligence, Reparations, Soul Snare, Vampiric Rites, Recoil, Witch's Mist, Spear of Heliod, Sinister Concoction
No data for this card yet.