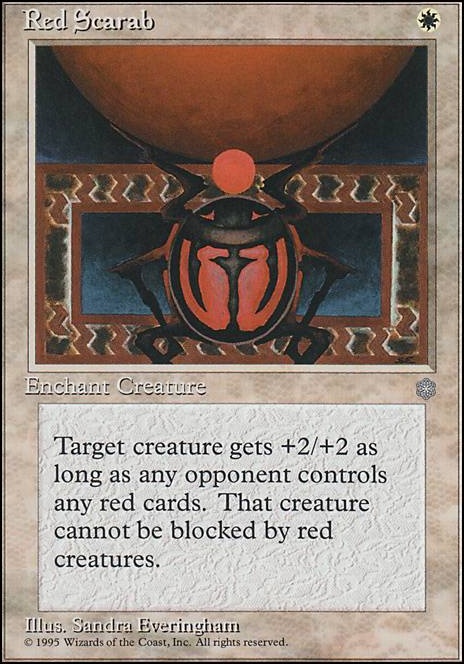 Red Scarab
Enchantment — Aura
Enchant creature
Enchanted creature can't be blocked by red creatures.
Enchanted creature gets +2/+2 as long as an opponent controls a red permanent.
Browse Alters
View at Gatherer
Legality
| | |
| --- | --- |
| Format | Legality |
| Tiny Leaders | Legal |
| Noble | Legal |
| Magic Duels | Legal |
| Canadian Highlander | Legal |
| Vintage | Legal |
| Highlander | Legal |
| 2019-10-04 | Legal |
| Leviathan | Legal |
| Legacy | Legal |
| 1v1 Commander | Legal |
| Duel Commander | Legal |
| Oathbreaker | Legal |
| Unformat | Legal |
| Casual | Legal |
| Commander / EDH | Legal |
Red Scarab Discussion
2 years ago
Not bad! May want to change to EDH type and you have to add your landbase. I'd suggest 36 lands, so you'll need to cut a few others.
I'd also suggest some extra support cards, specifically Retether and Three Dreams.
3 or less CMC value cards to consider ( not auto-includes, just value to consider )
Blessing of Leeches lose 1 life on your upkeep, unlimited regenerate creature. Too powerful not to include.
Asha's Favor Vigilance, First Strike
Aspect of Gorgon +1/+3 and Deathtouch
Cartouche of Ambition Lifelink and a -1/-1 counter on a creature of your choice.
Awesome Presence Offensive version of Propaganda.
Cho-Manno's Blessing Protection from colour of choice. Good for preventing damage and becoming unblockable.
Chromatic Armor Protection from colours of choice on the fly for mana.
Cloak of Mists Unblockable
Crab Umbra Pay 3 mana to untap Zur and it has totem armor.
Curiosity Draw cards when Zur deals any damage.
Daily Regimen 2 mana to put a permanent +1/+1 counter on creature as many times as you want.
Daybreak Coronet Bit more expensive, but 2 mana, +3/+3 first strike, vigilance and lifelink.
False Demise Cheat death once.
Glistening Oil infect for 2 mana.
Infinite Authority punishes opponents and rewards you with +1/+1 counters if they attack or block you.
Invisibility unblockable
Kithkin Armor 1 mana unblockable by power 3 or greater and sac the aura for prevention of damage to zur from one source
Pemmin's Aura On demand 1 mana shroud for turn and 1 mana to untap zur
Pretender's Claim tap down all lands defending player controlls
The 5 scarabs Red Scarab Blue Scarab Black Scarab Green Scarab White Scarab
Sadistic Glee +1/+1 counter every time any creature dies.
Shade's Form Pay 1 black as many times as you want to give creature +1/+1 until end of turn and when creature dies, return it to the battlefield under your control.
Skeletal Grimace +1/+1 and pay 1 black to regenerate this creature.
Sleeper's Robe Fear and draw a card when you deal combat damage
Strange Augmentation +1/+1 base, potentially +3/+3 for one mana if you have a few different types of cards in your graveyard.
Sultai Runemark +2/+2 deathtouch
Traveler's Cloak Draw a card and Zur gets landwalk for a land type of your choice.
Triclopean Sight Untaps Zur, gives him +1/+1 and vigilance.
Unholy Strength 1 mana +2/+1
auto-includes:Pariah Save's your ass. Pair with indestructability to ignore damage.
Auramancer's Guise +2/+2 for each enchantment. Very overpowered.
Entangler Zur can block all the creatures.
Righteous Authority Esper has +1/+1 buff problems. This will buff Zur significantly and give you additional card draw. With blue and black in your arsenal, card draw shouldn't be a problem.
Sage's Reverie Big +1/+1 buff and big card draw. Play late to mid game to turn Zur from a wimp into one shot killer.
4 years ago
The only card that is not modern legal in this deck is Skycloud Expanse. You'd be better off either swapping that out for something like Seachrome Coast and have this be a modern deck.
That being said, if you do want to play this as a legacy deck, I'd recommend you look at Flickering Ward as well as Red Scarab (There's a scarab for every colour). Giving your creatures protection from x colour makes them unblockable and un-targetable, vastly improving the consistency of this deck.
Two other cards that would be beneficial (in either modern or legacy) are Sage's Reverie and Hyena Umbra. Sage's Reverie is self explanatory, while Hyena Umbra saves your creatures from board wipes (those don't target, so protection from a colour doesn't help).
All that said; good deck! +1