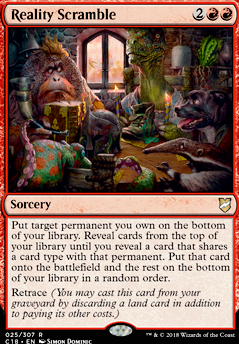 Legality
| | |
| --- | --- |
| Format | Legality |
| Tiny Leaders | Legal |
| 1v1 Commander | Legal |
| Magic Duels | Legal |
| Leviathan | Legal |
| Duel Commander | Legal |
| Commander / EDH | Legal |
Reality Scramble
Sorcery
Put target permanent you own on the bottom of your library. Reveal cards from the top of your library until you reveal a card that shares a card type with that permanent. Put that card onto the battlefield and the rest on the bottom of your library in a random order.
Retrace (You may cast this card from your graveyard by discarding a land card in addition to paying its other costs.)
Reality Scramble Discussion
3 weeks ago
BPots6694: I honestly don't think Reality Scramble is currently on my radar.
While it could be useful to swap Planeswalkers, swapping a good creature/artifact for one not so good in the moment could put a damper on things for us.
I will be doing a Commander 2018 review hopefully this weekend.
3 weeks ago
Hey all! Just a few comments, been busy lately but I really appreciate all the interest in my build, and as one of the few folks who has already fleshed out a version of Jund lands ahead of the imminent C18 I hope I can offer some insights and thoughts.
I will be waiting for the full spoiler before I update my build, comment on all the new goodies, and make final decisions, but early on here in spoiler season I already have a few things I'd like to say.
First, I think Lord Windgrace is a very interesting card, and while personally I'm not a Planeswalker in commander can I think he would be an excellent pilot for a more controlling, less combo oriented version of this list. He does simply accrue value quite nicely and has a high loyalty. If not your pilot, I would rather include Nissa, Vital Force in the 99, as I feel she just does more after hitting her ult and also protects herself which is dope.
The card I'm currently most excited for is a new Golgari staple, Windgrace's Judgment. Card should just go in every deck with B/G and will always do work. The fact it is an instant is silly. I'm debating which removal spell to replace - it may be personal favorite Acidic Slime due to same CMC, either him or Manglehorn which is a card I've grown to love.
Other cards that have peaked my interest are Nesting Dragon and Reality Scramble, though I think both are maybe like between 110-120 options and miss the cut for me.
3 weeks ago
I think Reality Scramble could be an interesting Possibility Storm lite card for the deck. Thoughts?