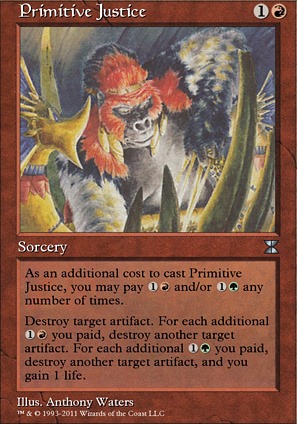 Primitive Justice
Sorcery
As an additional cost to cast Primitive Justice, you may pay and/or any number of times.
Destroy target artifact. For each additional you paid, destroy another target artifact. For each additional you paid, destroy another target artifact, and you gain 1 life.
Browse Alters
View at Gatherer
Legality
| | |
| --- | --- |
| Format | Legality |
| Tiny Leaders | Legal |
| Noble | Legal |
| Magic Duels | Legal |
| Canadian Highlander | Legal |
| Vintage | Legal |
| Highlander | Legal |
| 2019-10-04 | Legal |
| Leviathan | Legal |
| Legacy | Legal |
| 1v1 Commander | Legal |
| Duel Commander | Legal |
| Oathbreaker | Legal |
| Unformat | Legal |
| Casual | Legal |
| Commander / EDH | Legal |
Primitive Justice Discussion
4 years ago
So far none of these situations are incredibly unpreventable. If you have a player who uses lots of mana rocks to hit say a turn 2 Kozilek play more counter magic or artifact destruction. Here is a list of cards to effectively prevent that. Vandalblast, Path to Exile, Force of Will, Disenchant, Gleeful Sabotage, Natural State, Naturalize, Nature's Claim, Seal of Cleansing, Seal of Primordium, Abrupt Decay, Annul, Arcane Denial, Artifact Blast, Counterspell, Countersquall, Cursecatcher, Dash Hopes, Daze, Delay, Deprive, Disdainful Stroke, Negate, Essence Scatter, False Summoning, Force Spike, Illumination, Izzet Charm, Judge's Familiar, Mana Drain, Mana Leak, Mana Tithe, Miscalculation, Nullify, Preemptive Strike, Prohibit, Psychic Barrier, Remand, Remove Soul, Rites of Refusal, Rune Snag, Scent of Brine, Spell Pierce, Steel Sabotage, Stubborn Denial, Withering Boon, Journey to Nowhere, Suspension Field, Ancient Grudge, Artifact Mutation, Cradle to Grave, Crumble, Crush, Shatter, Destructive Revelry, Devour in Shadow, Divine Offering, Doom Blade, Dreadbore, Terminate, Echoing Ruin, Elvish Scrapper, Fury Charm, Glissa's Scorn, Go for the Throat, Hero's Demise, Hull Breach, Malicious Affliction, Overload, Oxidize, Pongify, Rapid Hybridization, Gift of Tusks, Primitive Justice, Rakdos Charm, Reprisal, Shattering Pulse, Smash to Smithereens, Smelt, Soul Reap, Sundering Growth, Tel-Jilad Justice, Terror, Valorous Stance, Vendetta, Victim of Night, Wear, Wretched Banquet.
All of these cards could most likely have stopped at least part of that combo. In here are a mix of all the colors in magic. And this isn't even all of the cards that could respond to that series of plays. Of course some of these are expensive, some probably are not the best for Commander. But if you sit here and say we should ban a card like sol ring because maybe someone will get very lucky and have all the needed cards for a t2 Eldrazi titan then all I have to say is maybe you should make it so your deck has responses to a t1 sol ring or a t2 Eldrazi. Commander is the format where players are encouraged to do insane things to dream of that miracle hand, but it is also like any other format. You need to build your deck to have responses if that miracle hand was to happen. Don't complain that someone always wins because they have the t1 sol ring/mana crypt/mana vault if you neglect to put adequate responses in your deck. Same goes for any big Eldrazi or a Blightsteel Colossus. Luck is a part of this game too and when the time comes that you have no response to that player with the t2 Kozilek hand just be excited that you saw a t2 Kozilek, and have fun, it isn't the end of the world, Murder could be the card on top of your deck.
TL;DR: Play cheap removal in your EDH decks in case of emergency. And Luck is a cruel mistress at times.
4 years ago
Primitive Justice doesn't work in this deck as its color identity is red green