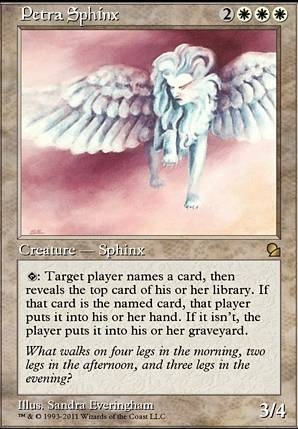 Legality
| | |
| --- | --- |
| Format | Legality |
| Tiny Leaders | Legal |
| Noble | Legal |
| Leviathan | Legal |
| Custom | Legal |
| Magic Duels | Legal |
| Canadian Highlander | Legal |
| Vintage | Legal |
| Oldschool 93/94 | Legal |
| Penny Dreadful | Legal |
| Casual | Legal |
| Pauper EDH | Legal |
| Vanguard | Legal |
| Legacy | Legal |
| Archenemy | Legal |
| Planechase | Legal |
| 1v1 Commander | Legal |
| Duel Commander | Legal |
| Oathbreaker | Legal |
| Unformat | Legal |
| Pauper | Legal |
| Commander / EDH | Legal |
Petra Sphinx
Creature — Sphinx
Tap: Target player names a card, then reveals the top card of his or her library. If that card is the named card, that player puts it into his or her hand. If it isn't, the player puts it into his or her graveyard.
Petra Sphinx Discussion
2 years ago
So, I'm making a buy/trade list for an Esper Sphinx artifact deck. This list isn't including cards I already have, I'll add that as I go or as people suggest the cards I do have.
Basically, what I'm looking for is suggestions of cards to add or remove from this list.
ComSharuum the Hegemon f7.58
Creatures Sphinx of the Steel Wind 1.43 Jelenn Sphinx 0.20 Magister Sphinx 3.15Medomai the Ageless 0.90 Enigma Sphinx 0.57 Sharding Sphinx 0.46 Isperia the Inscrutable 0.48 Sphinx Summoner 1.29Isperia, Supreme Judge 0.73Sphinx of the Final Word 2.20Unesh, Criosphinx Sovereign 0.73 Sphinx of Lost Truths 0.39 Vexing Sphinx - 0.50Consecrated Sphinx 26.60Glyph Keeper 0.32 Prognostic Sphinx 0.31 Argent Sphinx 0.29 Cerulean Sphinx 0.34 Conundrum Sphinx 0.32Belltower Sphinx 0.19 Petra Sphinx 2.31Windreader Sphinx 0.77Adaptive Automaton 6.51Athreos, God of Passage 11.37Thassa, God of the Sea 6.92 Brass Herald 0.26Heliod, God of the Sun 3.91Thassa, God of the Sea 6.89Erebos, God of the Dead 7.60 Order of the Sacred Torch 0.37
Artifacts Chromatic Lantern 11.99 Expedition Map 2.88Sword of Fire and Ice 46.99Sword of Feast and Famine 25.74 Sword of Light and Shadow 25.43Sword of War and Peace 15.18 Sword of Body and Mind 11.39Thought Vessel 4.20Thran Dynamo 9.02Venser's Journal 3.80Lightning Greaves 3.23Belbe's Portal 8.00 Orzhov Signet 0.25Azorius Signet 1.16Dimir Signet 1.16Panharmonicon 2.70Whip of Erebos 1.89Coat of Arms 7.55Door of Destinies 5.75Urza's Incubator 18.51Darksteel Forge 7.99Instants Withering Boon 0.92Swan Song 1.68 Illumination 0.20Sphinx's Revelation 3.59 Punish Ignorance 0.32 Cyclonic Rift 5.69 Cryptic Command 31.91Counterspell 1.10Fact or Fiction 0.53Enlightened Tutor 10.46
Sorceries Wrath of God 6.07Damnation 18.80 Rite of Replication 2.49Day of Judgment 2.83Fumigate 1.81Demonic Tutor 25.56Supreme Verdict 7.12
Enchantments Oblivion Ring 0.30Ghostly Prison 2.13Rhystic Study 9.18 Leyline of the Void 17.70 Leyline of Sanctity 27.50
Land Command Tower 1.00Reliquary Tower 4.12Opulent Palace 0.25 Orzhov Basilica 0.23Azorius Chancery 0.26
No data for this card yet.