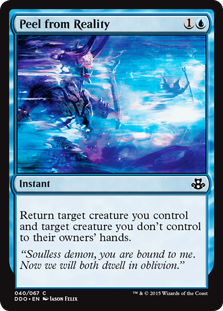 Legality
| | |
| --- | --- |
| Format | Legality |
| Tiny Leaders | Legal |
| Frontier | Legal |
| Vintage | Legal |
| Penny Dreadful | Legal |
| Custom | Legal |
| Commander / EDH | Legal |
| Noble | Legal |
| Magic Duels | Legal |
| 1v1 Commander | Legal |
| Canadian Highlander | Legal |
| Vanguard | Legal |
| Leviathan | Legal |
| Planechase | Legal |
| Duel Commander | Legal |
| Unformat | Legal |
| Modern | Legal |
| Pauper | Legal |
| Pauper EDH | Legal |
| Legacy | Legal |
| Archenemy | Legal |
| Casual | Legal |
| Oathbreaker | Legal |
Peel from Reality
Instant
Return target creature you control and target creature you don't control to their owners' hands.
Peel from Reality Discussion
2 months ago
I realised that I just need some good ol blockers instead of needing to use spells to protect myself. Separatist Voidmage and Vedalken Dismisser can also be flickered to deal with threats, yet still block.
4 months ago
Peoyogon: I was originally looking for Hubris type effects, but those just reset your opponents auras too. Peel from Reality and AEther Tradewinds bounce two creatures instead of one, and Sun Clasp isnt dead in normal situations. It also can be tutored for by Totem Guide and HP. These are just ruff ideas of course, but I hope they will help none the less :)
P.S. Hubris effects might still not be bad, as your opponent can be cajolled into using it on other creatures, and you have protection enchantments also.
P.P.S. There is an unsummon that also returns white enchantments to peoples hands. It (just might) only effect yours. I would recommend finding this card :)
7 months ago
Kurush: Thanks for taking the time to comment, and to start: Yes, I agree with you, on both accounts. I didn't have the space left to give this deck the "Jank" label also. =P
Secondly: Yeah, I'd totally be interested in collaborating! Two heads are better than one, as they say. =)
I've done some playing with this deck and Selhoff Occultist was a tragic underperformer. It was a weird idea that I should have known better to try, but, eh. Weird ideas are what I do. I've been considering multiple options as a replacement, such as:

As far as Vile Rebirth and Beckon Apparition, you're right again. And again, I'll use just "creativity" as an excuse, lol. They are cool cards, and I still think they could be built-around, but this probably isn't the place for supporting that experiment also. =(
Anyway, I've checked out your decks, and I'm definitely going to borrow some of your card choices. I still want to add Soaring Show-Off though. =P =D
Let me know what you think about my ideas for replacements. =) Meanwhile I'll pick something and give it a few plays soon. Let you know how it went.
Load more
No data for this card yet.