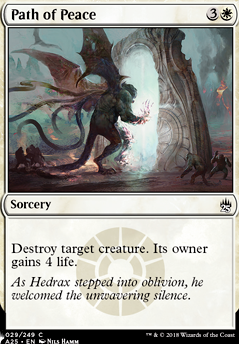 Path of Peace
Sorcery
Destroy target creature. Its owner gains 4 life.
Browse Alters
Legality
| | |
| --- | --- |
| Format | Legality |
| 1v1 Commander | Legal |
| Leviathan | Legal |
| Vintage | Legal |
| Casual | Legal |
| Pauper EDH | Legal |
| Legacy | Legal |
| Canadian Highlander | Legal |
| Unformat | Legal |
| Pauper | Legal |
| 2019-10-04 | Legal |
| Commander / EDH | Legal |
| Oathbreaker | Legal |
| Tiny Leaders | Legal |
| Duel Commander | Legal |
| Highlander | Legal |
| Limited | Legal |
Latest Decks as Commander
Path of Peace Discussion
2 years ago
digbickmcgee: People play Magic for a variety of reasons; I think WBG is a fellow Vorthos. Personally, I'm here for knights, thallids, and magical horses; for the powerful sense of old-fashioned civilization that Magic can often convey (nonbasic lands, Trading Post, Castle, Knighthood, Worship, etc.); and for the few musketeers we've gotten so far -- along with the magical pre-8th-Edition frame and the beautiful look of Mirage block. I'm not going to hold it against anyone for having strong aesthetic preferences of their own, especially not ones that seem to have a little in common with mine.
WBG: Look at the Enchantress deck archetype; also look at tokens and Storm, if you're a little flexible on violence. (The classic finisher for the High Tide variant of Storm decks is Brain Freeze, which is probably not up your alley. Tokens tend to involve fighting with knights, soldiers, and pegasi, under the command of figures like Sidar Kondo of Jamuraa, Radiant, Archangel, and the occasional real-world general like Kongming, "Sleeping Dragon"; I'm perfectly comfortable with this sort of semi-storybook violence, though it sounds like you might not be.)
Try winning the game by generating infinite mana and decking your opponent. Stroke of Genius is the traditional finisher for this, or, again, Brain Freeze in High Tide.
Nacre Talisman, Malachite Talisman, Staff of Domination, Sword of the Paruns, Argothian Elder, Priest of Titania, and Freed from the Real are in-color cards that it's very easy to build infinite-mana engines around. High-mana-output lands are the natural complement for most of these; look at Growing Rites of Itlimoc Flip, Selesnya Sanctuary, Azorius Chancery, and Simic Growth Chamber. (Tolarian Academy, Gaea's Cradle, and Serra's Sanctum -- in order from strongest to weakest -- are the best infinite-mana-engine lands in the game, but they have prices to match. If using any of them nonetheless, look into Stormfront Riders and the Ice Age Talismans.)
Also, there's some white removal I think you could put up with: Swords to Plowshares, Path of Peace (look up the original art), Settle the Wreckage, Pacifism, Cessation. Look into the Circles and Runes of Protection, too.