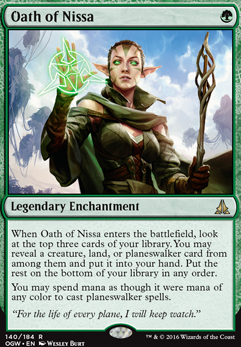 Legality
| | |
| --- | --- |
| Format | Legality |
| Tiny Leaders | Legal |
| Noble | Legal |
| Hero | Legal |
| Magic Duels | Legal |
| Heirloom | Legal |
| Canadian Highlander | Legal |
| Vintage | Legal |
| Modern | Legal |
| Block Constructed | Legal |
| Leviathan | Legal |
| Legacy | Legal |
| Frontier | Legal |
| 1v1 Commander | Legal |
| Duel Commander | Legal |
| Unformat | Legal |
| Casual | Legal |
| Commander / EDH | Legal |
Related Questions
Oath of Nissa
Legendary Enchantment
When Oath of Nissa enters the battlefield, look at the top three cards of your library. you may reveal a creature, land or planeswalker card from among them and put it into your hand. Put the rest on the bottom of your library in any order.
You may spend mana as though it were mana of any colour to cast planeswalker spells.
Have (32)
Lucretian ,

V

a

s

b

e

a

r

1

, angesoir ,

z

I

X

M

,

D

E

E

R

, jstn.mrrtt , duff87 , chrishuffman95 , Skydra2 , Riku580 ,

J

a

u

n

t

u

, admizell , mziter501 , Big-Foot ,

W

o

l

f

e

b

l

a

d

e

e

l

i

t

e

,

s

a

j

0

2

1

9

,

C

4

r

n

i

f

3

X

, DudeMan1031 ,

V

e

n

s

e

r

_

t

h

e

_

S

o

j

o

n

e

r

, ninjaclevs13 ,

a

w

a

l

l

o

f

t

e

x

t

, Pumpkinking913 ,

C

o

o

l

B

e

a

n

s

B

r

a

t

t

a

h

, Bad_Dog ,

R

o

a

d

h

o

g

, DrPopular , TrackerD , voidruby , Kravian ,

A

u

r

i

e

l

, thetechzombie ,

F

r

i

e

n

d

s

h

i

p

i

s

t

h

e

O

n

l

y

P

o

w

e

r

Want (37)
Djricci97 , Sonicmixer , flipdipple , Benisgayy , filledelanuit ,

P

h

o

t

o

g

e

n

i

c

P

a

r

a

s

y

m

p

a

t

h

e

t

i

c

, gamerhat , psoliver ,

D

r

_

J

a

y

, ryuzaki32667 , Talonisnthavingit , relzek , vaerth , mtgpat , KevinsAreolas , Ace22 ,

Z

e

l

d

a

r

k

, mordredaggrfall , SirSharkington , kvfd1719 , mlouden03 , Hakira , relyks16 , 95civicdude , wasianpower , Sivart , edster , kildozer_56 , Clones16 , Obze , Syrinth , 1337_Nerd , rikimaru188 , Topher71 , bbtancakes , Queltherio , SphinxChi
Oath of Nissa Discussion
1 month ago
NOTE: The Cards at the front of each suggestion are the cards you should put in, not take out.
---
You should probably switch out Gruul Turf for Stomping Ground. Gruul Turf sets you a turn or two behind, which is not good for an aggro deck. Why are you running 4 Azusas when she is legendary? The most I'd run is three, as you can only have one out a time. How are you going to get creatures in the grave for Ghoultree? Also, have you considered the Arbor Elf and Utopia Sprawl combo? The best manabase I think for this deck would look this this:
---
I think that this manabase, esp. with Azuza, is very good, allowing you to get your big guys out quickly. However, I think you could change your creatures as well. There are two ways you can do this, you could either go wide (lots of creatures) or the grow big (a few huge creatures). I have provided cards for both of them
---
I put the Nissas in here because her Elemental making ability can come in handy while trying to cast Ghalta or for extra mana (untapping the land with Sprawl)
So, not much change, but that little change makes a lot of difference. Also, Lightning Bolt needs to change. You need something that can kill something, no matter the size. Good Luck!
1 month ago
Hey bushido_man96,
Thanks for your reply. I didn't realize Shield of the Oversoul was so redundant, as I thought it gave lifelink, not flying. Lifegain is a major theme of my deck, as my Angels can get lifelink from Lyra Dawnbringer, which is why I have a few payoff cards. You are right about Oath of Nissa, and while I have known about Sylvan Library for a long time, this is the first time I have seen Mirri's Guile. I'll definitely make the switch. Zendikar Resurgent might be good, so I'll see if it will be good in playtesting once my deck is down to 100 cards. As for your anthems suggestion, I will take out some of them, but I still want 1 or 2 to see how they go.
Thanks again,
Hexaflexagon
---
Hey multimedia,
Thanks for your reply. I didn't know you played Commander! A welcome surprise. And yes, I agree with you, it is very hard to take out cards. I'll probably take out these cards from your list:
Thanks for your help in another deck of mine,
Hexaflexagon
---
---
1 month ago
Hey, nice beginner Angel Commander deck. I saw your topic in the Commander Help Forum. The cards I'll suggest you cut to make 100 cards are fine cards, but they're not as good as other cards already here. When you get down to the last remaining cards to cut from a Commander deck it's hard, have to make some tough choices, some good cards will be cut. I'll start with the least good Angels and anthems.
Cards to consider cutting (in no order):
Lots of anthem effects that only pump Angels are less needed because Angels already have high power as well as flying. Pumping them with anthems isn't doing much. Lyra is the exception because she's an Angel and her anthem effect gives Angels lifelink which is very good for the strategy here. Skirmisher is another exception, she's also an Angel and can also give Angels lifelink.
I have other suggestions if you're interested. Would you like more suggestions?
Good luck with your deck.
1 month ago
Shield of the Oversoul seems a bit redundant. If lifegain isn't a major theme of the deck, then you might consider cutting Angelic Accord. Angelic Destiny seems like a bit of win-more, as well. You already have lots of big creatures, and making just one of them a little bit bigger probably means you're already winning. Oath of Nissa doesn't seem to do much for you either, once it hits the battlefield, and if you are wanting to look at your library more, Mirri's Guile or Sylvan Library would be much better cards. You have a few anthems in there as well, like Serra Aviary and Radiant Destiny. Seeing as the bulk of the creatures you run are already 5/5 or thereabouts when they come into play, the anthems seem a bit redundant, and you could probably substitute other cards for them. Zendikar Resurgent would be very good, another Mirari's Wake that can also draw you a card.
Hope this helps.
2 months ago
Ok, so, first thing to do is to focus on what green cards you have that let you ramp. As said: Sakura-Tribe Elder, Explore, Utopia Sprawl, Farseek, Oath of Nissa, Search for Tomorrow, Birds of Paradise, Cultivate, Rampant Growth, Beneath the Sands, Burnished Hart, Dawntreader Elk, Expedition Map, Font of Fertility, Wayfarer's Bauble, Sylvan Scrying and Harrow are good options.
Of this, you should put at least 8 cards (I suggest Sakura-Tribe Elder, Birds of Paradise, Farseek, Oath of Nissa or Sylvan Scrying). I don't really like From Beyond, Blisterpod, Catacomb Sifter, Void Attendant, Warden of Geometries and Grave Birthing, since they cost too much and they let you have only colorless mana, thing that you don't need since you are three-coloured.
Then, as said before, I'd increase Gonti, Lord of Luxury and Ashiok, Nightmare Weaver up to 2x copies and I don't really like Nightveil Specter, alternatives could be: Circu, Dimir Lobotomist, Bribery, Praetor's Grasp, Psychic Intrusion, Stolen Goods. Oblivion Sower it's a funny card, I'd put in in 1x.
Another thing: You have some big creatures and you are black-green-blue, I'd increase your land number up to 22. Remember also to choose lands that could be searched when you are ramping (if you have chosen to ramp only with cards that search for BASIC lands, well, put at least 4x basic lands of each type). Some lands you could might consider: obviously fetch lands and schocklands, Darkslick Shores, Blooming Marsh, Botanical Sanctum, Drowned Catacomb, Woodland Cemetery, Hinterland Harbor, Fetid Pools, Underground River, Llanowar Wastes, Yavimaya Coast, Sunken Ruins, Twilight Mire, Flooded Grove , Sunken Hollow. For all the rest of the cards that could enter your deck, I'll wait to see if you like the direction your deck is going and, most important thing, what types of cards you have chosen to ramp, to be your manabase and wich cards will steal your opponent's cards.
2 months ago
Ok, since you want to have a fun deck, that could hold its owns but doesn't need to be super competitive I'd go in the "steal your opponent's cards" direction. So Gonti, Lord of Luxury and Lord of the Void are awesome cards I'd also put in 2x.
I don't really like Nightveil Specter (what if opponent has a rw deck? You can't cast that cards!), maybe Circu, Dimir Lobotomist could be an alternative.
Ashiok, Nightmare Weaver is a great card too, very powerful here.
Then, since your man curve is very high and you need to have tons of mana, there are 2 options I'd go: or make it a ub deck (cutting green and beeing more similar to a control with Duress, Inquisition of Kozilek, more counters, as Mana Leak, Negate and reducing your mana curve cutting some big eldrazi), or using green for ramp with cards like Sakura-Tribe Elder, Explore, Utopia Sprawl, Farseek, Oath of Nissa, Search for Tomorrow, Birds of Paradise, Cultivate, Harrow and so on. Remember you need tons of mana for your creatures and also to cast things you have exiled.
But this is your decision. And only after you have decided we can help you seeing what could be add in the deck and what cards you don't need.
2 months ago
AethericDoom Thanks for your suggestions, I'll take them under consideration! The reason to why Oath of Teferi didn't make it to the mainboard at the moment is that I at the present don't see any reason to why casting it would be preferable to casting a (additional) planeswalker. A Doubling Season let's me "ult" the planeswalker on the same turn that it enters the battlefield, while the Oath rarely does that. That also falls true for The Chain Veil, which is ultimately very expensive to cast + use. The problem with Primevals' Glorious Rebirth is that it requires a legendary permanent on BF to even be cast, which in this case would be either a PW or sometimes Oath of Nissa, again this is a very situational card and often you would get the same or a better effect from just a casting a PW the old fashioned way.
The "Pay 2 life" lands are called "Shock lands" and "Pay one and fetch" are called "Fetch lands". The combination of using fetch and shock lands is one of the keys to building a stable mana base in the Modern format. This is especially true in a five color deck, since it lets me fetch just the color I need to play my hand. Note that all the shock lands are Gx lands, meaning that they all have the type forest so that they can be targets of both Utopia Sprawl and Arbor Elf, leading to both great mana fixing and sometimes crazy ramp. For example
T1: play Temple Garden, pay 2 life cast Arbor Elf T2: Play any land that taps for green mana, cast Utopia Sprawl on (untapped) Temple Garden, chose the color you need. Now it can tap for 2 mana, get untapped by the elf and again be tapped for 2 mana - giving you the possibility of casting Turn 2 Nahiri, the Harbinger, Jace, Architect of Thought or Tamiyo, Field Researcher.
If you're really lucky you can cast Nicol Bolas, Planeswalker on T3 using this trick.
2 months ago
After a few more games with the deck, I would like to continue making the deck more threat heavy and resilient against removal. So I made some pretty deep cuts. The cards on the chopping block are the following:
Mirrorweave - just a little too slow and not good if you are up against any removal heavy decks. Much better against decks that rely on mostly creatures, of which there are not many. Humans is the best aggro deck in the format, yet most of its creatures will have +1/+1 counters on them, so mirrorweave isn't great.
Cytoplast Root-Kin - A big mana commitment for something that will only be good with a few other creatures out. I would rather just have removal instead, or a more robust standalone threat.
Nissa, Voice of Zendikar- Gets overrun easily if you are losing, and gets hit by lightning bolts after the -2. There are other more robust cards that have a similar effect. However, it is a standalone threat against an empty board that can be hard to get rid of for control, so it may be a sideboard card.
Birds of Paradise - I don't have too many things to ramp into at 3 mana, so I think I am better off running something that I want to draw late game, like Oath of Nissa, which can give me a land early, or a creature late, and isn't just going to die to removal like birds does. I might run 1 more land, and 3 oaths.
Hangarback Walker - not an aggressive card. Even if it does dodge removal, no one cares about it enough to kill it. Mostly blocks, and there's not a ton of blocking in modern.
Replacements:
Abzan Ascendancy - a replacement for nissa that is a bit more robust, and better against the decks with a mix of creatures and removal. It triggers bloodhall ooze twice, and works well with the graft stuff. It also triggers when my ballista or simic initiate runs out of counters.
Dromoka's Command - This deck needs some more removal, but I think it's also important to run cards that are synergystic with the deck. This card fills that role fairly well, especially with a hardened scales out. However, it is dependent on having a creature out, and can be interrupted by removal from the opponent, which is a little iffy.
Oath of Nissa - Our replacement for birds of paradise to act as our 22-24th lands. It also gets most of the stuff in the deck, which means it's a really good late game drop vs. the birds. It also gets us to our key cards like ballista and constrictor more consistently. Plus it sticks around as a green permanent for bloodhall ooze! That's way more important than you might think.
Bloodbraid Elf - I had this card on my list for a while and only recently considered it. It's a powerhouse with a lot of the cards in this deck, since the cascaded spell gets cast first. For instance, anafenza enters the battlefield, and then immediately triggers on Bloodbraid, which can make it a huge hasty creature with a hardened scales out. Same with simic initiate, dromokas command, and plaxcaster. The rest of the time it just gives you so much value. The only card that doesn't work with it is walking ballista, but even that can trigger the anafenza and ascendancy, so it's not horrible.
Plaxcaster Frogling - Another grafter that can protect itself and other creatures if you untap. Being able to protect your big bloodhall oozes from fatal push and other nonsense is going to make a lot of decks not be able to keep up. I admit it's probably the weakest card in the deck, but I want to try it out anyways. Grafting has proven to be very good, even on a lowly simic initiate. Other options for this slot are Trinket Mage (for the 5th and 6th copies of ballista), Predator Ooze, Ajani, Caller of the Pride, Nissa, Voice of Zendikar, Liliana, the Last Hope (mostly for recurring stuff), and Jadelight Ranger
Load more