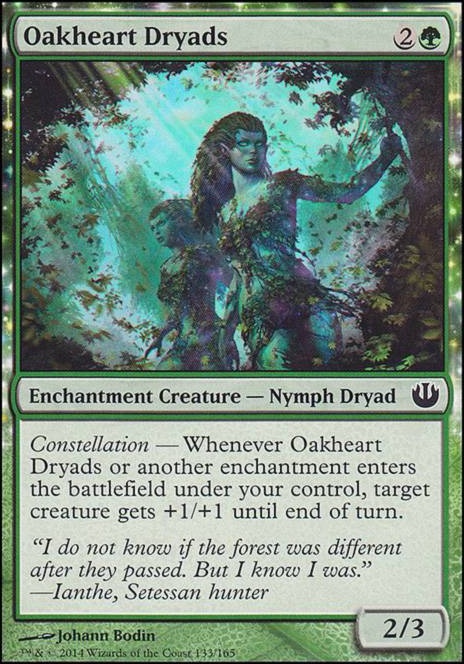 Legality
| | |
| --- | --- |
| Format | Legality |
| Tiny Leaders | Legal |
| Vintage | Legal |
| Penny Dreadful | Legal |
| Commander / EDH | Legal |
| Noble | Legal |
| Hero | Legal |
| Magic Duels | Legal |
| 1v1 Commander | Legal |
| Canadian Highlander | Legal |
| MTGO | Legal |
| Vanguard | Legal |
| Leviathan | Legal |
| Planechase | Legal |
| Duel Commander | Legal |
| Unformat | Legal |
| Heirloom | Legal |
| Modern | Legal |
| Pauper | Legal |
| Pauper EDH | Legal |
| Legacy | Legal |
| Archenemy | Legal |
| Casual | Legal |
| Oathbreaker | Legal |
Related Questions
Oakheart Dryads
Enchantment Creature — Nymph Dryad
Constellation — Whenever Oakheart Dryads or another enchantment enters the battlefield under your control, target creature gets +1/+1 until end of turn.
Oakheart Dryads Discussion
1 year ago
Nice deck Gody322! I am a budget player, so I always appreciate a budget deck. I hate seeing a cool deck that has $200 of fetchlands or mystic rares that I will never be able to purchase. I'm curious, do you have a limit to how much you will spend on a deck? There are a lot of green creatures or green/blue creatures that could be added to this deck for relatively cheap that would only bring the cost of the deck up to $25-$30. Any creature with Constellation, like Eidolon of Blossoms or Oakheart Dryads would work with the deck. I agree with you that adding a 2nd color will add costs, but I usually already have a few dual color lands that I can use for each deck and I don't mind purchasing 1 or 2 good lands for $5 each to make a deck work.
1 year ago
Hey, sorry I didn't answer your request about dryads yet, I just couldn't find the time. If I were to build dryad tribal, I'd try something GW. There aren't that many enchantment synergies among the dryads, but I think I'd go with somtething like this:
Lands: 24 (however this part will look)
Creatures: 27
4x Loam Dryad
Other spells: 9
4x Rancor
This is a pretty rough draft though...there definitely is missing removal, and some more token production for trostani's populate ability seems necessary. But as a starting point, it seems fitting. What do you think?
No data for this card yet.