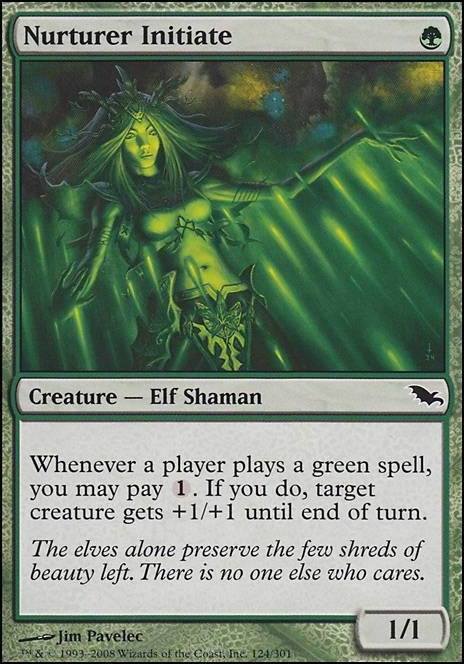 Legality
| | |
| --- | --- |
| Format | Legality |
| Tiny Leaders | Legal |
| Noble | Legal |
| Leviathan | Legal |
| Magic Duels | Legal |
| Canadian Highlander | Legal |
| Vintage | Legal |
| Modern | Legal |
| Casual | Legal |
| Pauper EDH | Legal |
| Vanguard | Legal |
| Legacy | Legal |
| Archenemy | Legal |
| Planechase | Legal |
| 1v1 Commander | Legal |
| Duel Commander | Legal |
| Unformat | Legal |
| Pauper | Legal |
| Commander / EDH | Legal |
Nurturer Initiate
Creature — Elf Shaman
Whenever a player plays a green spell, you may pay (1). If you do, target creature gets +1/+1 until end of turn.
Nurturer Initiate Discussion
2 years ago
any thoughts on Lorescale Coatl?thinking of creatures to add to your early game, possibly Steel Wall? 4 toughness could evolve some guys and hold off some early attackers.
other options include:Aquastrand Spider, Bond Beetle, Chronomaton, Clockwork Beetle, Cosi's Trickster, Experiment One, Kavu Predator (SB), Mistcutter Hydra (SB), Mold Adder (SB), Nurturer Initiate, Primordial Hydra, Protean Hydra, Quirion Dryad, Scavenging Ooze (SB or Main), Shape Stealer (super goofy with +1/+1 counters), Slitherhead, Vastwood Hydra, Vinelasher Kudzu
if you decide to go down the "hydra" road, i would recommend Gyre Sage for added mana production/sink value.
3 years ago
Caretaker, Devoted Caretaker, Mother of Runes, Nurturer Initiate, Nurturing Licid, Sunseed Nurturer, Kyren Toy, Squee's Toy, Toy Boat, Toymaker, Savage Conception, Blanket of Night, Formless Nurturing, Terashi's Cry, Incubator Drone, Krasis Incubation, Myr Incubator, Urza's Incubator, Time to Feed