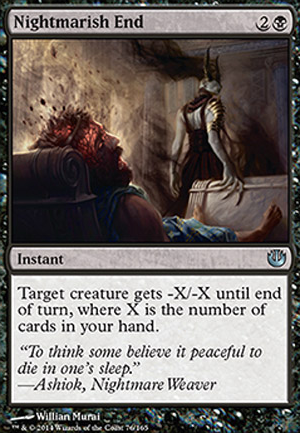 Nightmarish End
Instant
Target creature gets -X/-X until end of turn, where X is the number of cards in your hand.
Browse Alters
View at Gatherer
Legality
| | |
| --- | --- |
| Format | Legality |
| Penny Dreadful | Legal |
| Duel Commander | Legal |
| Heirloom | Legal |
| Modern | Legal |
| Tiny Leaders | Legal |
| MTGO | Legal |
| Pioneer | Legal |
| Noble | Legal |
| Vintage | Legal |
| Commander / EDH | Legal |
| Block Constructed | Legal |
| Magic Duels | Legal |
| Legacy | Legal |
| Highlander | Legal |
| 1v1 Commander | Legal |
| Unformat | Legal |
| Oathbreaker | Legal |
| Hero | Legal |
| Leviathan | Legal |
| Canadian Highlander | Legal |
| Casual | Legal |
| 2019-10-04 | Legal |
Nightmarish End Discussion
1 year ago
These are all token generators I found that don't need any assistance but there are other things to think about. That Cmdr says "whenever a creature with power 1 or less dies return it to play under YOUR control". So this is where you can get creative and simply make your opponents creatures power 1 or less and kill them to bring them back to play under YOUR control.
So right away the first thing I think of is how can we turn your Cmdr into a Grave Betrayal! So cool.
I'm sure this is plenty for now I hope this helps
3 years ago
Ill be doing this in pieces.
---
INSTANTS:
---
Things you could add to fill similar roles:
---
Reanimation:
---
Kill spells: The important thing to note here, Kill spells are strong. But theyre stronger when they come with a body. They cant always though so we make do.
---
4 years ago
Alright I am back with another update for the Threos cube!
I have some balance changes I wish to impliment,
First of all, I Removed Anvilwrought Raptor and Astral Cornucopia because they where worthless most of the time, in exchange I added Chained to the Rocks so boros decks can deal with some of the control/tempo defenders.The other card I added was Prophet of Kruphix to give people an insentive to draft the simic archetype, because Kiora is not quite strong enough herself to encourage the color combo!
Naturally With a cube with every god in it they will ofcorse be played, so I switched out Necrobite for Nightmarish End so black decks could remove gods more efficient, black also does not have a lot of Heroic cards so Necrobite is less usefull then for other classes!
I reverted an earlier change to, I removed Crackling Triton and once again added in Nyxborn Triton Because you rarely want to sac the Crakling triton anyway and it is only for izzet decks (witch preformed better then expected) while Nyxborn triton fits in every deck and works best in heroic!