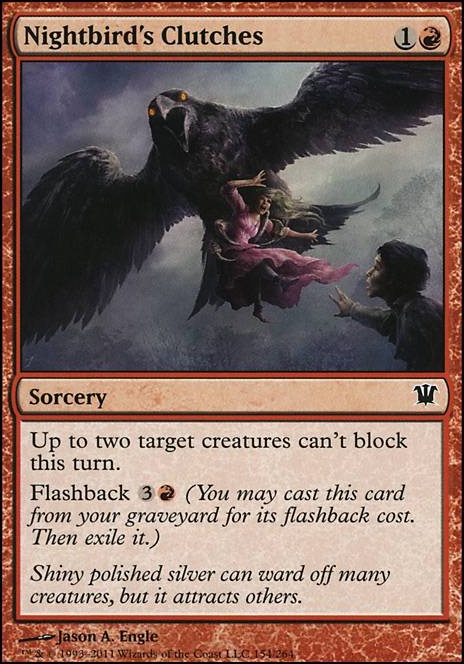 Nightbird's Clutches
Sorcery
Up to two target creature's can't block this turn.
Flashback (You may cast this card from your graveyard for its flashback cost. Then exile it.)
Browse Alters
View at Gatherer
Legality
| | |
| --- | --- |
| Format | Legality |
| Limited | Legal |
| Pauper | Legal |
| Block Constructed | Legal |
| Highlander | Legal |
| 1v1 Commander | Legal |
| Modern | Legal |
| Duel Commander | Legal |
| 2019-10-04 | Legal |
| Legacy | Legal |
| Leviathan | Legal |
| Vintage | Legal |
| Unformat | Legal |
| Tiny Leaders | Legal |
| Oathbreaker | Legal |
| Canadian Highlander | Legal |
| Casual | Legal |
| Pauper EDH | Legal |
| Commander / EDH | Legal |
Latest Decks as Commander
Nightbird's Clutches Discussion
3 years ago
I would use Vapor Snag over Unsummon. Also Distortion Strike might be useful.You should add some flashback spells to get more value out of your cards. Faithless Looting, Reckless Charge, Nightbird's Clutches, Desperate Ravings, Think Twice
Other cards to consider Balduvian Rage, Bident of Thassa, Electrolyze, Inaction Injunction, Train of Thought,
Also Kiln Fiend loves double strike so Assault Strobe, Temur Battle Rage
3 years ago
This deck is in dire need of card draw and mana ramp, because it only has Staff of Nin in the former category and zero in the latter. In EDH, opponents have twice as much life as a normal game of Magic, which means in order to aggro your opponents down, you will need to keep your hand refreshed, and to be able to play your bigger threats earlier.
The amount of spot removal in this list, especially in weak forms like Shock and Tribal Flames, isn't necessary. Typically when you're facing multiple opponents, targeted removal isn't as useful, and when you do need it, you need to make it unconditional, like Doom Blade and Go for the Throat.
Another category that is missing is wraths. Even when playing aggro, in a multiplayer setting, boardwipes are necessary for value, and to save yourself when you are behind.
With these points in mind, I would try to find ways to incorporate the following list of cards:
Rakdos Signet, Nirkana Revenant, Crypt Ghast, Asylum Visitor, Stromkirk Occultist, Solemn Simulacrum, Sign in Blood, Blasphemous Act, Stensia Banquet, Decree of Pain, Black Sun's Zenith, Sol Ring, Urza's Incubator, Caged Sun, Gilded Lotus, Commander's Sphere, Talisman of Indulgence, Chromatic Lantern, Phyrexian Arena, Temple of the False God, and Cabal Coffers.
I know that's a long list of cards, and that some of them are pretty pricy, but a good standard in EDH is to have around 8-10 mana ramp cards, 8-10 card draw spells, 4-5 spot removal, 4-5 boardwipes, and 5-6 tutors.
I would cut from the list cards that are either weak spot removal, or less effective in a multiplayer setting, or not on-theme (in this case, vampires, counters, and proliferate):
Tormented Soul, Nightbird's Clutches, Tribal Flames, Geth's Verdict, Incinerate, Lightning Bolt, Shock, Sorin's Thirst, Sudden Shock, Tribute to Hunger, Curse of the Pierced Heart.
For more ideas, I highly recommend using the website edhrec.com since it offers a database of popularly-used cards for your commander to get ideas (I can't hyperlink it for some reason). You can also check out my own Olivia Voldaren Vampire EDH deck for other ideas.