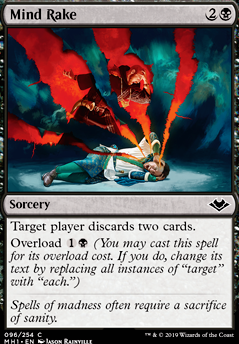 Legality
| | |
| --- | --- |
| Format | Legality |
| Tiny Leaders | Legal |
| 1v1 Commander | Legal |
| Custom | Legal |
| Magic Duels | Legal |
| Canadian Highlander | Legal |
| Vintage | Legal |
| Modern | Legal |
| Penny Dreadful | Legal |
| Casual | Legal |
| Pauper EDH | Legal |
| Leviathan | Legal |
| Legacy | Legal |
| Duel Commander | Legal |
| Oathbreaker | Legal |
| Unformat | Legal |
| Pauper | Legal |
| Commander / EDH | Legal |
Mind Rake
Sorcery
Target player discards two cards.
Overload (You may cast this spell for its overload cost. If you do, change its text by replacing all instances of "target" with "each".)
Mind Rake Discussion
1 month ago
Mattydap Mainboard 2x Terminate , take out 1x Fatal Push and 1x Collective Brutality. Would also like to point out other options for getting rid of your opponents resources: Mind Rake and Blightning . Mind Rake's overload also gives you a way to put your elementals in the graveyard. Also, depending on whether or not you've bought the deck yet, Prismatic Vista works like Marsh Flats for your deck, and is a cheaper option. I'd add in another Surgical Extraction as well, after removing a Terminate from the sideboard. Chandra, Acolyte of Flame also seems like it would like this deck. Lastly, if you wanted to splash white, Spark Trooper is very good and if you wanted to splash green Groundbreaker would make a great addition.
(On a separate note, if you see a lot of Planeswalkers in your meta, Dreadbore is a good option instead of Terminate.)
2 months ago
Hey gdm1989!
Defile is sweet, and will definitely be getting a slot in here. I'm still on the fence about Force of Despair - it seems strong, but it seems better in 1v1, where I'm not going down two cards to clear one player's creatures right before two more players get a chance to play. I'll test it, but not sure how good it will be.
Crawlspace is a fine card. I don't particularly like playing it because it's not my style (I prefer threats over restrictions), but it's certainly strong.
Ensnaring Bridge isn't as good. First, because it stops our opponents from attacking each other, and second because it relies on us not having cards in hand, which is not what we want. I'd rather have a grip of kill spells than a Bridge and an empty hand.
Umezawa's Charm , while flavorful, is still not powerful enough for the deck. Umezawa's Jitte is strong because of its reusability, and the way it can continue to stack counters when its modes aren't useful right away, allowing it to really build up a large effect. The charm is a one-off, that can't build up to get stronger, and doesn't do any of the things this deck wants very well. Even the Jitte isn't in the deck, because combat damage isn't reliable in the way I play, and the charm is just worse.
Hatred , on the other hand, is very strong. I don't run it because I prefer to pay a lot of life into card draw effects, so paying large chunkcs of life into hatred would be either dangerous or restrictive of the number of cards I can draw. That said, a different build that focused on being more aggressive could use it very well.
Mind Rake is underwhelming. I don't usually care about cards in my opponent's hands. Without a lot of other discard synergy, it's not worth running a one-off discard spell.
Crypt Rats kills itself, and kills our commander, faster than it can kill anything else. Unless I'm 1-shot killing someone, it's not worth it, and if I AM one-shot killing someone, my existing X-spells are better. If I wanted that effect, I'd play Pestilence or Pestilence Demon instead, since those can be more useful in short burst activations.
Gauntlet of Power is one of the strongest cards in the deck - removing it, or one of the other mana doublers would be a serious mistake. Mimic Vat is nice, but not worth removing the Gauntlet for.
Forbidden Crypt is bad. I can already reuse most of the cards in my graveyard. Returning them to hand isn't actually gaining card advantage, especially since I have to exile them when I send them back to the yard (the same as if I had just cast them with Toshiro), and because I have to sacrifice the ability to draw cards to do it. If it were a "may" ability, it MIGHT be okay, but even then I'd probably not bother. Plus, Bojuka Bog and Nihil Spellbomb and other mass graveyard hate already targets my deck a lot - with that card in play, it makes me lose the game on the spot.
2 months ago
If I may interject regardless of those cards are in there you'll still be targeted due to commander. Sometimes it's best to hit fast with a few of those cards or have them for insurance. Secondly there are far worse stuff out in commander they'll be more concern about (Thanks Urza) The question is how you time using the cards. Don't get me wrong I understand your concern on just playing the role of observer which I like to do as well, however I'll be quick to shift to mass murdering psychopath if I see a opportunity to win in commander. Now with that said I suggest Force of Despair , Crypt Rats , Defile, Mind Rake , maybe Umezawa's Charm and Hatred to give someone a boost while they take out a ally for you. I think the Gauntlet of Power and r eplaced with Mimic Vat in your maybeboard. Seeing how some very powerful cards were spoiled in modern horizons, you're going to need either some more monsters with great defenses or stax to prevent any threats coming towards you. Crawlspace and Ensnaring Bridge might work, mostly the former if you don't want the archenemy option
No data for this card yet.