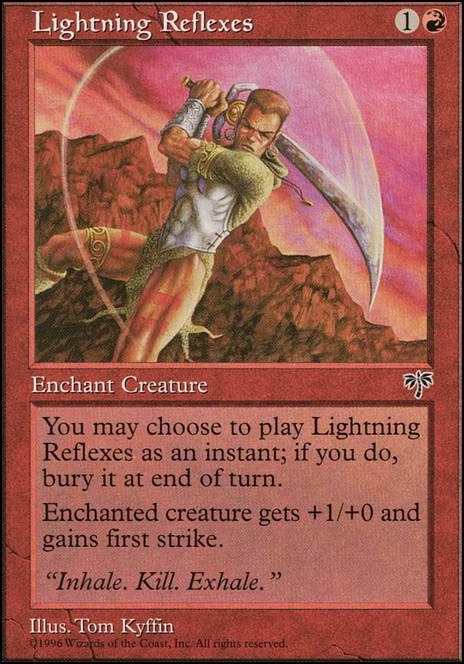 Lightning Reflexes
Enchantment — Aura
You may play Lightning Reflexes any time you could play an instant. If it was played any time a sorcery couldn't have been played, it gains substance until end of turn and when it loses substance, sacrifice it.
Enchant creature
Enchanted creature gets +1/+0 and has first strike.
Browse Alters
View at Gatherer
Legality
| | |
| --- | --- |
| Format | Legality |
| Limited | Legal |
| Pauper | Legal |
| Highlander | Legal |
| 1v1 Commander | Legal |
| Duel Commander | Legal |
| 2019-10-04 | Legal |
| Legacy | Legal |
| Leviathan | Legal |
| Vintage | Legal |
| Unformat | Legal |
| Tiny Leaders | Legal |
| Oathbreaker | Legal |
| Canadian Highlander | Legal |
| Casual | Legal |
| Pauper EDH | Legal |
| Commander / EDH | Legal |
Latest Decks as Commander
Lightning Reflexes Discussion
1 year ago
I would fix your mana base first. Average EDH decks have 45 mana sources, and Tiana definitely needs it, so consider more lands or rocks like Gilded Lotus/Boros Cluestone/Commander's Sphere/Fire Diamond/Marble Diamond etc etc. Fiery Mantle/Dragon Breath could replace Mark of Fury/Goblin War Paint? Guise of Fire/Bonds of Faith/Prophetic Ravings could replace Bloodshed Fever/Hammerhand/Cartouche of Zeal? Graceblade Artisan is a great duplicate of Champion of the Flame, it could replace Favored Hoplite/Call To Serve. If you want more combat map control you could run Goblin Spymaster/Overwhelming Splendor. Immolation/Inferno Fist are good duplicates of Ordeal of Purphoros.
Other than these replacements, I think you made a fine deck. I would include more finishers like Shiv's Embrace/Splinter Twin/Elemental Mastery/Burning Anger/Battle Mastery, or include a combo with Battered Golem/Paradox Engine/Endbringer/Traxos, Scourge of Kroog. I think some weaker finishers in this deck right now are Giant Spectacle/Lightning Reflexes/Madcap Skills/Lightning Talons. And I think Gift of Immortality is alright, but it doesn't protect your auras in extension if a creature-only board wipe happens, so another indestructible spells would be better.
I like the neat combo of Pariah and Tiana, and your enchantment based draw engines + Auratog/Faith Healer is another neat combo. Curse of Opulence is a great include, it's a one drop that adds influences damage away from you and toward your 120 combined life goal. Umbra Mystic/Anax and Cymede/Heavenly Blademaster are also great includes!