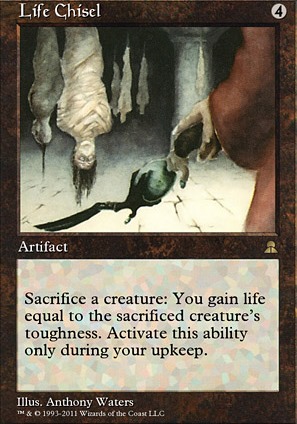 Legality
| | |
| --- | --- |
| Format | Legality |
| Tiny Leaders | Legal |
| Noble | Legal |
| Leviathan | Legal |
| Magic Duels | Legal |
| Canadian Highlander | Legal |
| Vintage | Legal |
| Custom | Legal |
| Vanguard | Legal |
| Legacy | Legal |
| Archenemy | Legal |
| Planechase | Legal |
| 1v1 Commander | Legal |
| Duel Commander | Legal |
| Oathbreaker | Legal |
| Unformat | Legal |
| Casual | Legal |
| Commander / EDH | Legal |
Life Chisel
Artifact
Sacrifice a creature: You gain life equal to the sacrificed creature's toughness. Activate this ability only during your upkeep.
Life Chisel Discussion
2 years ago
Zeit fr etwas konstruktive Kritik.. in der Beschreibung steht ja das es sich um eine Sammlung handelt...
also du willst scheinbar marchesa auf kontrolle spielen. Sehr gute Wahl :) fangen wir an..
Karten die ich cutten wrde und dahinter potenzieller ersatz.
Barrage of Expendables ersatz Goblin Bombardment
Breeding Pit cool aber zu schwach. du willst ja eigentlich deine eigenen Kreaturen (oder die von gegnern) saccen.... Tokens verschwinden einfach wieder und dein Comander profitiert nicht davon.
genau wie du noch meiner Meinung nach zu viele Zauber spielst, die dir kontrolle ber einzelne Kreaturen geben. dafr sind die Entchantments einfach zu 1. Mana intensiv und 2. Mana intensiv :P mal eben berflogen und bin auf 6 gekommen. Ist natrlich stark und cool.. aber Domineering Will (spielst du auch) ist viel strker.. du kannst die Kreaturen meistens ja eh saccen und dann gehren sie dir.. auerdem ist der instant :P Reins of Power ist etwas gefhrlicher weil du dann deinen Comander auch nicht mehr kontrolierst :)
Carnage Altarcool aber zu mana intensiv. ich wrde auf die gute alte Skullclamp zurckgreifen. du hast gengend sacc outlets um die zuverlssig zu triggern... und kostet wesentlich weniger mana :)
Life Chisel cool aber zu unflexiebel.
Allgemein willst ja 1 und 1 counter auf deinen kreaturen und dein live unten halten.. sag hallo zu deiner betsten karten :P Unspeakable Symbol
sehr angenehmn das du nicht noch versuchst die komplette blaue counter Schiene mit unter zu bringen.. :)
Du wirst weder mit den Lndern noch mit deinen Mana beschleunigern auskommen (passiert mir auch immer)
habe bislang auch keine zuverlssige draw engin gefunden.. sieht aber so aus als knnte das Spa machen wenns fertig ist. Schreib mir was du von der Kritik hlst :)
3 years ago
Phaetion,
Following up on your thread ...
First, your deck looks decent. You've got a bunch of what I'd consider Naya token staples, a good mana curve, etc. I'd like more card draw, but there's no obvious weaknesses. So taking Haz' to the next level may be a little tricky.
So, with all the usual caveats (I have no idea how your deck actually plays, nor anything about your meta, etc), here are some thoughts:
General strategy: Land-ramp like mad. Survive until you can cast a seven-drop Commander. Get a bunch of dudes on the next turn. Since Haz' is then a big target, consider getting him off the battlefield before the dudes arrive OR sac' them all for value before they get exiled OR change their creature type to something else so they don't get exiled. Consider some flicker shenanigans. Win with pumped-up dudes OR direct damage OR some off-the-wall wincon.
Some tactics ...
Land-ramp: You've got a bunch of the cards I'd expect to see, so you may be ramping fast enough and getting all the Landfall triggers you want. If not though, here are some thoughts: I'd add Skyshroud Claim, Azusa, Lost but Seeking, and Crucible of Worlds. Probably Exploration, Nissa's Pilgrimage, Evolving Wilds and Terramorphic Expanse too. Also Tempt with Discovery and Land Tax, plus a Ghost Quarter to go along with them. Other cards to consider include Myriad Landscape, Burgeoning, Fertilid, Nissa, Vastwood Seer Flip, Amulet of Vigor, Far Wanderings, Courser of Kruphix, and Life from the Loam. For synergy with all that land ramp, I'd seriously consider Lotus Cobra, Omnath, Locus of Rage. And maybe Titania, Protector of Argoth and Ghost Town. And of course every Naya token card with a Landfall trigger :-) I'm not a fan of Temple of the False God because it's a dead card early. And I like Oran-Rief, the Vastwood way better than Gavony Township. High Market seems out of place. And though it feels bizarre to even suggest, I'd probably drop the Sol Ring.
Survive: Only thing I might add here is a pillow fort package. Stuff like Gahiji, Honored One, Rite of the Raging Storm, Ghostly Prison, and Hornet Nest
Cast Haz': I'd look at Winding Canyons and Vedalken Orrery to cast Haz' on the endstep right before your turn.
Get a bunch of dudes: Mana Echoes is insane. Impact Tremors, as a mini-Purphoros.
Get Haz' off the field before his dudes arrive: I'd absolutely add Blade of Selves. If Haz' attacks while equipped with the Blade in a 4-player game, 2 more Haz's are created. All immediately die of course, but next upkeep there's an additional 2X dudes. To help get him back again, I'd add Command Beacon too. And probably some more graveyard recursion (Naya Charm, Verdant Confluence, etc).
Sac' dudes for value: Ashnod's Altar and maybe Phyrexian Altar. I'd probably try to add Goblin Sharpshooter (I love the combo with Goblin Bombardment, especially if equipped with a Basilisk Collar or Quietus Spike). Or really any of the Naya sac' engines. And of course a Shields of Velis Vel to take your opponent's board down with you.
Change creature type: Mogg Infestation, to go with your Descent of the Dragons. Or splash black for Conspiracy ;-)
Flicker shenanigans: I'm not sure on the timing, and it may be too fragile, but I like the idea of flickering the dudes with something like Ghostway or Sudden Disappearance, flicker Haz' with something like Flicker, Flickerwisp, Cloudshift, or Conjurer's Closet to get another batch of dudes, and then drop the original dudes back in.
Pump: Maybe some more haste effects?
Direct damage: X-spells like Aurelia's Fury, Comet Storm, Rolling Thunder. Blade of Selves with Purphoros, God of the Forge (3 opponents = 8 damage to each) , Omnath, Locus of Rage (3 opponents = 6 lightning bolts) ,
Other potential wincons: Epic Struggle maybe. Or maybe Felidar Sovereign if you added Life Chisel and some other lifegain effects.
And just three more things, because they're too good not to mention: Mentor of the Meek (more card draw!); Reconnaissance (attack without fear, plus untap during the End of Combat Step for a Vigilance effect); and Bow of Nylea (because there's nothing like Deathtouch to turn a chump blocker into a bad-ass)
Sorry for the wall of text. Thanks for reading this far!
No data for this card yet.