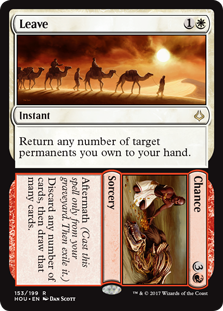 Legality
| | |
| --- | --- |
| Format | Legality |
| 1v1 Commander | Legal |
| Vintage | Legal |
| Modern | Legal |
| Standard | Legal |
| Legacy | Legal |
| Duel Commander | Legal |
| Casual | Legal |
| Unformat | Legal |
| Pauper | Legal |
| Commander / EDH | Legal |
Leave
Instant
Return any number of target permanents you own to your hand.
Leave Discussion
2 weeks ago
20 land is not greedy but Evolving Wilds is just weaker than your other options. Deck thinning is extremely minimal, and having a tapped land instead of an untapped is not minimal. If you stick to that concept, Desert of the True would be better than Evolving Wilds.
What you want instead is mana sinks so that if you do draw too many lands you can spend that. Shefet Dunes is a better alternative.
Sideboard, I would strongly consider having Repel the Abominable. Leave looks like a fine card for many situations (bounce and recast Thalia's Lieutenant maybe?), but Repel is much more aggressive. Shuts down Sweltering Suns and Hour of Devastation, or makes you completely victorious in combat, or stop you from taking damage from whatever the opponent is doing so you can keep attacking.
Other than that, deck looks fine!