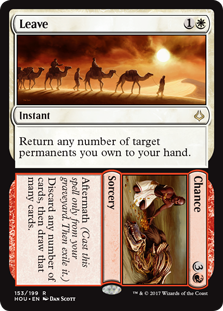 Legality
| | |
| --- | --- |
| Format | Legality |
| 1v1 Commander | Legal |
| Vintage | Legal |
| Modern | Legal |
| Standard | Legal |
| Legacy | Legal |
| Duel Commander | Legal |
| Casual | Legal |
| Unformat | Legal |
| Pauper | Legal |
| Commander / EDH | Legal |
Leave
Instant
Return any number of target permanents you own to your hand.
Leave Discussion
2 weeks ago
That's one way to get GPG out early...I like it! Some of these creatures play very well with GPG but I'd like to see a few different creatures here. I would remove both Desert Cerodon and one Striped Riverwinder for three Combustible Gearhulk. This card plays incredibly well with Refurbish and Gift and your average CMC is so high that an opponent would be insane to let you mill three. This will almost always be a draw three, but if your opponent mills you three they're gonna take a TON of damage while also giving you more reanimation targets. Speaking of your CMC, it's big but that seems mostly due to overcosted creatures with cycling. Even so, I think you need more land in deck to be able to cast these cards if you have to. So, I would say cut Leave, you've already got four each of Tormenting Voice and Cathartic Reunion along with all your cyclers and that is enough card draw. The extra four slots free you to add two apiece of Inspiring Vantage and Glacial Fortress for better consistency. I also like Spirebluff Canal here, and three of them could replace Evolving Wilds.
1 month ago
Ok, let's try something different with split cards...
---
Determined // to Leave
//
Determined: Instant -- Other spells you control can't be countered by spells or abilities this turn. Draw a card.
Leave: Instant -- Aftermath. Return any number of target permanents you own to your hand.
---
Can we have more fun with Split/Fuse/Aftermath cards?
2 months ago
20 land is not greedy but Evolving Wilds is just weaker than your other options. Deck thinning is extremely minimal, and having a tapped land instead of an untapped is not minimal. If you stick to that concept, Desert of the True would be better than Evolving Wilds.
What you want instead is mana sinks so that if you do draw too many lands you can spend that. Shefet Dunes is a better alternative.
Sideboard, I would strongly consider having Repel the Abominable. Leave looks like a fine card for many situations (bounce and recast Thalia's Lieutenant maybe?), but Repel is much more aggressive. Shuts down Sweltering Suns and Hour of Devastation, or makes you completely victorious in combat, or stop you from taking damage from whatever the opponent is doing so you can keep attacking.
Other than that, deck looks fine!