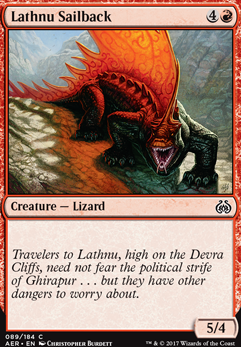 Lathnu Sailback
Creature — Lizard
Browse Alters
View at Gatherer
Legality
| | |
| --- | --- |
| Format | Legality |
| Limited | Legal |
| Pioneer | Legal |
| Pauper | Legal |
| Block Constructed | Legal |
| Highlander | Legal |
| 1v1 Commander | Legal |
| Modern | Legal |
| Duel Commander | Legal |
| 2019-10-04 | Legal |
| Legacy | Legal |
| Leviathan | Legal |
| Vintage | Legal |
| Unformat | Legal |
| Tiny Leaders | Legal |
| Oathbreaker | Legal |
| Canadian Highlander | Legal |
| Casual | Legal |
| Pauper EDH | Legal |
| Commander / EDH | Legal |
Latest Decks as Commander
Lathnu Sailback Discussion
3 years ago
I used to play magic back in high school, but quit shortly after, and haven't played in 14 years, until this weekend.
I went to the midnight pre-release, made a R/G deck, but didn't do that good, 16 out of 28. The Sunday pre-release I made a B/R deck, and took 2nd out of 8th (barely had enough players to hold the tournament).
Some of the guys I was playing with invited me to the Tuesday night standard games they play there, so I need to flesh out my deck.
Here's what I made for my second tournament:
7 Mountain
1 Spire of Industry
9 Swamp
1 Aether Poisoner
2 Alley Strangler
1 Consulate Skygate
1 Consulate Turret
1 Daring Demolition
1 Embraal Bruiser
1 Foundry Hornet
1 Frontline Rebel
1 Gonti's Machinations
1 Hijack
1 Irontread Crusher
1 Lathnu Sailback
1 Night Market Lookout
1 Ornithopter
1 Perilous Predicament
1 Prophetic Prism
1 Quicksmith Rebel
1 Salivating Gremlins
2 Shock
1 Spontaneous Artist
1 Thriving Rats
1 Yahenni, Undying Partisan

Here is my entire inventory of magic cards:
Using just the cards I already have, what cards would you recommend adding, or swapping out, to make this a 60 card casually competitive deck?
I do plan on increasing my collection, but I have a very limited disposable income at this time, so can't go out and buy expensive cards, so I'm probably going to stick to picking up a few booster packs each payday.
Thanks!