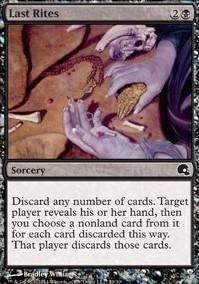 Legality
| | |
| --- | --- |
| Format | Legality |
| Noble | Legal |
| Leviathan | Legal |
| Magic Duels | Legal |
| Canadian Highlander | Legal |
| Vintage | Legal |
| Casual | Legal |
| Pauper EDH | Legal |
| Vanguard | Legal |
| Legacy | Legal |
| Archenemy | Legal |
| Planechase | Legal |
| Duel Commander | Legal |
| Unformat | Legal |
| Pauper | Legal |
| Commander / EDH | Legal |
Related Questions
Last Rites
Sorcery
Discard any number of cards. Target player reveals his or her hand, then you choose a nonland card from it for each card discarded this way. That player discards those cards.
Last Rites Discussion
2 months ago
Hi there, i'll share all the knowledge i've gathered after playing discard decks for more than 5 years (i've built monoblack creatureless discard, monoblack creature discard, UB discard, RB discard, Grixis discard, specter discard, etc.).
The first i see here is that you don't have anything to deal with the board, so you'll more than probably die to anything that hits the board, even a simple 3/1 two-drop. Your deck relies too much on damaging your opponent through giving him many cards and forcing him to discard not that many; the only card in your deck that punishes him this way is Liliana's Caress and that's it, it's not reliable. You also run two copies of Painful Quandary which it's ideal mechanics are to punish your opponent for having no hand, but since you are forcing him to draw so many cards, he'll always have the option to discard while playing a spell (only taking 2 damage from Liliana's Caress and only if you have the enchant on the battlefield).
You have many cards that allow you or your opponent to draw and discard cards, but you only have Alms of the Vein to exploit this mechanic, so get rid of those or stick in more madness cards.
The description says "the goal of this deck is to get your opponent as low as possible", but you can't do that quickly by relying only on 4 copies of Liliana's Caress while you'll be recieving lot's of threats and hits. Master of the Feast will for sure get destroyed by any of the thousands removal spells you'll force your opponent to draw, so it won't be dealing too much damage if any.
---
Suggestions
Let's work on the solution. First of all, you need your deck to have more consistant way to deal damage and you also need to get rid of your opponent's threats until you've reached mid-late game and you can develop your winning mechanics.
---
Which ones and how many
Pick the ones you like the most according to their mana costs and their price. Also consider the ammount of black mana symbols in their cost, because you'll be playing a two colors deck.

Try to keep it as balanced as you can in terms of cards functions. Maybe 30% draw/discard engine - 30% draw/discard punishment - 20% massive discard - 10% 1drops quality discard - 10% board whipe. You'll have to test and adjust the numbers.

I know most of those cards are black, but you can keep it UB if you want to. Best version I've made of this strategy was using Grixis (Blue Black and Red) because there's a lot of red cards that force both players to discard and draw like Burning Inquiry and Reforge the Soul for example. Grixis also enables the use of Nekusar, the Mindrazer , Blightning , Sedraxis Specter , Blazing Specter and Dack Fayden.
---
I hope it's helpful! Best wishes!
10 months ago
I playtested it. Its pretty nice, but the manabase... huh. Little junky.
In my opinion u need some GB taplands (every ability to activate and double mana cost is G or B). If you want place for Spirit Guide - cut murasa and lands. 20-21 should be enough. Ohh... and what do you think about 1-2 Reaping the Graves after cascade? For lategame. 3+ cards back (6 mana needed)
About side, I recommend:
1 year ago
RE: Your "Is Mono-Black Reanimator really viable?" post with a link to this deck...
you mentioned having issues with getting cards into the yard...
you questioned the ideas of dredge and self-mill, as well as stating your desire for MORE consistency. In this type of deck it's really hard to get a good balance and I think dredge and self-mill will make it more inconsistent, as you'd have no control, and with magus/yawgmoth's will your only recursion for non-creatures...you're throwing half your deck away at random.
still it does come down to balance...a few other cards worth mention from the stone age of magic;
Last Rites - great on turn one off a dark rit... not as good in multiplayer, but still ok if you know who's playing control and hit them with this early....less effective late game though....
Sickening Dreams - pretty solid discard outlet, less effective early game.
Insidious Dreams - ok so it's 2-3 extra mana above a normal tutor ... but it's a multi-tutor and a discard outlet.
just a few thoughts from an ol fogey
1 year ago
I was running Gnaw to the Bone over Moment's Peace, but The more I playtest against the meta, I've realized that the card that the deck wants is actually Moment's Peace. I was looking at the modern variant of dredge, and saw that they ran Gnaw to the Bone over Moment's Peace. This is because Modern Dredge runs differently. I Delve, they don't. So it's hard to keep the creature count in grave so high. I knew about the card, I just thought something better existed.
I mentioned that Wild Mongrel was bad for this deck in the description, and Vampire Hounds is worse. Running a card that nets me card disadvantage is bad, even if I'm playing slightly above curve. Those two are probably the best Madness Enablers in the format. I don't play Madness, so they're not good here.
Fa'adiyah Seer. Holy Crap. I did not know this thing existed. Yes. I realized that you almost never draw the card. When possible, you always dredge. You always get the card, never discard, and you now have a card to feed back to grave. When impossible, it helps dig for something to dredge with. And if you see it in grave, you pick it back up. Yes.
Last Rites does seem ridiculous. Seems really good against Black, Teachings, Blue decks that aren't Delver-based aggro, and maybe even Blitz. Gonna find room for it in the side somewhere.
1 year ago
Moment's Peace is a decent sideboard card against decks that just try to race you.
I play Tortured Existence as my main deck and Wild Mongrel as well as Vampire Hounds have proven themselves to be decent for me since they have the potential for turn three kills against combo, but we play very different builds.
Also, if you find yourself in a meta where there are more decks that want to durdle and don't put a ton of pressure on you Fa'adiyah Seer is a very underrated card. Oh, and Last Rites is ridiculous.
1 year ago
Few things here; Yidris, Maelstrom Wielder while not an Angel like most of your creature base is great utility like your "quasi-commander." This card is part of the 2016 commander precons if you're not familiar with them..and will be released Nov. 11th.
Maelstrom Nexus also great value card for 5 color decks...rare to see a deck with Angel but no Nexus.
Were it my deck, I'd probably have a rather large cut list, but I don't know at what point the theme spills over into the names of the cards or nostalgia attached to specific non-angel cards ect nor do I know your budget either, though on that front it sounds like your willing to spend a few pennys more than you already have so I'll just start throwing stuff out there.....
Potential Cutlist (unless it conflicts with your interests of flavor)
pilgrims eye
ancient craving
breath of life
mulch (too random)
profane command (great utility, but better more focused choices exist)
profound journey
I'm not a huge fan of tithe, animate dead or dance of the dead but they are all playable cards for sure that's just me....using tithe in a deck with green just seems weird to me even if you are largely in white.
Not a fan of path of exile or oblivion ring either...but that's based on MY meta...(not much single target removal and most things hit with O-Ring comeback in 1-3 turns around here) Detention sphere is good stuffs tho....it's still an O-Ring...but it can eat an entire token army.
Possible Additions (in no particular off the top of my head)
Sheoldred, Whispering One (Can demonic looking praetors play nice with angels?)
and of course
Buried Alive is a thing.
Thats all I can think of atm, pretty much just reanimator friendly stuff...I don't know which of those appeal to you, which to add, which not to in order to balance out your deck for your meta...but hope this helps at least a little. Might figure out more later....
Load more