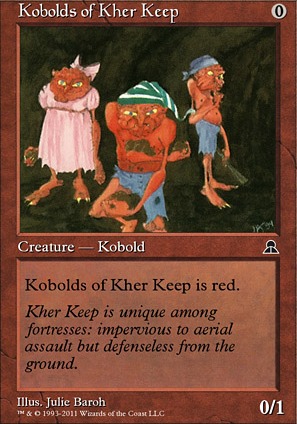 Legality
| | |
| --- | --- |
| Format | Legality |
| Noble | Legal |
| 1v1 Commander | Legal |
| Vintage | Legal |
| Casual | Legal |
| Vanguard | Legal |
| Legacy | Legal |
| Archenemy | Legal |
| Planechase | Legal |
| Duel Commander | Legal |
| Unformat | Legal |
| Pauper | Legal |
| Commander / EDH | Legal |
Kobolds of Kher Keep
Creature — Kobold
Kobolds of Kher Keep Discussion
1 month ago
Here's the problem: since lands can be played every turn, especially lands from the Command Zone, as far as I can tell, I might have missed one, but your design must adhere to one of these criteria to be balanced:
So, how about these ideas:
Thoboes, the Mana Flow
Legendary Land Creature - Elemental
Thoboes, the Mana Flow is all colors.
: Add one mana of any color to your mana pool.
0/3
---
This is the offspring of a Transguild Courier, a Command Tower, being raised by a Wall of Wood. It's a more fair version of what you originally posted.
Thoboes, the Mana Flow
Legendary Land
Thoboes, the Mana Flow enters the battlefield tapped.
, Pay 1 Life: Add one mana of any color to your mana pool.
: Thoboes becomes an 8/8 Elemental until end of turn.
This is basically a Mana Confluence that animates as a Fusion Elemental.
Thoboes, the Mana Flow
Legendary Land
If Thoboes, the Mana Flows would enter the battlefield, sacrifice an untapped Plains, Island, Swamp, Mountain, and Forest instead. If you do, put Thoboes onto the battlefield. If you don't, put it into its owner's graveyard.
: You may cast a spell from your hand without paying its mana cost.
---
I'd like to point out that just because an effect is symmetric, doesn't mean that it can be undercosted. Giving everyone the ability to play every spell that costs more than 5, for exactly 5, effectively just makes it a slow motion game of Eureka. If it were a personal effect, we'd compare it to a bad Omniscience, and cost it that way.
That said, I figure this ability is about the power level of having a Fist of Suns on the battlefield along with a land of each basic land type.
But, this land isn't a creature, so I don't know how much you'd like it. Making it a creature would open it up to all sorts of removal, especially with such a high cost.
Anyway, that was 3 ideas for your consideration. Let's keep the brainstorming going, shall we?
5 months ago
love this so much. the thumbnail should be the card Kobolds of Kher Keep. I give +1. Check out my EDH deck
6 months ago
Am I allowed to toot my own horn since we're doing my own series?
No? Think I just did.
---
The keep's secret throne
Legendary land
General's home- Rohgahh of Kher Keep
Players skip their upkeep step
:Deal one damage to target creature you control. That creature name becomes Kobolds of Kher Keep.
: Deal one damage to each creature you control. Those creatures names become Kobolds of Kher Keep.
The king was happy to let others into his group, provided they passed initiation
---
I think this makes him remotely playable. Maybe.
Whatever you want!
7 months ago
Some other cheap guys you might make use of are Kobolds of Kher Keep, Ornithopter, and Memnite. Having more creatures does make the strongest win condition, Tears of Rage, much better. Some other buffs to consider could be Goblin Bushwhacker and Signal Pest. Most notably though, I'd want some sort of draw engine to avoid running out of gas. Since you're in casual, you're uniquely poised to make use of Skullclamp with your kobolds. Glimpse of Nature is another option I've seen in kobold decks. Drawing lets you both play more creatures to attack with later and even tap into the value of storm spells like Grapeshot and Storm Entity.
And a heads-up: You don't have to put card names in parentheses to highlight them. On Tappedout, you can use double brackets to link cards. Ex: [,[Card Name Here],] (minus the commas).
8 months ago
Hi bushido_man96! Thanks for the comments and the ideas. First, I don't have this deck in paper, its a gimmick deck im playing online.
As for why not to include Impact Tremors ... well, this deck isnt really supposed to be "competitive", I just want to occasionally have someone say, "wow did I just die to Kobolds of Kher Keep?!?" Haha.
I feel like if I run impact tremors then I might as well run purphoros and kiki-jiki and then i lose the kobold gimmick flavor.
All that being said this is a new deck im just testing out so maybe eventually I will try and make it more competitive with a combo thats less than 7 cards.
:D
Load more