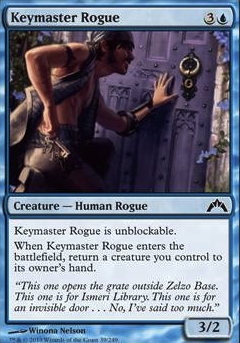 Legality
| | |
| --- | --- |
| Format | Legality |
| Pre-release | Legal |
| Magic Duels | Legal |
| Canadian Highlander | Legal |
| Vintage | Legal |
| Modern | Legal |
| Penny Dreadful | Legal |
| Casual | Legal |
| Pauper EDH | Legal |
| Leviathan | Legal |
| Legacy | Legal |
| Duel Commander | Legal |
| Unformat | Legal |
| Pauper | Legal |
| Commander / EDH | Legal |
Keymaster Rogue
Creature — Human Rogue
Keymaster Rogue is unblockable. When Keymaster Rogue enters the battlefield, return a creature you control to its owner's hand.
Keymaster Rogue Discussion
3 months ago
Blastoderm has Shroud. Meaning it can't be the target of Man-o'-War's ability. Wormfang Drake doesn't target any card but forces you to exil a card just like other effects forces players to sacrifice creatures which is why it's the only card that allows you to reset your Blastoderm. But you have a problem if Wormfang Drake is killed while its first ability is on the stack. That way you won't get the creature it exiles back. Altough you still have the option to say I rather sacrifice it and nothing happens because it already left the battlefield -> Meaning if it get killed while its ability on the stack you shouldn't use it on your Blastoderm.
Cards that forces a cost upon you and doesn't use the word target can be used to flicker Blastoderm like:Keymaster Rogue, Storm Sculptor , Veil of Secrecy (if you have other arcane spells)Also some others but I wouldn't suggest them: Havengul Skaab, Horned Kavu (not in your color identity).I hope this helps. Maybe you want blue or green Arcane spells to use Veil of Secrecy more often while making a non-Blastoderm unblockable.
1 year ago
How about Cavern Harpy and Doomsday Specter for some sweet synergy. Upon entry they let you bounce a ninja, and they have evasion, so you can more easily ninjitsu using them. Keymaster Rogue is good for the same reasons.
1 year ago
rockergage I do have a R/W commander but it is being used in a soon to be R/W token deck. but if I can find a R/G/W legendary I will change it around. and my friend playtested this it works out great. the CoP's are in there to protect yourself with so your creatures can attack. and having that splash blue helps out more than you want to give credit for. like the Invisible Stalker and the Keymaster Rogue. and my friend uses the Clone to copy either his Hamletback Goliath or his Stun Sniper. this deck was meant to be a human deck so Cavalry Pegasus could be of use. now I do not know but I think the Legions are human but if not they still help out in allot of ways. so having the splash blue supports this deck allot.