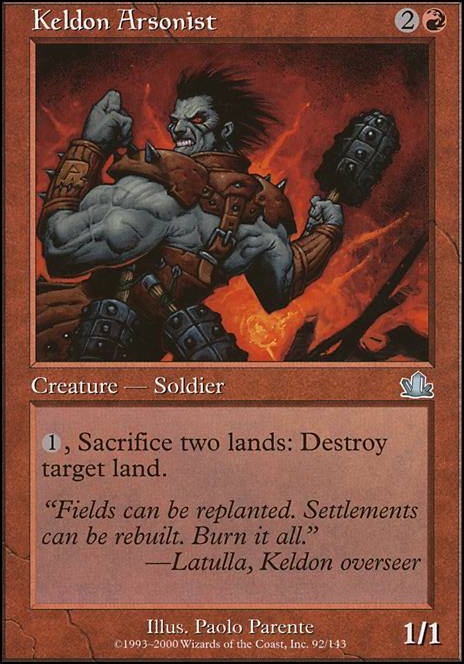 Legality
| | |
| --- | --- |
| Format | Legality |
| Noble | Legal |
| Leviathan | Legal |
| Magic Duels | Legal |
| Canadian Highlander | Legal |
| Vintage | Legal |
| Vanguard | Legal |
| Legacy | Legal |
| Archenemy | Legal |
| Planechase | Legal |
| Duel Commander | Legal |
| Unformat | Legal |
| Casual | Legal |
| Commander / EDH | Legal |
Keldon Arsonist
Creature — Human Soldier
(1), Sacrifice two lands: Destroy target land.
Recent Decks
Keldon Arsonist Discussion
9 months ago
illumfolly: Thanks for commenting!
Mana Echoes - I had this card in a long time ago, but the deck isn't built to take advantage of it. The curve is really, really low, and the only X cost card I have is a sideboard of Rolling Earthquake. When I played Echoes before I would quite often make 200+ colorless mana the turn after it went down, but any turn after T3 I only have one or two cards in hand, and neither of them can take advantage of all that colorless mana.
Wildfire/Burning Sands/Keldon Arsonist - The problem with a deck like mine and effects that have a land sac effect means I can't do anything in response to it. Keldon Arsonist for example, if I spent the 1 colorless, and then sacc'd two lands to active his ability, I can't then sac them to Ib before they go to the graveyard because it's part of a cost and doesn't use the stack. With a cycled Decree of Annihilation or a Boom/Bust I can respond to the destroy trigger with an Ib sac, and still get Goblin tokens out of a symmetrical spell. To go with the land destruction suggestions though, I used to run Shivan Harvest and a Ruination, and realized that the land destruction got me a ton of hate that I often couldn't survive through, while Price of Glory/Price of Progress/Blood Moon/Magus of the Moon/Acidic Soil had a better ultimate effect, and I had a lot more control over the table hate too. I'm always on the lookout for more "land dysfunction" or control type of effects though! I sideboarded Mana Web just because I want another 1 or 2 stax effects that deal with land specifically.
1 year ago
I would run more single target land destruction just to single out colors, so yo can cast multiple lands per tern with your lands. I would also run land destruction that deals damage in case you are too slow whith land destruction and they get some creatures out, and also to hurry up the game and hopefully finish it. I would suggest Pain/Suffering, Choking Sands, Lava Blister, Molten Rain, Cryoclasm, Dwarven Blastminer, Dwarven Miner, Rancid Earth, Shivan Harvest, Keldon Arsonist and perhaps even Pooling Venom.